2023 Ford Mustang improves in all areas
The 2023 Mustang Mach 1 is finally here! It's been five decades since the original appeared. The Mach 1's mission: to be a faster, better-looking and better-handling version of the Mustang GT.
Driving Impression
The 2023 Mustang Mach 1's braking performance is impressive and can stop instantly. The stopping power comes from the optional super-sticky tires that are part of the handling package our test car was equipped with. The Mach 1 can take curves and straightaways with ease. The optional handling package has tremendous levels of grip and confidence. The Mach 1 is fun to drive and gives the feel of a true sports car.
Under the Hood
The Mach 1's Coyote V-8 is the same upgraded motor from the Bullitt, which makes an additional 20bhp more than the standard GT, bringing the total to 480 bhp by employing a wider throttle body and intake manifold from the GT350 and open air box.
Safety Features
The Mach 1 features driver, passenger, front head, rear head and front side air bags. Other safety features include brake assist, electronic stability control, daytime running lights, integrated turn signal mirrors, traction control, blind spot monitor, lane departure warning and lane keeping assist.
Inside
The Mustang Mach 1 is relatively comfortable. Its dual-zone automatic climate-control system is excellent. It provides good temperature regulation and has plenty of vents with excellent adjustability. The front seats have bolstering on the optional Recaro seats, but they do an excellent job of holding you firmly in place during aggressive driving.
The Mach 1 has a 13.5 cu.ft. trunk and has the option to remove the rear seats. Interior storage space is also identical to a standard Mustang. You'll find enough room for sunglasses, a phone and drinks, and everything stays secure even during spirited driving.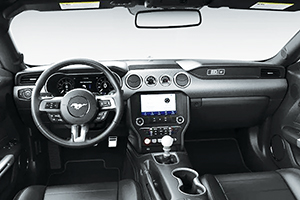 Other inside features include:
* Cabin particulate air filter.
* Dual-zone electronic automatic temperature control.
* Rain-sensing windshield wipers. * Open image overlay for rain-sensing windshield wipers.
* Black foot pedals.
* Ambient lighting with MyColor and 4.2-inch cluster.
* Auto-dimming rearview mirror.
* Auto lights (automatic on/off headlamps) with wiper activation.
* Centre console with full armrest.
* Cupholders (2).
* Driver footrest.
* Premium carpeted floor mats with accent stitch.
* Illuminated door-sill scuff plates.
* Intelligent access with push-button start.
* Interior trunk release.
* Leather-wrapped parking brake handle.
* Leather-wrapped steering wheel with cruise and audio controls, and tilt/telescoping steering column.
* Windows: Front one-touch up/down with Global Open.
* Powerpoints (2).
* Rear-view camera.
* Reverse sensing system.
* Dual illuminated visor vanity mirrors.
* Track Apps Open image overlay.
* Universal garage-door opener.
* Pre-collision assist with automatic emergency braking.
* Lane keeping system.
* 12-inch LCD digital instrument cluster with MyColor Open image overlay.
* Glove box with lockable door.
* Satin chrome instrument cluster register vents and cupholder surrounds.
* White cue-ball shift knob.
* Dark spindrift aluminum instrument panel applique.
* Mustang Mach 1 instrument panel badge with unique chassis number.
Entertainment Systems
* Nine-speaker sound system with amplifier, AM/FM stereo and MP3 capability.
* SiriusXM Radio Open image overlay.
* SYNC 3 Open image overlay.
* USB Ports – Smart-Charging (2).
* Voice-activated navigation system with pinch-to-zoom capability.
* FordPass Open image overlay.
Seating
* Six-way power driver's seat with power lumbar control.
* Four-way power front passenger seat.
* Four-way adjustable front head restraints.
* 50/50 split-bench folding rear seat.
* Color-accented cloth seats.
Optional
* Remote start system.
* Leather-wrapped shift knob.
* Gauge pack (oil pressure and vacuum).
* RECARO cloth sport seats open image overlay.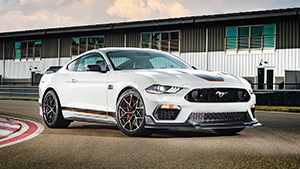 Outside
The Mach 1 is distinct in appearance when compared to other Mustangs. This specialty Mustang comes equipped with unique upper and lower grille segments, as well as custom inlaid intake ducts.
Specifications
• Wheelbase: 107.1 inches.
• Length: 188.3 inches.
• Height: 54.4 inches.
• Width w/o mirrors: 75.4 inches.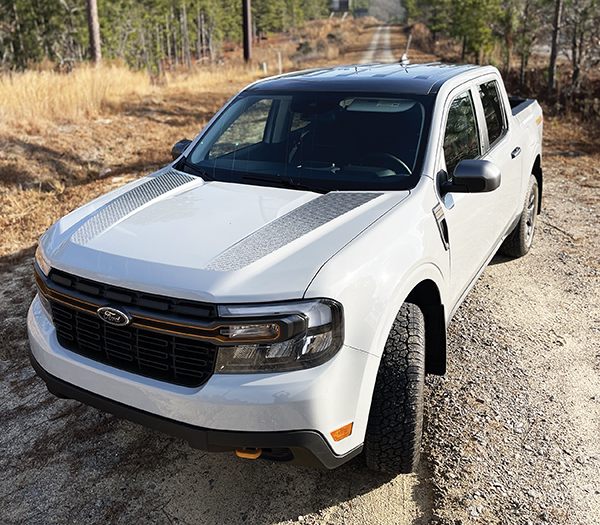 By Jerry Robbin
The hot new Tremor package for the Maverick has arrived! This trim level offers off-road street credentials for Maverick owners. It's offered as a $2,995 option on the mid-level XLT and top-tier Lariat trims with all-wheel drive and the 250 hp turbo-charged four-cylinder.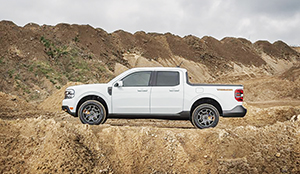 Driving Impression
The Maverick Tremor has a 0.8-inch suspension lift and a unique all-wheel-drive system that replaces the rear differential with a pair of clutch packs.
Touching a button behind the Tremor's gear selector forces them shut, locking both the all-wheel-drive system and the rear axle.
Tremor trucks also get stronger half shafts, a heavy-duty transmission cooler and a low-speed off-road cruise control known as Trail Control.
A special front fascia, along with the hiked-up suspension, boosts the approach angle from 21.6 to 30.7 degrees.
Seventeen-inch Falken Wildpeak A/T3W all-terrain tires, steel skid plates and two off-road driving modes (Mud and Ruts, and Sand, replace the Sport and Eco modes in standard Mavericks) are lifted straight from the Maverick's other off-road kit.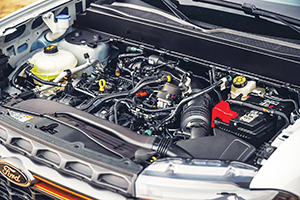 Under the Hood
Maverick's 250 hp 2.0-liter turbocharged inline-four dishes out ample power and torque without hesitation.
Safety Features
Anti-lock brakes automatically sense when a tire has stopped rotating under extreme braking and will modulate the brake pressure to allow the tire to rotate. This increases the vehicle's ability to turn while braking.
Stability control automatically senses when the vehicles handling limits have been exceeded and reduces engine power and/or applies select brakes to help prevent the driver from losing control of the vehicle.
Front-impact airbags for the driver and passenger have been designed to protect the head during a frontal crash. Side impact airbags for the front seats have been designed to protect the torso during a side impact collision. Overhead airbags are used to protect the occupant's heads in the event of a side collision or rollover.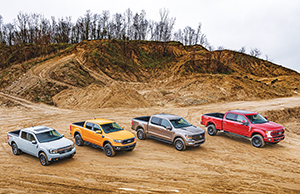 Knee airbags help to protect the occupant's lower extremities from serious injury in the event of an accident.
Seatbelt pretensioners automatically tighten seatbelts to place the occupant in the optimal seating position during a collision.
The vehicle is equipped with an ignition disable device that will prevent the engine from starting if the correct original manufacturer key is not used.
Inside
Inside, orange stitching and a flurry of Tremor badges highlight this unique vehicle.
The seats hold you firmly in place and the controls are well laid out and easy to access.
The Maverick also has more passenger space than expected, with a rear seat that's comfortable. Ford has made the interior appear more expensive than it is with plastic surfaces that have attractive textures and cleverly designed storage bins are everywhere.
The interior is well done, and as with all Tremors, it has touches of bronze everywhere and Tremor embroidered on the seats.
The gauge cluster is configurable for driver info controlled from the steering wheel. High on the dash is an eight-inch touchscreen that is simple, but works well. You operate all audio, Bluetooth, apps, Apple CarPlay and Android Auto.
The center console houses a round gearshift knob and buttons for the drive modes, the traction control and all-wheel drive settings. It even has a place to put your phone where you can actually see it when driving.
Back seat room was better than expected in a small truck. Back seat passengers get USB ports and a power outlet. The back seat folds up and has storage underneath for valuables.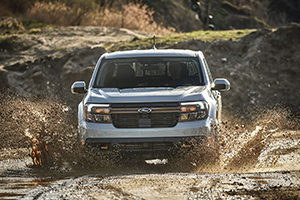 Outside
The 2023 Maverick Tremor has unique grille, wheels and side grilles that adopt Tremor orange and dark gray accents, while an option group grays out the roof, door handles and mirror caps.
The wheels are twin five-spoke designs with one segment in orange. The front fascia has underbody shielding that protects the 2.0-liter engine's vital parts.
Splashes of orange on the tow hooks, fender vents, grille trim and wheel pockets add some interest to the Maverick's basic-box exterior design.
The Road Plus Appearance package has black hood and lower-door decals plus a gray roof, door handles and mirror caps.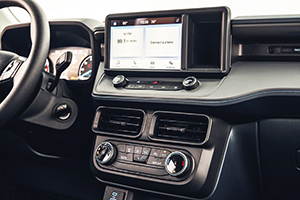 Summary
The Ford Maverick has a position in the market with its unique pedigree. The Tremor package builds on that balance, elevating this compact truck's ability with its personality and road manners. There's nothing else like this truck on sale today.
Specifications
• Wheelbase: 121.1 inches.
• Length: 200.7 inches.
• Height: 69.5 inches.
• Legroom: 43.9 inches.
• Headroom: 40.8 inches.
• Width with mirrors: 83.5 inches.
The National Auto and Truck Museum, in Auburn, Ind., will be one of the visits during the annual IMOA 2023 car show Sept. 6-9.
The museum's mission is to enrich lives and educate all generations through the acquisition and preservation of America's automobile and truck history with buildings, vehicles, artifacts and literature.
Memorial galleries throughout the museum pay tribute to past leaders, contributors and mentors.
More than 100,000 square feet of displays showcase fine examples of race cars, muscle cars from the 1960s and '70s, more than 100 trucks, antique motorcycles and bicycles and much more.
Special buildings include the 1948 Valentine Diner, a full-scale gas station and automobile shops.
Auburn was home to many horseless carriage and motorcar manufacturing companies. Auburn is where E. L. Cord chose to expand an automotive empire with Auburn and Cord automobile factories. As you stroll through the remaining production buildings of the Auburn Automobile Company, you can almost feel and hear the excitement of the designers and mechanics working to create some of the world's finest automobiles.
The Service and New Parts Building and the L-29 Cord Building were declared a National Historic Landmark in 2005. The original factory buildings that house The National Automotive and Truck Museum represent more than 130 years of transportation manufacturing.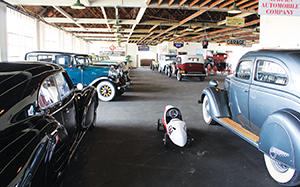 The Service\Parts Building was built in 1923 and was used for test-driving automobiles, factory service and distribution of parts to distributors and dealers all over the world.
If a person lived near Auburn and wanted his automobile serviced at the factory, this would be done in the Service Building. When the 810-812 Cords were test driven and guaranteed to do over 100 mph., they were tuned, prepared and tested from the Service Building. Each car was provided with a plaque signed by race driver Ab Jenkins, indicating how fast the car had been driven at the factory.
The L29\Experimental Building was built in 1928-29 and was the first new building that E.L. Cord constructed after he assumed management of the company.
Intended for the assembly of the L29 Cord, the upper level of this building was actually used to prepare the L29s for shipment after they were assembled on the Auburn line. The lower level was used for experimental cars and the construction of prototypes. The first hundred 812 Cords were hand built on the lower level. Fred Duesenberg, Gordon Buehrig, Alan Leamy, Herb Snow and other prominent designers, engineers and builders used the lower level for their creations.
The L29 Cord was the first production front-wheel drive automobile in America. The 810-812 Cord was a revolutionary design that changed automotive history. It was the first car with unibody construction, concealed gas cap, disappearing headlights and many other innovations.
It is the mission of NATM to exhibit cars that have been built in the tradition of the Auburn Automobile Company. These include outstanding examples of postwar cars.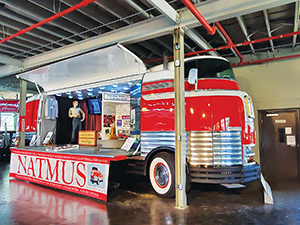 Trucks exhibited range from 1907 to modern concept trucks. We recognize the truck heritage of Auburn and its McIntyre Company, which built a full range of trucks from 1907 until about 1915.
Both buildings are also significant from an architectural standpoint. The Service Building is built with a lattice arch roof system that provides a 70-foot clear span using 2" x 6" lumber. The L29 Experimental Building features monitor windows that provide maximum natural light.
When the windows are open by pulling the chains, an early type of "air conditioner" results in that air is pulled from side windows up through the Monitor windows to provide fresh air and a slight breeze.
The Eckhart Building, located near the entrance of NATM, is where Eckhart buggies were made. As the Auburn Automobile Company evolved, the earliest cars were built in this building.
The transition from buggies to automobiles is interpreted in the Eckhart Building. This building originally sat on Seventh Street in Auburn, but was relocated here for preservation.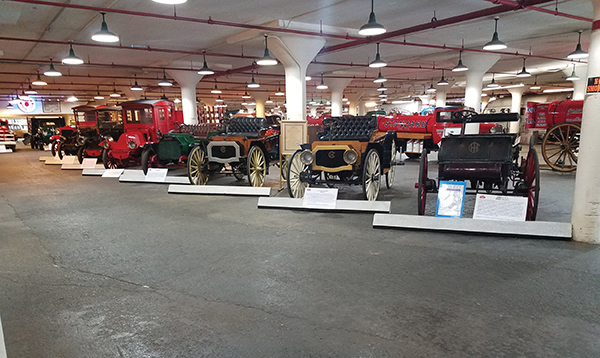 By Chuck Clarke
Cracked, broken and ugly armrests in my Cougar!
I ordered new panels about a year ago and they are still not in stock. I looked for a Mustang panel, but no luck there.
I scoured bone yards across the country and they wanted payment in gold – if they had them!
I tried 1/8-inch plywood covered with vinyl. That worked, but it was hard on the elbow.
How about door skins? Yes, it was a messy situation and would eventually pull away from the doors. Who was the engineer or buyer that was counting pennies over quality? Quality is remembered, but cheap lasts forever.
While taking my C-5 Corvette out for a Sunday sprint, I noticed the padded arm rest panels that I installed for comfort.
They looked like they would fit on the Cougar door arm rest, and cover the cracked and ugly-looking surface.
Plus, they were in stock and come in several colors: Beige, Black, Brown and Red. For $120, I thought it was worth a try.
It was just the arm rest area that has to be repaired. The rest of the door was in acceptable condition. The pads come with two sides "sticky tape" and they covered the cracked area completely!
I purchased the Beige and while not a perfect match with the white door panel, it gives a nice contrast.
I suggest you contact your local Vette parts dealer and order a pair before the are out of stock!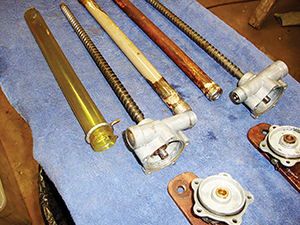 By Roy Lange
70 years ago, when these 1952-53 Mercury and Ford cars were built, the screw jacks (used for the convertible top and the power seats) came with a clear cover, over the threads and housings.
Over the years, the clear plastic covers have turned yellow and become brittle with age, rendering them unserviceable.
Obvously, this not an issue when the cars are being judged, since all of the screw jacks are hidden. The convertible top screw jacks are in the rear fender wells, behind the side panels, and the power seat motors are under the front seat.
The covers were in place to keep dust and dirt off of the screws along with keeping the surrounding areas free of grease splatters when the screws were turning. The issue was where I could find material to make new ones.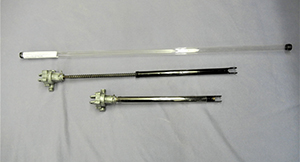 The convertible top screw jacks turned out to be somewhat simple, in that I could use bulb covers, intended for T8 florescent lights. I cut each of mine with scissors to 15 inches, allowing you to get three covers out of a single four-foot tube.
To install the new covers, simply place them over the end of the screw jack and slide them down over the base. It is a tight fit, but they will go over them. Then install the single wire clamp over the cover to hold it in place. The seat motor covers are installed the same way.
The seat motors (one for a two-way seat and two for a four-way seat), were not quite as simple. The T8 covers were way too big. I searched around and found that candy cane tubes, used for candy at Christmas, would work perfectly.
One final note, the clamps for the convertible top screw jacks, are 1-1/4-inch single wire clamps. They are available through McMaster-Carr, at chi.sales@mcmaster.com.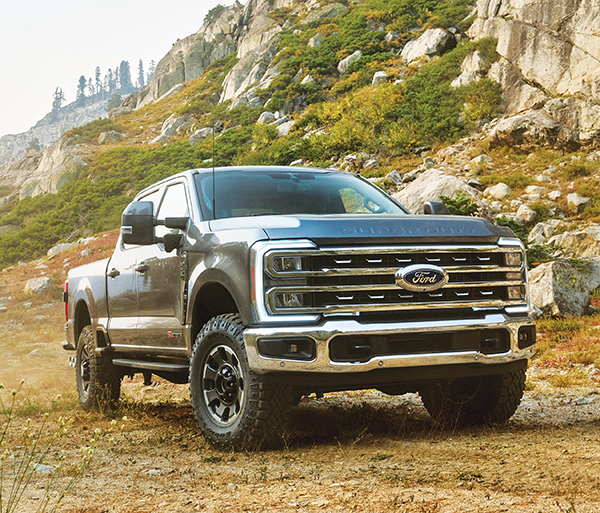 By Jerry Robbin
The Ford Super Duty Tremor package is back again for 2023 and includes upgrades that make this unique truck so exciting. The package starts with 35-inch Goodyear DuraTrac tires and unique 18-inch wheels.
Upgrades to the 2023 Tremor include Tremor-badged twin-tube shocks and progressive coil springs tuned specifically for each engine option and the F-350's rear-leaf springs.
Other features of the Tremor include heavy-duty running boards, skid plates and Ford's selectable drive modes (including Rock-Crawl).
The Tremor package highlights include a front lift, a uniquely tuned suspension and a Dana front axle with vent tubes, as well as a limited-slip differential.
Driving Impression
Trail Turn Assist, a feature debuted in the Ford Bronco, will be included with the Tremor package for 2023. Trail Turn Assist aids in making tight turns while off-road by engaging the brakes on the inside rear tire.
The Tremor has increased maneuverability in tight quarters by braking the inside rear wheel. Driving the Tremor truck makes you feel like you are the "King of the Road." The maneuverability and braking are superlative on the 2023 Tremor.
Under the Hood
Under the hood, the new 7.3-liter V-8, which is good for about 430 hp at 475 pound-feet of torque.
Safety Features
Ford offers features to make driving the 2023 F-250 safer and easier. Adaptive cruise control and lane-keep assist help on the highway, and work with a trailer attached. Blind-spot monitoring is available, as well as blind-spot sensors that can be attached to a trailer.
Front and rear proximity sensors come in handy when parking, as do front and rear automatic emergency braking. Various security features, like trailer theft alert and scheduled ignition hours, aid the new F-250's work-ready appearance.
Safety features include:
· Adaptive cruise control.
· Auto hold.
· Automatic load-leveling headlights.
· Blind-spot warning with trailer coverage and fifth-wheel/gooseneck coverage.
· Camera system with up to 28 views.
· Driver monitoring system.
· Intersection turn assistance.
· Parking sensors.
· Trailer reverse guidance.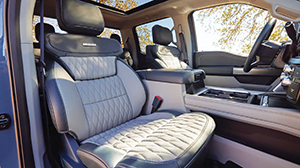 Inside
The 2023 F250 interior of the new Super Duty trucks gets upgrades. The new cabin gets a 12-inch display on the Lariat.
The Lariat has Max Recline seats that fold nearly flat, an Alexa hands-free system and a B&O sound system. The seats hold you firmly in place and are unbelievably comfortable.
Revised headlights and taillights are part of the new Super Duty, but the interior is essentially lifted from the current F-150.
Ford's Pro Power Onboard adds outlets for power tools and accessories in the bed of the truck, as well as inside the cabin, while providing 2.0 kilowatts of power.
Another nice addition is 5G connectivity that's standard across the range. An onboard Qualcomm modem taps into AT&T's network and provides Wi-Fi connectivity for up to 10 devices.
New available features include onboard payload scales, a 360-degree trailer camera system that provides drivers a top-down view of the trailer and a blind-spot warning system.
This is the first pickup in the U.S. with embedded 5G capability, enabling faster mapping, Wi-Fi and Ford Power-Up software that updates while driving. All-new available Trailer Navigation identifies the best real-time drive route to take based on trailer size.
Outside
The 2023 Tremor has exclusive styling details, such as a revised front fascia, exclusive wheels and a unique DNA. Expect the unexpected with revised bumpers and exterior features, such as better approach and departure angles.
Summary
The 2023 F-250 Lariat Tremor is a truck that will far exceed your expectation! Note that while I was able to test-drive this vehicle, it won't be in showrooms until spring of 2023.
Specifications
• Wheelbase: 141.4 inches.
• Length: 231.8 inches.
• Height: 78.9 inches.
• Legroom: 43.9 inches.
• Headroom: 40.8 inches.
• Width with mirrors: 105.9 inches.
• Minimum ground clearance: 9.7 inches.
By Jerry Robbin
The Ford Mach-E GT is one of the most compelling electric vehicles on the market right now and that makes Ford a contender in the EV market.
It will satisfy those looking for a super fast SUV, an attractive EV or just a unique EV at a great price. It stands tall and bold using the Mustang name.
Driving Impression
The Mach-E GT is a high-performance version of Ford's hot selling EV on the road and in the city. It is totally capable with its power and torque to hit 0-60 mph speed and has agility both on the pavement and around turns.
The GT is ferocious when you hit the accelerator and can hit 0-60 in 3.5 seconds. Even a Mustang GT can't equal that kind of 0-60 time.
The Mach-E GT corners well and is a fun vehicle to drive. The only thing missing is the roar and rumble of a V-8.
Under the hood
Ford's extended-range 98.8-kilowatt-hour battery is standard on the GT, as is dual-motor all-wheel drive. However, a more powerful front motor helps produce a total of 480 hp, with torque rising to 600 pound-feet on the standard GT and 634 lb-ft if you order the Performance Edition.
Safety Features
• Cruise control steering assist.
• AdvanceTrac Electronic Stability Control.
• ABS and driveline traction control.
• Side impact beams.
• Dual-stage driver And passenger seat-mounted side airbags.
• Reverse sensing system rear parking psSensors.
• Ford Co-Pilot360 blind spot information system.
• Ford Co-Pilot360 automatic emergency braking.
• Lane keeping alert lane keeping assist.
• Lane keeping alert lane departure warning.
• Collision litigation.
• Driver monitoring alert.
• Evasion assist.
• Collision Mitigation-Rear.
• Tire specific low-tire pressure warning.
• Dual-stage driver and passenger front airbags.
• Curtain 1st and 2nd row airbags.
• Airbag Occupancy Sensor.
• Driver knee airbag and rear side-impact airbag.
• Mykey System, including top speed limiter, audio volume limiter, early low fuel warning, programmable sound chimes and beltminder w/audio mute.
• Power rear child safety locks.
• Outboard front lap and shoulder safety belts with rear center 3 point, height adjusters and pretensioners.
• Back-up camera.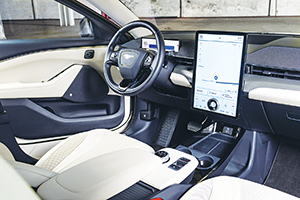 Inside
Inside, the Mach E gets standard multicolor ambient lighting, unique door sills with metal pony logos and GT lettering, a GT-embossed center armrest and aluminum appliques on the digital instrument cluster.
The Performance Edition ups the ante with unique gray sport seats that feature metallic-looking suede inserts and claw-shaped shoulder bolsters that do a wonderful job of keeping the driver in place. The controls are well laid out and easy to access.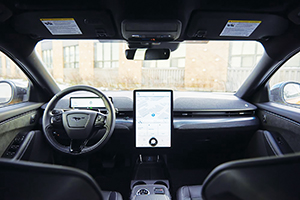 Inside features
• ActiveX/Miko simulated suede/leatherette sport bucket front seats w/leatherette back material and power 2-way driver lumbar.
• 8-Way power driver seat with power recline, height adjustment, fore/aft movement and power 2-way lumbar support.
• 4-way passenger seat with manual recline and fore/aft movement.
• 60-40 folding bench front facing fold forward seatback ActiveX/Miko simulated suede/leatherette rear seat.
• Manual tilt/telescoping steering column.
• Gauges, including speedometer, odometer, traction battery level, power/regen, trip odometer and trip computer.
• Power rear windows and fixed 3rd row windows.
• FordPass Connect mobile hotspot Internet access.
• Heated steering wheel.
• Front and rear cupholder.
• Compass.
• Proximity key for doors and push-button start.
• Remote keyless entry w/integrated key transmitter, illuminated entry, illuminated ignition switch and panic button.
• Remote releases including proximity cargo access.
• Garage door transmitter.
• Cruise control w/steering wheel controls.
• Distance pacing w/traffic stop-go.
• Dual zone front automatic air conditioning.
• HVAC with underseat ducts and console ducts.
• Illuminated glove box.
• Driver foot rest.
• Full cloth headliner.
• Leatherette door trim insert.
• Heated ActiveX sport seats, including 8-way power driver (fore/aft, up/down, power lumbar, power recline) and 8-way power passenger (fore/aft, up/down, power lumbar, power recline).
• Interior trim, including aluminum instrument panel insert and chrome/aluminum interior accents.
• Day-night auto-dimming rearview mirror.
• Driver And passenger visor vanity mirrors w/driver and passenger illumination, driver And passenger auxiliary mirror.
• Full floor console w/covered storage, mini overhead console w/storage and 2 12V DC power outlets.
• Front map lights.
• Fade to off interior lighting.
• Full carpet floor covering with carpet front and rear floor mats.
• Carpet floor trim.
• Cargo area concealed storage.
• Spare tire mobility kit.
• Folding cargo cover.
• Cargo space lights.
• FOB controls, including cargo access, windows and remote engine start.
• Smart device remote engine start.
• Integrated navigation system w/voice activation.
• Memory settings, including driver seat and door mirrors.• SYNC 4A w/Enhanced Voice Recognition, including 15.5″ LCD capacitive touchscreen w/swipe capability, wireless phone connection, cloud connected, AppLink w/app catalog, 911 assist, wireless Apple CarPlay and Android Auto compatibility, digital owner's manual, adaptive dashcards, personal profiles and conversational voice command recognition.
• Driver/passenger and rear door bins.
• Power first-row windows w/front And rear one-touch up/down.
• Delayed accessory power.
• Power door locks w/autolock feature.
• Systems monitor.
• Redundant digital speedometer.
• Trip Computer.
• Outside temperature gauge.
• Front center armrest and rear center armrest.
• 2 seatback storage pockets.
• Manual w/tilt front head restraints and fixed rear head restraints.
• Driver And passenger heated cushion, driver And passenger heated seatback.
• Perimeter alarm.
• Securilock anti-theft ignition engine immobilizer.
• 2 12V DC power outlets.
Outside
The exterior of the GT has a revised front bumper with big air inlets to aid with cooling. Highlighting the GT is a unique gray grille, active cooling vents in the lower bumper and the light-up pony logo, all of which are standard on the GT. There are black-painted mirror caps and pony puddle lights.
It has the sporty EV with a dark-finished grille motif that sports a glossy surface and some unusual textures The pony badge is illuminated on the GT, giving it an appropriately intimidating visage at night, while a larger front splitter makes a statement that says this Mach-E isn't to be messed with.
Summary
Go to your local Ford dealer today for a test drive of one unique EV that will make you want to sign on the dotted line as soon as you take a test drive.
Specifications
• Wheelbase: 117.5 inches.
• Length: 186 inches.
• Height: 63.5 inches.
• Front track width: 63.5 inches.
• Minimum ground clearance: 5.7 inches.
• Passenger/seating capacity: 5.
• Front head room: 38.9 inches.
• Front leg room: 43.3 inches.
• Front shoulder room: 57.6 inches.
• Front hip room: 55.4 inches.
• Second row head room: 38.2 inches.
• Second row leg room: 38.1 inches.
• Second row shoulder room: 55.9 inches.
• Second row hip room: 53.2 inches.
• Cargo space/area length behind first row: 69.6 inches.
• Cargo space/area length behind second row: 36.5 inches.
• Cargo space/area width at beltline: 59.3 inches.
• Cargo bed height: 33.8 inches.
By Jerry Robbin
The 2021 Ford Bronco is absolutely dynamic in every respect, from the exterior to the interior. The Bronco is retro automotive art and places Ford as a major competitor to Jeep.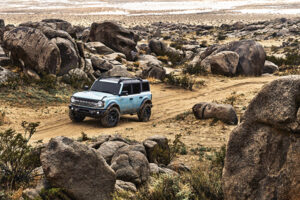 Driving Experience
My impression after driving the Bronco is that it absolutely lives up to its current and past reputation. The Bronco DNA equals a great getaway and adventure for the entire family.
The Bronco is agile with the 10-speed automatic or the optional V-6.
Ploughing through curves is an adventure and you feel like you are the king of the road. The steering feels responsive coming out of any type of turn. Driving a Bronco fast through twisty roads feels like you're driving a sports car
All 2021 Ford Broncos come with four-wheel drive and buyers can pick from two transfer cases.
Both are electronic and come with low ranges, but the more advanced case has a "4 Auto" mode that automatically engages front drive when the rears begin to slip.
Safety and Security
Advanced driver assist systems are important and Ford's Co-Pilot 360 standard suite of safety aides includes pre-collision assist with pedestrian detection and automatic emergency braking, as well as automatic high-beams.
Additional features include blind-spot assist, lane-keep assist and a 360-degree camera system.
Under the Hood
The Bronco is available with a 2.3-liter turbocharged four-cylinder (300 hp, 325 pd. ft. of torque on premium fuel) and the uplevel 2.7-liter twin-turbo six-cylinder, tuned to deliver 330 hp on premium fuel (315 on 87 octane) and a generous 415 lb-ft of torque.
The engine is also paired to the same 10-speed SelectShift automatic transmission and the combination is just as effective.
Inside
As with the exterior, the interior of the 2021 Ford Bronco takes on a rugged, yet modern appearance and looks like it will stand up to even the most hardcore overlanding trips.
The cabin feels spacious and airy with the Bronco signature throughout the interior. Bronco's dash is unique and functional.
The dash recalls the original Bronco, but with sensible design. The control layout is straightforward, the switchgear feels substantial and easy to use, and there are well-placed grab handles at the edge of the dash to help with the long climb into the front seats.
The back seats in the four-door Bronco could have used a little more ergonomics when it came to design, support and functionality. The nicest thing we can say about them is that they fold down easily to expand the roomy cargo bay, which is lined with hard plastic.
The camera setup with a split view of the front bumper cam and the top-down 360-degree view via a rotary dial ringing the transfer case switch, will pick a baseline setup for you.
Standard features
• Matching Spare Wheel and Tire.
• Personal Safety System.
• First Row: Driver and Passenger Dual-Stage Front Airbags.
• First Row: Driver and Passenger Seat Side Airbags.
• All Rows: Safety Canopy Side-Curtain with Rollover Sensor.
• Lower Anchors and Tether Anchors for Children (LATCH) – Each Second Row Seating Position.
• Individual Tire Pressure Monitoring System.
• Belt-Minder.
• Adaptive cruise control with steering assist.
• Four-Wheel Disc Brakes with Anti-Lock Brake System (ABS) and Electronic Stability Control.
• Advanced 4×4 with Automatic On-Demand Engagement Open image overlay for Advanced 4×4 with Automatic On-Demand Engagement.
• Adaptive Cruise Control.
• Forward Sensing System.
• Reverse Sensing System.
• Trail Control (requires 10-speed transmission).
• Trail Turn Assist (requires 10-speed transmission).
• Trail One-Pedal Drive (Requires 2.7L Engine and 10 speed auto).
• Electronic-Locking Rear Axle.
• Electronic-Locking Front and Rear Axle Open image overlay for Electronic-Locking Front and Rear Axle.
• Front Stabilizer Bar Disconnect Open image overlay for Front Stabilizer Bar Disconnect.
• HOSS Suspension System with Bilstein PSDs, and high clearance ride height.
• Hill start assist.
Interior
• Intelligent Access with Push-Button Start.
• Remote Start System Open image overlay for Remote Start System.
• 8-inch Color LCD Instrument Panel (In gauge cluster).
• High-Level Instrument Panel.
• Carpeted Flooring Front/Rear.
• Carpeted floor mats, first row.
• Carpeted floor mats, second row (4-Door Only).
• Floor Liners Front and Rear.
• Pre-Collision Assist with Automatic Emergency Braking.
• Lane-Keeping System.
• BLIS with Cross-Traffic Alert.
• Illuminated Sliding Visor Vanity Mirrors (Driver and Front Passenger).
• Terrain Management System (TMS) with 7 G.O.A.T. Modes.
• Ambient Footwell Lighting.
• Auto-dimming rearview mirror.
• Powerpoints (12V) – Two – Front Center Floor Console (1) and Cargo Area (1).
• Dual Smart Charging USB Ports – Type C + Std A, Front Row.
• Dual Smart Charging USB Ports – Type C + Std A, Second Row (Back of Center Floor Console).
• Dual Smart Charging USB Ports – Type C + Std A, DashBoard.
• AC Power Outlet – Back Side Of Center Floor Console Open image overlay for AC Power Outlet – Back Side Of Center Floor Console.
• Wireless Charging Pad.
• Heated and Leather-Wrapped Steering Wheel with Bronco Badge, cruise and audio controls.
• Manual tilt and telescoping steering column.
• Second Row window controls (4-door): Located in the back side of the Center Floor Console.
• Hard Top Sound Deadening Headliner (requires Hard Top).
Entertainment systems
• Bang and Olafson Sound System,10-Speakers including subwoofer.
• SYNC 4 – 12″ LCD Capacitive Touchscreen with Swipe Capability and Enhanced Voice Recognition.
• Open image overlay for SYNC 4 12″ LCD Capacitive Touchscreen with Swipe Capability and Enhanced Voice Recognition.
• AppLink with App Catalog.
• 911 Assist.
• Wireless Apple Carplay and Android Auto Compatibility.
• Connected Voice-Activated Touchscreen Navigation System with Pinch-to-Zoom Capability – 90-day trial subscription.
• Connected Built-in Voice-Activated Touchscreen Navigation System with Pinch-to-Zoom Capability – three years of service included.
• SiriusXM With 360L.
• SYNC 4.
• FordPass Connect.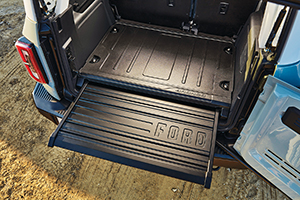 Outside
The 2021 Ford Bronco is set to be a modern icon, thanks to its retro looks that pay tribute to the original Bronco, while incorporating contemporary design elements that really add to its appeal.
In short, it looks really unique. From the sheet metal, headlights to the signature rear end, this unique vehicle says BRONCO for those who remember the original model.
Summary
Go to your local Ford dealer today to see why the all-new Bronco has landed a major blow to the main competitor in this category! Take a test drive and see for yourself!
Specifications
• Length: 189.4 inches.
• Width: 75.9 inches.
• Height: 71.4 inches.
• Wheelbase: 105.1 inches.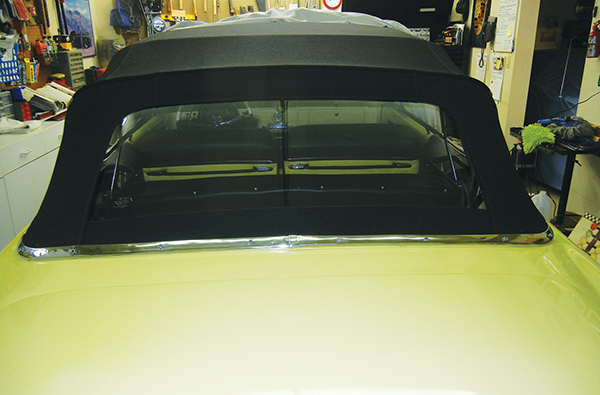 By Roy Lange
I recently had a new top put on my 1953 convertible. Due to the condition of my rear belt molding, I placed an ad for "belt molding with snaps." Since mine had been sanded and polished so many times, they had pinholes in them.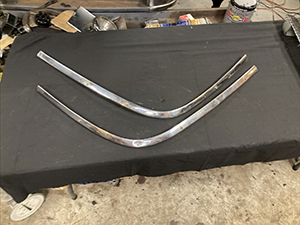 Not surprisingly, I didn't receive any offers. I tried eBay and found a set for $300 that were, in my opinion, beyond salvaging.
I had a theory that a set from a 1953 Ford Crestline two door (no post) would work. I did find a set on eBay for $83.73 (including shipping) and inquired as to the length and width. They were the same, except the ends on the Ford pieces were cut at an angle.
This was not an issue, since the ends went under the side molding anyway. Due to their location on a coupe, they were totally undamaged. I have found Ford trim to be less expensive than Mercury trim.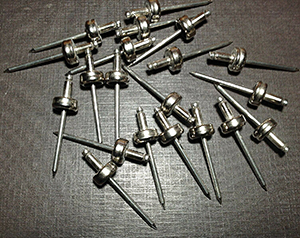 I found snaps online (www. althafastener.com), that were mounted with pop rivets ($20, free shipping).
I ordered the belt line moldings and snaps. After they arrived, I polished the belt line pieces. When I took measurements from the original pieces, I found the snaps were not mounted symmetrically from the center.
After checking with a few people, they confirmed the original installation of the snaps varied considerably.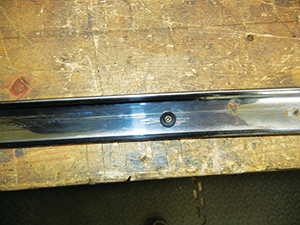 To find the center, I measured the opening of the rear window, and halved it, to establish the center location of the overlapping piece.
I taped the passenger-side piece (before it was drilled and polished) to the car, for mock up. I used a magic marker to locate the holes for the snaps, from the measurements taken from the driver's side. This made the snap installation symmetrical.
I used the measurements from the driver's side and duplicated them on the passenger side. When I installed the pop rivets, I put washers under the bottom for additional strength. The installation was now complete.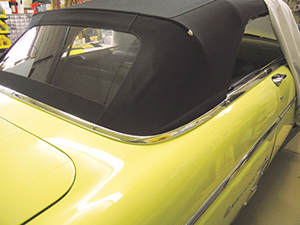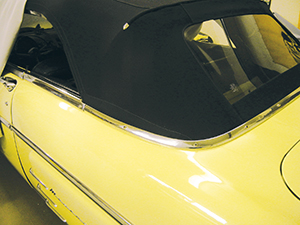 The total cost for this project was $103.73. For many of us, the hobby has become very expensive and at times prohibitive.
The goal of this story was to hopefully help someone be able to use this information to save a few dollars and provide an alternative, while searching for what has become, too often, overpriced and impossible-to-get parts.
Looking forward to the snow melting and getting back on the road again.
Besides being an IMOA member, Roy Lange, of Conifer, Colo., also belongs to the Early Ford V-8 Club of America and the High Country Regional Group.
By Jerry Robbin
Slotted in size between the Milan and Grand Marquis, the 2005 Montego was the Mercury counterpart of the Ford Five Hundred.
The Montego was introduced as an all-new model for 2005. Mercury styling cues, such as the waterfall-style grille and LED tail lamps with metal crossbars, did a good job of distinguishing the Montego from the Ford Five Hundred, which shared its structure and most hardware.
The Mercury managed to look more crisp and more heavy, while the Ford looked softer and lighter.
Otherwise, the Montego shared its general appearance with the Five Hundred. Their proportions of metal to glass are similar to that of Audi sedans, and the overall shape is not unlike that of the Volkswagen Passat. The Montego was tall for a modern sedan, a design influenced by SUVs.
High-intensity discharge headlamps were standard, as were large and bright tail lamps. The Luxury model came with 17-inch alloy wheels, while the Premium got 18-inch alloy wheels, not just for looks, but also for better brake cooling.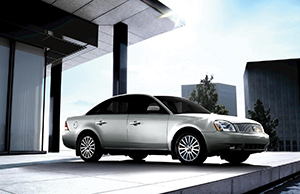 Driving Experience
On the road, the 2007 Montego was smooth and quiet. Its Duratec 3.0-liter V-6 works well with its wide-ratio, six-speed automatic. The transmission always seemed to match the right gear with the driving situation, and was extremely smooth and quiet in operation. The CVT version also performed well, thanks to low final-drive gearing and computer-optimized ratio changes.
Rated just 203 hp, the Montego looks weak compared to the Japanese and Korean competition, which reach as high as 270 hp, but it tops the 190-hp V-6 that's standard in the comparably priced Chrysler 300 (the highly publicized Hemi-powered 300C costs nearly $10,000 more). Fuel economy is an EPA-estimated 21/29 mpg city/highway for front-drive models, while AWD models are rated at 19/26 mpg.
The Montego handled well on smooth roads at a moderate pace. It's a big car, however, and didn't do as well when driven hard on bumpy, winding roads, where it starts to protest by bobbing around a bit.
The suspension, a modified version of the Volvo XC90 setup, performed just fine on smooth and medium-bumpy road surfaces, working with the stiff body and chassis to keep noise to a minimum. The rear suspension, located far outboard, kept the Montego hunkered down.
The all-wheel-drive system uses electronic controls to achieve optimum performance whether on dry, wet or snow-covered roads. Normally, only the front wheels are driven. But, when an electro-hydraulic limited-slip coupling senses a difference in speed between the front wheels and rear wheels, it can distribute up to 100 percent of the driving torque to the rear.
The brakes were excellent for a car of this size and weight. They react quickly to pedal input, the pedal travel is short and quick deceleration follows.
The aluminum disc brakes on Montego are large, designed to offer more stopping power than previous designs, and give off less brake dust on the front wheels due to a change in friction material. Antilock brakes were standard, as is Electronic Brake-Force Distribution.
ABS helps the driver maintain steering control while using the brakes full force, especially on uncertain surfaces. EBD continuously and instantly shifts maximum braking force between front and rear wheels as needed to improve braking stability and reduce stopping distances.
Safety
Safety was a top priority in Montego's design. Features that you can't see included energy-channeling frame structures engineered by Ford and Volvo that help absorb crash forces before they reach the passenger compartment, a strong crossmember in the roof, and an energy-absorbing cross-car tube that provides exceptional side-impact protection.
In AWD models, even the central driveshaft collapses to protect Montego's occupants by absorbing crash energy. The Montego was designed to meet tough future standards for rear-end impacts.
ABS brakes automatically sense when a tire has stopped rotating under extreme braking, and will modulate the brake pressure to allow the tire to rotate. This increases the vehicle's ability to turn while braking.
Front-impact airbags for the driver and passenger have been designed to protect the head during a frontal crash.
Seatbelt pretensioners automatically tighten seatbelts to place the occupant in the optimal seating position during a collision.
The Montego was equipped with an ignition disable device that prevents the engine from starting if the correct original manufacturer key is not used.
Under the Hood
The Montego features a 3.0L V-6 engine producing 203 hp. It has a six-speed transmission with overdrive. Its mileage is rated at 21 mpg city and 29 mpg highway.
Inside
Inside is where the Montego shined in several ways. It's among the roomiest of family sedans with 108.3 cubic feet of interior room. The back seats were notably roomy and lead the category in headroom and knee room. The Montego had more interior space than competitive vehicles that are up to seven inches longer.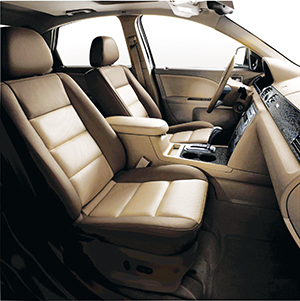 Its trunk, at 21.2 cubic feet, is also the largest in its class (aided by a space-saver spare tire). Both rear seats and the front passenger seat can fold down, extending the useful cargo area of the Montego to station wagon proportions. With the front seat flopped over, you get nearly 50 inches of storage length down the right side of the car.
Montego's interior design was influenced by SUVs. The beefy steering wheel looks like it came from an auto show dream truck, with more buttons than ever for added convenience, easier operation of the cruise control and more audio functions.
Other SUV design cues include the overhead console and the big brow shading the instruments. All the graphics are large, white on black, and very easy to read.
There's enough brushed aluminum trim to tell you you're in a Mercury. The Luxury model came with a straight-grain wood trim, while the Premium got burled wood trim. Three interior color schemes were available: two-tone grey, two-tone tan and black.
A large, oval-shaped clock is the central feature of the instrument panel, which is dark on top and light on the bottom, just as the seats are dark on the outside and light on the inside (unless you opted for the all-black interior). The instruments were easy to read and the controls are easy and quick to use.
The driving position in the Montego is pleasantly high off the ground, affording excellent driver visibility. The seats sit about four inches higher than the seats in the discontinued Sable. Visually, they are a bit of a throwback, blocky and plain in appearance. But they are also large, plush and supportive. The rear seats are set up higher still so that rear-seat passengers can see out without craning.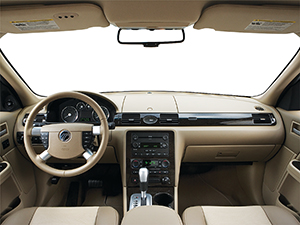 Inside features
• AM/FM/CD stereo with six speakers, including subwoofer.
• Remote trunk release
• Audio and cruise controls on steering wheel.
• Simulated wood trim on center console.
• Overhead console with storage.
• Front seatback storage.
• Tilt-adjustable leather steering wheel.
• Simulated wood trim on doors.
• Cargo net.
• Climate control.
• Power steering.
• Dual illuminating vanity mirrors.
• Front And rear cupholders.
• Electrochromatic inside rear-view mirror.
• Front And rear door pockets.
• Retained accessory power.
• Rear floor mats.
• Universal remote transmitter.
• Adjustable pedals.
• Front And rear reading lights.
• Leather trim on shift knob.
• Simulated wood trim on dash.
• Digital keypad power door locks.
• Power mirrors.
• Heated mirrors.
• Compass.
• Trip computer.
• Tachometer.
• Clock.
• Low fuel level warning.
Outside
The Montego's looks were restrained and inoffensive. There's even a slight air of Mercedes from the back, which is one of the Montego's better angles. The bulbous front end doesn't do the car any favors in the visual distinction department, however. The fungus effect set in, though, and we began noticing little touches like the subtle crease up the center of the hood, and the body sides unmarred by rub-strips.
Summary
The Montego was a five-passenger family sedan that was roomy and luxurious. It benefited from safety features and engineering developed by Volvo. All-wheel drive is available for bad weather and low-traction conditions. Both transmissions work well. The CVT that comes with AWD models is a vast improvement over earlier designs because of its electronic controls.
Specifications
• Length: 200.4 inches.
• Width: 74.5 inches.
• Height: 61.5 inches.
• Wheelbase: 112.9 inches.
• Curb weight: 3,720 lbs.
• Front headroom: 39.4 inches.
• Front legroom: 41.3 inches.
• Front shoulder room: 57.8 inches.
• Front hip room: 53.7 inches.
• Rear headroom: 38.7 inches.
• Rear shoulder room: 57.6 inches.
• Rear hip room: 53.3 inches.
• Rear legroom: 41.3 inches.
• Cargo capacity: 21.2 cu. ft.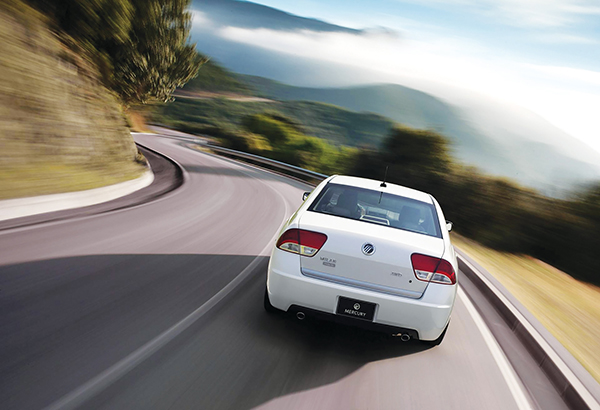 By Jerry Robbin
The 2010 Mercury Milan Hybrid was one of the final vehicles before Ford pulled the plug on the Mercury brand.
From its elegant interior to its superlative styling, the Milan was an exciting addition to the Mercury lineup for 2010.
The hybrid technology in this Mercury helped to deliver a unique driving experience and a high mpg rating for a mid-size vehicle that helped with fuel prices. I think that Mercury really hit a home run with the Milan Hybrid.
My test drive had a navigation system and Sync. The Milan Hybrid has a unique luminescent instrument cluster, with an up-to-date safety technology built right to enhance the driving experience.
Driving Experience
For a hybrid, the Milan was quick off the line and I thoroughly enjoyed its driving dynamic. Handling was responsive to every hairpin turn attempted. During stop and go traffic, the transition from gas to electric motor was effortless and hardly noticeable. Acceleration was impressive.
The Milan Hybrid's instrument panel was a unique LED display, showing lots of useful information, including indicators, which helped achieve optimal fuel efficiency.
My test vehicle also came with a blind spot monitoring system, which worked very well. Warning lights in the side-view mirrors lit up, indicating a car is in your blind spot. The system includes a monitor for backing up, also.
The best part was filling up the tank and finding that for a full week, I averaged 38 mpg combined city and highway driving. You should have seen the smile on my face!
Safety
• 4-wheel anti-lock disc brakes.
• Side-impact protection system, including dual stage driver and front passenger air bags, first- and second-row side curtain air bags.
• Passenger-side occupant classification sensor for air bags.
• Driver- and front passenger-side curtain air bags.
• Personal Safety System, including safety belt pretensioners, load-limiting retractor driver seat positioning sensor and crash severity sensor, front Belt Minder.
• Lower Anchors and Tethers for Children (LATCH) system for child safety seats.
• Rear door child safety locks.
• Internal emergency trunk re-lease.
Under the Hood
The motor in the 2010 Milan Hybrid is a remarkable piece of engineering that produces 41 mpg city and 36 mpg highway.
Propelling the Milan at low speeds is a nickel metal-hydride battery pack, which is recharged through the regenerative braking system.
The hybrid engine is mated to a CVT transmission, providing smooth acceleration, quite capable of handling all speeds and conditions. The engine/motor/transmission combination performed extremely well during my test.
Inside
The Milan I test drove was equipped with Sync and Sirius Travel Link. With Sync you are able to pair your Bluetooth phone to the vehicle to make hands-free calls. The Milan Hybrid also has a USB port. I was able to play any artist I had stored on my IPhone through the Sync System.
The Sirius Travel Link shows traffic congestion in proximity to your location, giving you the opportunity to avoid problem areas. This system also shows weather conditions in areas that you are navigating to.
Another great feature for the Sync technology is the 911 Assist, a feature that automatically dials 911 and sends an automated message if the car detects a crash.
The navigation system has a large display and is easy to operate. The system lets you use voice commands with the Sirius satellite radio, as well, letting you ask for channels by name or number.
The Sony audio system has a great sound, which I thoroughly enjoyed during the course of my test drive.
My Milan Hybrid was equipped with a rear-view camera and a blind-spot warning system. The rear-view camera and sonar warns you prior to you hitting objects. I found the blind spot monitoring system invaluable in driving and backing out of parking spaces in parking lots.
The leather seats were luxurious, comfortable and had the heated function for cold-weather climates.
Outside
My Milan Hybrid was painted in a beautiful color called Atlantis Green Metallic. The exterior styling is more conservative than its counterpart Ford Fusion, but subtle treatments like the larger waterfall grille identify this vehicle as pure Mercury.
Other exterior features included new headlights, new taillight lenses and a cleaner fascia design. For the four-cylinder model, the Milan gets two exhaust outlets mounted on the right side. For the V-6, the Milan presents dual exhaust with chrome-accented exhaust tips.
Summary
The bottom line was that if you were in the market for a hybrid, you should have taken the time to look at the Mercury Milan.
It had style, great mileage and all the high-tech amenities you could want. The Milan Hybrid is comfortable, economical and fun to drive.
The 2010 Mercury Milan Hybrid's base price was $27,500 and maxed out with all options at $33,735.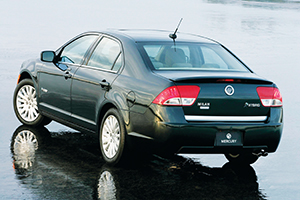 Specifications
• Length: 189 inches.
• Width: 72.2 inches.
• Height: 56.9 inches.
• Wheelbase: 107.4 inches.
• Curb weight: 3,720 lbs.
• Front headroom: 38.7 inches.
• Rear headroom: 37.8 inches.
• Front shoulder room: 57.4 inches.
• Rear shoulder room: 56.5 inches.
• Front hip room: 54 inches.
• Rear hip room: 53.3 inches.
• Front legroom: 42.3 inches.
• Rear legroom: 36.7 inches.
• Luggage capacity: 11.8 cu.-ft.
• Max cargo capacity: 11.8 cu. ft.
• Standard seating: Five passengers.
• Cup holders: Front and rear.
• Drive system: Standard FWD.
• Base engine size: 2.5L.
• Engine type: I-4.
• Engine output: 156 hp.
• Engine torque: 136 lb.-ft.
• Transmission: Standard two-speed CVT.
• Side airbags: Front.
• Curtain airbags: Front and rear.
• EPA fuel economy: 41 mpg city.
• EPA fuel economy: 36 mpg highway.
• Fuel tank capacity: 17.5 gallons.
• Fuel type: Gasoline hybrid.
• Basic warranty: 3 Years/36,000 miles.
By Jerry Robbin
The Mercury Grand Marquis was born way back in 1978, and lived a long and faithful life for its followers.
It had multiple changes in appearance, and as with most senior citizens, there were upgrades to its body and mechanicals.
For its final year, the 2011 Grand Marquis received no changes and continues to hold a Mercury proud of its heritage. The old-school, body-on-frame chassis is and was sturdy, simple and dependable.
The 2011 Grand Marquis was a full-size sedan that seated six people. Standard equipment included 17-inch wheels, rear air suspension, automatic headlights, foglamps, keyless entry, automatic climate control, a 50/50 split front bench with six-way driver and passenger power adjustability, power-adjustable pedals, leather upholstery, an auto-dimming rearview mirror, a tilting leather-wrapped steering wheel and a CD player stereo.
Options included heated seats, a leather-wood steering wheel and a cassette player.
Driving impression
Driving the 2011 Grand Marquis is like taking a trip back in time. Handling was superlative for the size of the vehicle. Pick up off the line with its V-8 was impressive and getting on any highway was a breeze. The Grand Marquis' immense size, cushy suspension and zero-effort steering combined to simulate floating on air.
Under the hood
The rear-wheel-drive 2011 Grand Marquis is powered by a 4.6-liter V-8 that has 224 hp and 275 lb.-ft of torque. A four-speed automatic is standard. The Grand Marquis does zero to 60 mph that requires about 8.5 seconds, and fuel economy is 16 mpg city/24 mpg highway.
Inside
The Grand Marquis' interior design for the time period wasn't really changed. Major controls reside in the center of the dash and are easy to access. They are easy to read and are from a simpler technological time.
The cabin is wide, but backseat legroom is impressive, and five adults can easily travel on a vacation in this land yacht.
The Grand Marquis is one of the cars capable of seating three people in the front seat, which means you can stuff six people inside. Their luggage will be able to come along, as well, because the trunk measures 20.6 cubic feet, making it the largest of any car.
Outside
The 2011 Grand Marquis hadn't changed in years, but highlighting the vehicle is the Mercury signature grille and taillights.
Safety features
Standard safety equipment includes antilock disc brakes, traction control and front-seat side airbags. Neither stability control nor side curtain airbags are offered. Nonetheless, the Grand Marquis fared well in crash tests by the National Highway Traffic Safety Administration, scoring a perfect five stars for both frontal and side impacts.
However, while the big Mercury earned the top rating of "Good" in frontal-offset crash testing conducted by the Insurance Institute for Highway Safety, it garnered a "Marginal" rating in side-impact crash testing.
Summary
You can still find a used good 2011 Grand Marquis if you are in the market for the last Grand Marquis standing for your everyday driver.
Here are some of the 2011 Grand Marquis' features:
* Remote Trunk Release.
* Leather Trim On Center Console.
* Overhead Console With Storage.
* Front Seatback Storage.
* Cruise Control.
* Leather Steering Wheel.
* Simulated Wood Trim On Doors.
* Cruise Controls On Steering Wheel.
* Tilt-Adjustable Steering Wheel.
* Climate Control.
* Dual Illuminating Vanity Mirrors.
* Speed-Proportional Power Steering.
* Front And Rear Cupholders.
* Electrochromatic Inside Rear-view Mirror.
* Retained Accessory Power.
* Rear Floor Mats.
* Front Door Pockets.
* Front And Rear Reading Lights.
* Trunk Light.
* Simulated Wood Trim On Dash.
Specifications
* Front head room, 39.5 in.
* Front hip room, 57.4 in.
* Front leg room, 41.6 in.
* Front shoulder room, 60.6 in.
* Rear head room, 37.8 in.
* Rear hip room, 56.1 in.
* Rear leg room, 38 in.
* Rear shoulder room, 60 in.
* Curb weight, 4,117 lbs.
* Length, 212 in,
* Height, 56.3 in.
* Wheelbase, 114.6 in.
* Width, 78.3 in.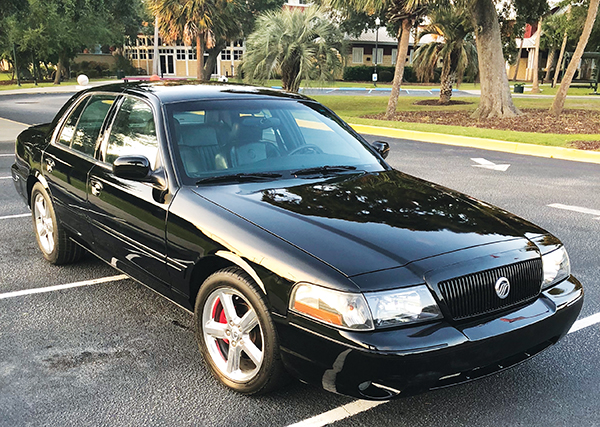 By Jerry Robbin
Let's set the stage for the evolution of the last muscular full-size body-on-frame sedan that still roams the earth: the 2003 Mercury Marauder.
The front clip of the 2003 Marauder is from the Grand Marquis, except for a black-finished grille, new bumper cover and Cibie driving lights. The headlamps have blacked-out bezels, giving the Marauder the appearance of wearing a sinister burglar's mask.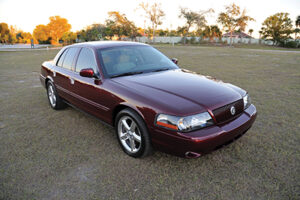 Driving impression
The Marauder definitely has attitude. Whether you are an enthusiast with a family, who're seeking to have a sedan with an emphasis on both thrills and utility, the Marauder can handle both jobs.
Fast, handsome and practical to boot, the Marauder has a ride that's clearly designed to be more than just a one-trick pony. Acceleration is amazing and the handling is superb. The brakes are adequate for the Marauder.
Under the hood
The Marauder's dual overhead camshaft, 32-valve, 281 c.i. V-8 produces 318 pound-feet of torque, which means that it not only sounds sweet, but you can also rocket down the road with more power and speed than almost anything else in its price range.
Inside
The interior is fitted with twin front bucket seats, a center console with auxiliary AutoMeter gauges for oil pressure and amps, brushed aluminum trim and silver-faced gauges. A 140-watt Alpine AM/FM/CD/cassette player is mounted into the dash.
Enthusiast drivers will appreciate the white-faced displays, which include a 140-mph speedometer, 7,000-rpm tachometer and full instrumentation with temperature, oil and voltage gauges.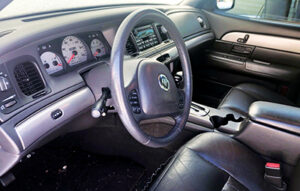 Bright trim replaces the fake wood found in the Grand Marquis, adding a touch of attitude. A floor shifter juts out of the center console for a sporty feel, while the five seating positions are upholstered in leather with the winged god Mercury's head embossed in the seatbacks.
"Marauder" is embroidered into the floor mats to remind the driver this is a special car.
Here are some of the Marauder's features:
* Remote trunk release.
* Audio And cruise controls on steering wheel.
* Overhead console with storage.
* Front seatback storage.
* Cruise control.
* Leather steering wheel.
* Cargo net.
* Tilt-adjustable steering wheel.
* Climate control.
* Dual illuminating vanity mirrors.
* Speed-proportional power steering.
* Front and rear cupholders.
* Rear floor mats.
* Universal remote transmitter.
* Adjustable pedals.
* Front and rear reading lights.
* Leather trim on shift knob.
* Trunk light.
* One-touch power windows.
* Power mirrors.
* Remote keyless power door locks.
* Heated mirrors.
* Bucket front seats.
* Height-adjustable passenger seat.
* 8-way power passenger seat.
* Height-adjustable driver seat.
* Driver seat with power- adjustable lumbar support.
* Passenger seat with power-adjustable lumbar support.
* 8-way power driver seat.
Outside
The car sports 18 x 8-inch polished alloy five-spoke wheels, with the godhead stamped on the wheel caps.
At the rear, there's a new fascia embossed with the Marauder name (the only other places the name appears is on the front floormats and the face of the speedometer).
The taillamps and license plate lights feature black-tinted lenses.
Safety Features
With its basis on the Grand Marquis, the 4,165-pound Marauder has all the standard safety features of the day.
Federal crash testing of the Grand Marquis has resulted in a five-star rating for frontal impacts and four-star ratings for side impacts.
The 2003 Marauder comes standard with four-wheel disc antilock brakes with electronic brake force distribution and panic assist, which applies the brakes full-force when a panic stop is detected.
Also standard is the Personal Safety System (advanced restraint and airbag systems) and seat-mounted side airbags.
Summary
The Marauder fulfilled its mission of offering family-car utility with muscle-car attitude.
The Marauder was priced at $34,495 and offered only two options: a $200 trunk organizer and a $350 trunk-mounted six-CD player.
When you purchased the car, you got a limited-edition black leather jacket with Mercury's head on the lining, snaps and zipper, making you feel that you were part of an exclusive club.
The 2003-2004 Maurader is fast becoming a hot collectible.
Specifications
* Front head room, 39.4 in.
* Front hip room, 58 in.
* Front leg room, 42.5 in.
* Front shoulder room, 60.1 in.
* Rear head room, 38.1 in.
* Rear hip room, 58.7 in.
* Rear leg room, 38.4 in.
* Rear shoulder room, 60.3 in.
* Curb weight, 4,165 lbs.
* Length, 211.9 in,
* Height, 56.8 in.
* Wheelbase, 114.7 in.
* Width, 78.2 in.
By Rob May
This California convertible Cat, a 1972 Cougar XR-7 owned by Larry Hurt, makes its den in Oxnard, Calif., and has made appearances at Ventura Classic Car Club (VCCC) and Central California Mercury Club (CCMC) functions.
Born in Carthage Ill,. Larry Hurt has five brothers and two sisters.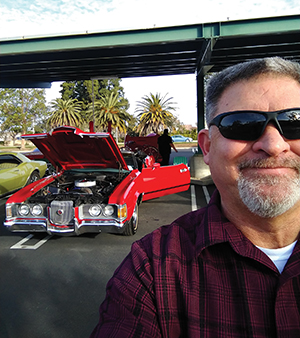 "In 1984, I joined the Navy Seabees (Construction Battalion) and was a construction electrician for 22 years," Larry said. "During the last part of my career, I was a part of the Mobile Utilities Support Equipment (MUSE) program and became a power generation technician."
Larry met his wife, Rebecca, while in the MUSE program, and they have been happily married for more than 20 years.
"We have two beautiful daughters Katelynn (18) who started Ventura College in January 2020, and Sarah (14) who is a freshman in high school."
Larry never expressed any "car guy" traits, so Rebecca was a little surprised when he told her about wanting a classic car.
"I decided I wanted a classic car between 1965-75, convertible and I was leaning towards the Cougars," Larry said.
His Cat was found on eBay, and he negotiated with a dealership in Boise, Ida., without even seeing the car in person.
"The pictures sold me and it was just a matter of getting a fair price," Larry said. "When I got the car delivered, all my mechanic friends said the car was in really great shape mechanically."
The car was a restored 1972 Cougar XR-7 convertible, factory interior in great condition, nearly new black power top with glass rear window, and it already had a chrome air cleaner housing, valve covers and dual exhaust tips.
The original V-8, 351-2V Cleveland mated to its factory original Code X FMX 3-speed automatic transmission, now is upgraded with an Edelbrock aluminum 4-barrel intake manifold with a Holly 4-barrel carb.
"There is still a lot of little things I want to do, but it is more cosmetic and a personal thing than a mechanical one," Larry said.
In the '70s, car manufacturers had mostly designed the larger body style for the comfort to be on the road. The Cougar XR-7 was Mercury's way to compete with the muscle cars of the era. This car is no exception.
It will still toss your head back when you step on the gas, even at highway speed.
The convertible look is a California classic design and the eye- poppin' red color turns heads.
"Oh yeah, I get a lot of looks when they hear the Flowmaster duals rumbling," Larry said.
Best of Show: Gary and Beth Baehmann, 1969 Cyclone CJ 428
Participants choice: Jay Williams, 1970 Cougar Eliminator
Best in Class: Jerry and Kathy Orcutt, 1970 Cyclone
Best in Class: Lynn Mahncke, 1987 Cougar LS
Best in Class: Fred and Linda Akers, 1964 Comet
Best in Class: Tom and Fran Harrington, 1966 Comet Cyclone
Best in Class: David and Barbara Kohler, 1949 two door
Best in Class: Paul and Sheila Voyles, 1954 station wagon
Best in Class: Larry and Carol Parks, 1967 Monterey convertible
Best in Class: Steve Casselman, 1977 Grand Marquis
Best in Class: Larry and David McFarland, 1960 Parklane
Best in Class: Steve and Patti Tukos, 1956 Montclair
Best in Class: Gene and Dianna Oliver, 1957 Turnpike Cruiser
Best in Class: Mike Peters, 1978 Grand Marquis
Long Distance: Mike Lough, 1956 Montclair convertible, distance of 1,230 miles from Dryden, Ontario, Canada
Hard Luck Award: Steve and Patti Tukos, 1956 Montclair, lost a hubcap
Special award from John Clor: Gene and Dianna Oliver, 1957 Turnpike Cruiser
By Jerry Robbin
The 2019 Raptor has upgraded suspension and new Fox Racing adaptive dampers that automatically adjust in real time as driving conditions change.
The Raptor gains a low-speed cruise control called Trail Control, that makes climbing rocky terrain and other off-road obstacles easier for the driver. Other updates include new paint colors, a new wheel design and optional Recaro front seats for added support and style.
Driving impression
The new Trail Control feature is a cruise control for off-road trails. The system limits the speed and ranges only from 1-20 mph, though it allows you to set half-mph-intervals for better precision when climbing over obstacles.
The transmission delivers quick shifts and enhances the drive experience. The different drive modes — normal, sport, Baja, rock crawl, deep snow/sand, towing and weather — affect the transmission differently, with Baja and sport mode holding shifts until the last moment, and normal mode keeping the engine's rpms down to conserve fuel.
The new suspension keeps the Raptor stable over bumpy terrain. The steering is responsive and the brakes can stop the Raptor at any speed.
Under the hood
The 2019 Raptor has a high-output twin-turbo, intercooled DOHC 24-valve, 3.5L EcoBoost engine with port fuel and direct injection, paired with a 10-speed automatic transmission that generates a massive 450 hp and 510 lb.-ft. of torque.
Inside
The Raptor's interior features heated and cooled front seats, leather seating surfaces and unique color choices that add a touch of luxury. Its touchscreen infotainment system Sync 3 is easy to use and the controls are laid out well. The system supports Apple CarPlay and Android Auto.
The Raptor's 5.5-foot cargo bed is as useful as those of its short-bed rivals, and its interior cubby storage is the best among rivals.
Outside
The 2019 Raptor is nearly 500 lbs. lighter than the previous generation with its high-strength, military-grade, aluminum-alloy body, but what really sets it apart is the tech underneath, with its Trail Control and Terrain Management System.
The bold grill, Raptor signage and rear tail gate set this unique truck apart from its sibling F150.
Safety features
• Standard forward-collision warning and automated emergency braking.
• Available lane-departure warning and lane-keeping assist.
• Available blind-spot monitor and rear cross-traffic alert.
• AdvanceTrac with Roll Stability Control.
• Airbags – Front, driver and passenger.
• Airbags – Front, driver and passenger seat-mounted side.
• Airbags – Safety Canopy side curtains.
• Curve Control.
• Four-Wheel anti-lock brakes.
• Safety Belts – Active Restraint System (ARS), Three-Point Manual Lap/Shoulder Belts with Height. Adjusters, Pretensioners and Energy Management Retractors on Outside Front Positions.
• Tire Pressure Monitoring System (TPMS).
• Rear View Camera with Dynamic Hitch Assist.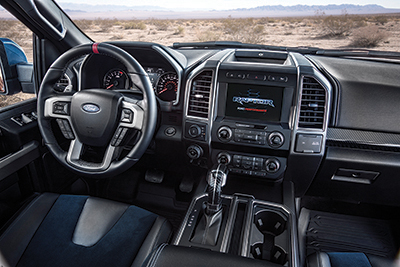 Comfort and Convenience
• 110-Volt/400-watt power inverter, instrument panel.
• 110-Volt/400-watt power inverter, rear flow-through console.
• 4.2-inch productivity screen.
• Pre-Collision assist with automatic emergency braking.
• Automatic high beams.
• Black carpet flooring with rubber front and rear floor mats.
• Cruise control.
• Delayed accessory power.
• Dome light.
• Fade-to-off interior lighting.
• Flow-through center console with floor shifter.
• Fully flat load floor.
• Gauges and Meters – fuel, oil pressure, transmission temperature and engine coolant temperature; speedometer, odometer and tachometer.
• Grab handles (A-Pillar) – Front, driver and passenger side.
• Horn, dual-note.
• Intermittent windshield wipers.
• MyKey.
• Outside temperature display.
• Overhead console with six auxillary upfitter switches.
• Power door locks with Flip Key and Integrated Key Transmitter Keyless Entry, including Auto-Lock.
• Powerpoint, 12v, Front
• Powerpoint, 12v, Rear.
• Rearview mirror, auto-dimming.
• Reverse sensing system.
• Steering wheel, leather wrapped, sport style with thumb pads and paddle shifters.
• Steering wheel, manual tilt/telescoping.
• Ford Performance aluminum scuff plates.
• Unique interior trim accents.
• Visors with driver- and passenger-side covered mirrors.
• 360-degree camera with split-view display.
• 8-inch productivity screen.
• Adaptive cruise control with Stop-and-Go.
• Ambient lighting.
• Intelligent access with push-button start.
• Lane-keeping system.
• Power-adjustable pedals.
• Power-adjustable pedals with memory.
• Pro Trailer backup assist.
• Rain-sensing wipers.
• Seats – Front, heated and ventilated.
• Smoker's pack with ash/coin cup.
• Steering wheel, heated.
• Steering wheel, power tilt/telescoping with memory and electronic locking.
• Universal garage door opener.
Entertainment
• AM/FM/CD stereo.
• SiriusXM Satellite Radio.
• SYNC 3.
• FordPass Connect with WiFi hotspot.
• Kicker subwoofer.
• Bang & Olufsen sound system.
• Voice-activated Navigation with SiriusXM Traffic and Travel Link.
Exterior Measurements
• Width: 79.9 in.
• Height: 77.2 in.
• Length: 231.9 in.
• Wheelbase: 145 in.
Interior Measurements
• Front head room: 40.8 in.
• Front leg room: 43.9 in.
• Front shoulder room: 66.7 in.
• Rear shoulder room: 65.9 in.
Summary
If you are in the market for a performance truck with some real get-up and go, then go to your local Ford dealer for a test drive today.
By Mark Sherman and Rob May
Photos by Georgina Garcia May and Mark Sherman
Light Aqua Mercury cars are the inspiration for this issue's collectibles article.
By no means is this a complete list; however, Mark and Rob teamed up to share some of their favorite Mercury miniatures in Light Aqua/Blue (related colors are discussed as well). The focus will be on diecasts and plastics.
Not shown are AMT 1/25 promos, due to the quantities of year and model. There are plenty of paper products, as well, including original dealership brochures, post card promotions, Papercraft folding model kits, magazine ads and posters.
Mark provides us a glimpse of his numerous years of collecting Mercury diecasts and plastics.
"From the start, I have been in a Ford family," he said. "My dad and his two brothers always had cars and trucks from FoMoCo. One of my uncles collected Model A's and Model T's, but his pride and joy was a 1953 Mercury.
"My other uncle was a master mechanic, owned his own Gulf service station and had two stock cars that he built and drove at the local race track (1949 Ford bodies). My dad and mom had station wagons, mostly (the 1964 County Sedan sticks out in my mind), except for the 1957 Fairlane coupe and the 1965 Mustang coupe (which was my mom's car). My mom's sister had a 1961 Comet that I loved – can't beat those fins.
"My very first (real) car was a high school graduation gift from my parents. It was 1975 and the gift was a 1963 Comet. It was an automatic, beige with a white top, four-door. I loved that car and those little fins.
"As a kid, I loved collecting Match Box and Hot Wheels, and I was thrilled when there was a Ford/Mercury/Lincoln that was like one my family had. I had three carry cases full of them and took them everywhere. As a teenager, our house was burglarized and they took the car cases with the other stuff they stole."
Mark was devastated. He didn't start collecting again till he was out on his own.
"My favorite color is blue," he said, "and I love the '50's and '60's Light Blue, Aqua and Turquoise from that mid-century era, and decided that would be all I collect."
It is tough, as not all diecast come in those colors, but the search was on.
Mark collects all scales (1:87, 1:64, 1:43, 1:32, 1:25 and 1:18). He has diecast, as well as plastic promo cars and models.
"My friends and family know this, and they are also on the hunt for me." he said. "They have given me some wonderful gifts, like my 1:24 1957 Montclair from The Danbury Mint."
Picking favorites from all of Mark' s Mercurys is difficult, but he loves the afore mentioned 1:24 1957 Montclair, the 1:87 1960 Comet, the 1:18 1964 Marauder, the plastic 1967 1:18 Cougar promo and the 1:18 1956 Montclair convertible.
"Sunstar is one of my favorite manufacturers and many of my 1:18 cars come from them." he said. "Johnny Lightning and M2 Machines are my favorite 1:64 makers. So, as I am heading into my 40th year of collecting, I am still on the hunt for those Light Blue, Aqua and Turquoise cars."
Rob May's Cougar background pairs up well with Mark's collection. In 1986, Gary May bought Rob his first car – a 1969 Cougar in Light Aqua (E color code). This car has been featured in a previous Quicksilver magazine, along with several examples of collectibles from the May museum (a 40-plus year collection).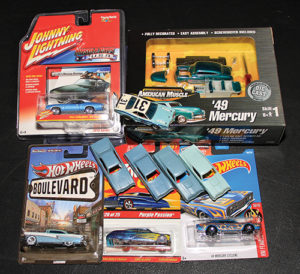 Manufacturers of Light Blue Mercury items in this museum include, but are not limited to, the following: Marx, Hot Wheels, Matchbox, Autoworld, Johnny Lightning, M2 and AMT models. The plastic promo cars (both the 1/18th scale Gay Toys Inc and 1/64th F&F/JVZ cereal cars) have been highlighted in prior issues, as well.
While there is a wide variety of blue Mercury Hot Wheels Cougars, a rather unique item is the Japanese "Sweet Rods" premium series 1968 Cougar.
In addition to Cougars, Hot Wheels offers numerous Mercury cars. Examples include: from the 2011 Boulevard series – 1956 Mercury, '69 Cyclone and Classics' '49 Mercury.
Johnny Lightning follows the same footsteps as Hot Wheels, with both Cougars and other Mercury 1/64th diecasts such as the 1971 Montego. Blue Mercury slot cars are also found. Not to be missed is the 1/64th scale AFX Mercury Stock Car and Cougar Thunderjets.
Vintage items besides the promos, Cougars can also be found in light blue. Marx "Mini Blazers Bulldog" is the smallest. Not to be missed is the 1/64th scale AFX Mercury Stock Car for slot-car racing. AMT produced a 1/43rd scale "Mini" model of the 1969 Cougar that is molded in Light Aqua, matching Rob May's Cat! (A similar AMT "mini" was produced for the first-generation Cats).
Rob reminds everyone, "Always place a miniature version of your car on the dash at all car shows to gain more points!"
While the same color paint may be found on a particular year Ford/Lincoln/Mercury, the name of the paint varied. In addition, each year offered a chance to change the name or the shade of the paint. This article highlighted Light Aqua/Blue Mercury collectibles. Clearly, other shades of aqua/blue Mercury items are available as well.
"Aqua" examples include Hot Wheels '69 Mercury Cyclone, Hot Wheels Classics series – Purple Passion ('49 Mercury) and Ertl's, owned by Racing Champions at the time (2001), American Muscle series '49 Mercury.
Diecasts, plastic promos and paper products can all be added to your blue Mercury collection!
Sometime in April of 1954, Ford Motor Co. designer John Najjar made a proposal to build a couple new show cars, one of which was the XM Turnpike Cruiser.
For those who don't know, the "XM" stands for eXperimental Mercury.
Najjar was also the key designer of the 1954 Mercury XM-800 concept car that I restored a few years ago.
Unfortunately, no one in its past ownership history, including the Mercury Division of Ford Motor Co., took care of this important design concept vehicle.
It sat outside its entire life after the show circuit of 1956, exposed to the harsh climate of Detroit, Mich.,in its early years, and then in California's relentess sun until I purchased it in the summer of 2018.
While sitting outside in the back parking lot at Ford's headquarters, vandals broke the door windows, allowing the elements to get in the car and begin its deterioriation.
If you look at the early pictures of the XM-TC in its prime, you'll notice that the hood "peak" is barely noticeable. Look again at the current pictures with the replacement hood, and you'll see that the peak is quite enhanced from the original version.
I intend to completely fabricate a new hood in the original style during the restoration.
The XM-TC evidently had a few rust holes in the front of the quarter panels, just ahead of the rear wheels on both sides.
The hood was apparently damaged or rusted beyond repair at some point, as a replacement hood was fabricated by one of the former owners who owned a body shop.
The condition of the repairs to the quarters and to the replacement hood are a testament to the quality of workmanship the XM-TC has received under prior ownerships.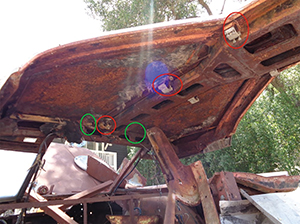 At right, notice the "butterfly" roof sections over the driver and passenger seats, These are clear plexiglass sections that open automatically when the doors are opened, and close again automatically when the doors are closed.
They are activated by micro switches in the door jambs and are powered by electric motors at the rear of the roof under the headliner panel, which are connected to the "butterflys" by drive shafts.
The XM-TC was lower than any car of its era, which was done to give more headroom getting in and out of the car.
A 1955 Mercury coupe rolling chassis was sent from Ford to Ghia Carozzeria in Italy to construct the XM-TC on top of. Ford also sent along a 3/8 plaster scale model for Ghia to work off of.
Ghia built the XM-TC from the chassis up. In other words, the chassis was first modified to accomodate the plans for the car in that there was an extension added to the rear of the chassis because the XM-TC was to be longer than any production car of the day.
It was also built much lower than any other production car of the day, standing only 52.4 inches high. This was accomplished in part by cutting approximately four inches off the top of the chassis at the foot well areas.
Cutting that much out of the chassis would severly weaken it and surely cause problems, such as doors binding.
This was compensated for by adding additional frame rails inboard from the main rails. These new rails were on either side of the drive shaft.
The new structure was added and then the floors were welded into place on the new chassis. The rest of the body was subsequently built from there on up.
There was also additional strengthening structure added at other areas under the floor.
In order to begin the restoration, I have to separate the body from the chassis. To accomplish that, I'll first weld trusses inside the body to keep it rigid while I cut the floors away so I can separate them.
I have a rust-free 1955 Mercury Coupe chassis to use for the restoration and I'll modify that to match the original and build the floors on top, as Ghia did in 1955.
As you can see, I have my work cut out for me.
Ed. Note: Tom has many more images of the original and current XM-TC on his website at www.tommaruskacars.us. There is also video footage dating back to 1956 showing the car on tour with the Big M Van-O-Rama.
By Rob May
In the last issue of Quicksilver, we detailed 1/64th- and 1/43rd-scale promos in the cases where Mercury joined with other entities, including a third party, to their mutual benefit in advertising.
Typical hard-plastic promo models are 1/25th-scale cars and trucks. Cougar dealer models were never offered in this size (although AMT offered a kit in hobby stores). Instead of this common size, we will discuss the larger 1/18 soft-plastic Mercury Cougar promotional representatives.
These collectibles initially were a Mercury dealer product that later merged into the toy market.
In 1967, Mercury dealerships utilized Gay Toys Inc. to advertise. A mail-away offer and direct-dealer placement introduced the new Cat in 1/18th scale. In this case, there was no third-party product involvement. One could walk into the Mercury dealership and acquire this soft plastic item or wait for one to be mailed to their home.
Details were fairly accurate. The white interior included a steering wheel, which is often missing through the years. A clear plastic piece formed the windshield and rear glass. Side roof posts are commonly found bent when the clear plastic is missing.
Colors offered were light blue, green and dark burgundy red. License plates indicated "1967," although blank plates are found indicating the transition to the next model year.
For 1968, these Mercury Cougar advertisement items continued. All part molds were the same as 1967, with a couple distinctive differences: license plates now had "1968" and the side marker lights are clearly on the body (versus the rear emblem found on the '67).
All colors from 1967 carried over; in addition, a darker blue, yellow and red were added to the regular line.
Initially produced for Mercury as advertising material, Gay Toys Inc. transformed them into a toy, as well.
Instead of blank mailing boxes, these Cats were placed onto colorful display platforms. Along with the regular line, a "Drag Kat" version with hood scoop (GTE style) was presented in a box platform.
Interiors for the scoop version were now in white and black. Bumpers are black. Exclusive to this version is an additional orange body color.
The 1967 Cougar promos are fairly common, although ones with boxes are highly desirable. The '68 versions are much harder to find, with the Drag Kats less seen than their regular counterpart.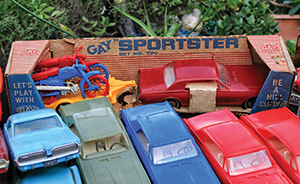 By far the rarest Gay Toys Inc. 1/18th piece to find is the "Sportster" set 790 that includes a Cougar pulling a trailer with a pair of motorcycles.
A yellow "hitch" attaches to the rear bumper, enabling the car to connect to the trailer.
Beyond 1968, no Cougars were offered by Gay Toys Inc. GT40 models were produced in the 1/18th scale. Other Ford products were made in smaller scales, but no other Mercury vehicles.
All photos are by Georgina Garcia May Photography and all cars will remain the May family museum.
By Rob May and George Woehlke
The International Mercury Owners' Association welcomes George Woehlke from Santa Maria, Calif., and his 1967 Mercury Cougar XR-7.
He is one of three founding members of Mercury Stray Cats – Central California. George is the MSC Central CA's top active car show member, having participated in the most car shows, including but not limited to St Patrick's Day Santa Maria and Warbirds Paso Robles Fullerton SCCC. George has been promoting the need for a Mercury Cougar class at all shows.
George shares his story: "My first car I ever owned was a 1957 Ford Fairlane 500, which I purchased for $275 when I was 17 years old in 1966. I owned this car until I was drafted in 1968.
My sister's girlfriend had a 1968 Mercury Cougar. She would allow me to drive it and that is when I decided to buy a Cougar when I got out of the service.
Unfortunately, when I was discharged in 1973 from the USAF, I spent two to three years going back and forth to the Veterans Hospital in Los Angeles, having surgeries for injuries that occurred while I was in the military.
I got married and my thoughts of owning a Mercury Cougar went to the wayside for many years.
When I separated from my wife in 2001, I started searching for my dream car, a 1967 Mercury Cougar. After several long years traveling through the good old USA, I decided to find one locally because I could not afford to travel in order to see one-sided Cougars (one side looks good in the picture, the other side is all messed up).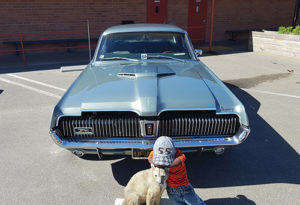 In 2005, I finally found my 1967 Mercury Cougar XR-7 in San Luis Obispo County. This Cougar had only 69,269 miles. It was built in San Jose, Calif., and sold to an elderly lady in 1966 from Fresno. When she passed, she gave the car to her son, who did not want it."
George was living in an apartment then, so he made arrangements with the manager of the apartment complex to lease another spot so that the Cougar would be covered from the weather.
"I would work on the car on my days off from work from sun up to sun down," George said.
While fixing the little rust on the car, he decided to have the car stripped down and repainted.
"The original color was called Lime Green Gold, which I really didn't care for," George said. "The color I picked was a 2007 Ford Freestyle Color called Moss Green."
He chose that color because he wanted to help show off the interior of the car.
"Shortly after getting my Cougar back from the body shop," he said, "I was just beginning to have engine problems."
A friend of his named Kevin owns a shop called Mustangs Limited in Arroyo Grande, Calif.
"Together, we took out the engine and found out that my timing chain took a tremendous dump, with only one plastic tooth left on the timing chain. We were both amazed the car still ran."
Kevin then pointed out that rebuilding the engine would cost way more than a new Crate engine (there were no guarantees on the rebuild of the original engine, which was a 289).
"At that point," George said, "I asked him to order a 351 Windsor engine and Headman Headers."
George enjoys driving his Cougar at least once a week or more, driving in luxury and comfort (like riding in a Lincoln with comfortable luxuries and being safe).
Next up is the All Ford Orcutt California Sept. 8 event, with a newly added Mercury Cougar class.
Also, Mercury Stray Cats Central CA hosts Mercury Cougars, Comets and Cyclones on Saturday, Oct. 6, at the Radisson in Santa Maria, Calif. This is an all Mercury event – any and all condition Mercurys are highly encouraged to join us!
Images for this story provided by Georgina Garcia May and George Woehlke.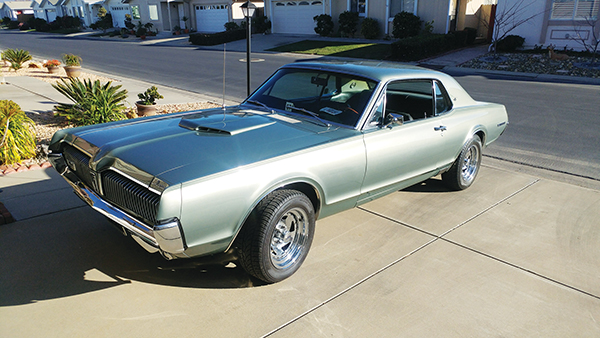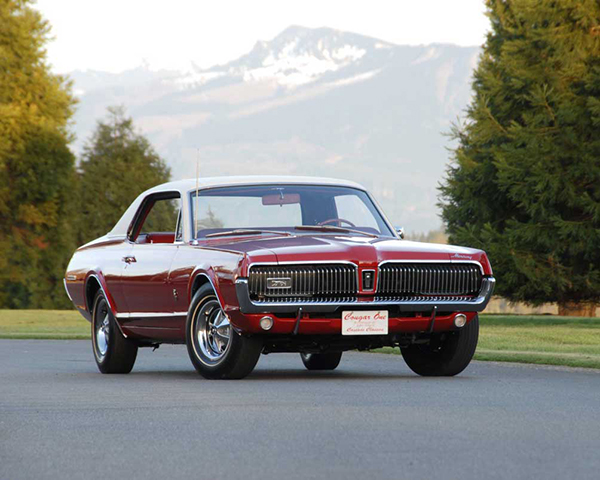 Ed. Note: Story and images courtesy of Carlisle Events.
The 2017 Carlisle Ford Nationals show is celebrating the 50th anniversary of the Mercury Cougar, including the appearance of the serial No. 1 Cougar.
The will be held Friday-Sunday, June 2-4, at the Carlisle Fairgrounds in Carlisle, Pa.
The special Cougar will be on display in Building T, along with dozens of special Cougars, including the XR-7, GT, Eliminator, Dan Gurney Special, Sports Special, XR7-G, XR7-G Hertz, GT-E, Cougar 500, Ski-Pac Special, Calypso Coupe, Rocky Mountain Special, Hounds-tooth Top (both white and ginger colors), R-code Cougar, 429 Equipped Cougar, Blue Max Cougar, 25th Anniversary Cougar, 30th Anniver-sary Cougar and the Roush Cougar.
The serial No. 1 Cougar has its origins in 1966. Ford Motor Co. put in a deepwater shipping facility on the Bay of Fundy in New Brunswick/Nova Scotia.
Lee Iacocca and other Ford executives were present for the dedication. Dryden Motors, of Moncton, New Brunswick, which was the oldest Ford-Lincoln-Mercury dealer in Canada at the time, sent their dealer principal to the event.
He had the opportunity to talk to Iacocca to try and get his Mercury Cougar orders in quicker after finding he was way down on the list for fulfillment.
Iacocca agreed to send him a factory show car to put in the showroom. After a call to Special Vehicle Operations, Iacocca had a vehicle for Dryden Motors.
However, he was unaware that they were sending him Cougar One and it turned out it couldn't be sold because it didn't have the Manufacturers Statement of Origin. Dryden Motors then put it out on a closed-end lease to the owner of a local car wash across the street from the dealership.
After returning the lease to the dealership 35 months later, Cougar One was parked at the dealership until 1979. After the dealer principal died, the dealership lost its personal service contract with Lincoln Mercury, the dealership filed bankruptcy and the car was auctioned off.
Local hardware dealer Dale Garland won the auction and tried to sell the Cougar in 1982 in Cars and Parts magazine, with no luck.
The car sat in a Quonset hut south of Moncton until 1994, when Cougar Club of America member Mark Ogden found the old issue of Cars and Parts at a swap meet and saw the old classified ad.
He was able to contact Garland and found the car was still in storage in the hut.
Fellow club member Jim Pinkerton found out about the Cougar through Ogden and drove to New Brunswick to check the Cougar out.
After digging some snow out of the way of the door, Pinkerton made his way into the hut and inspected the car, finding that all the numbers identifying the car were still available.
Pinkerton offered Ogden the first chance to buy the car, since he was the one who originally found it. Ogden purchased the Cougar and owned it for about nine months, but decided the cost of restoration would be too much for him.
Ogden offered the car to Pinkerton for the price of what Ogden had put into the car, with the agreement that Pinkerton would restore it to the way it should be.
Pinkerton contacted Bob Lutz at Lincoln Mercury and made an agreement with them to lease the car for $1 for 30th anniversary events of the Cougar if Lincoln Mercury would pay to have the car restored.
The car was restored in time for the 30th anniversary after it was acid dipped and had many NOS parts purchased to replace old parts.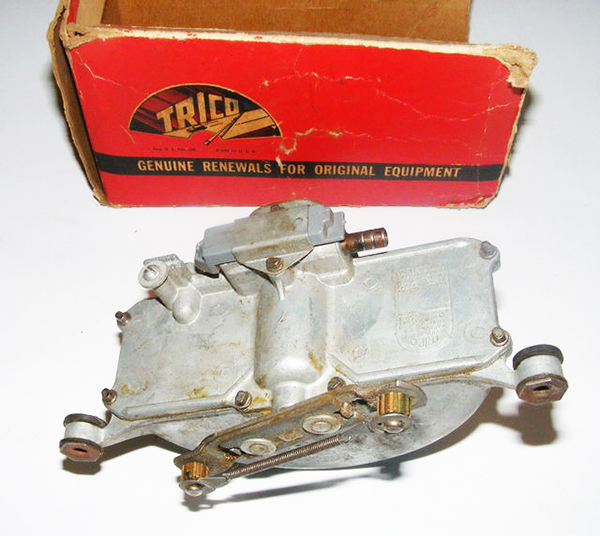 By Roy Lange
If you own an early Mercury or Ford, as I do (1953 Mercury), you have the vacuum wiper motor built by Trico that was installed by the factory in your car.
For those of you that live in the flatter portion of the U.S., the wiper worked well enough until you got caught in a rainstorm and wanted to pass the car in front of you.
Then you pushed on the accelerator and your wipers stopped in place on the windshield. Not exactly what we have come to expect from our wipers today.
My issue is that I live at an 8,300- foot altitude and since most of the car shows and cruises are in the Denver area, when I come home I am climbing 3,000 feet in a 13-mile stretch of the highway. So the accelerator pedal spends most of the time closer to the floor.
If it was raining, I relied on Rain-X to do the job of removing the rain from the windshield. A little-known fact is that Ford offered electric wipers in their trucks as early as 1948.
A little over a year ago, I was at the Tri-State Swap meet in Denver, with the goal of seeing if I could find said electric wiper motor and brackets with the thought of installing them in my Merc.
As I went through the swap meet, I asked if anyone had the early electric wiper motors and one vender said he did. He returned with what turned out to be the Electro-Vac vacuum pump. I really had no idea what it was from, but I asked the price and when he said $10, I thought I couldn't lose. I bought it and took it home to see if I could get it to work.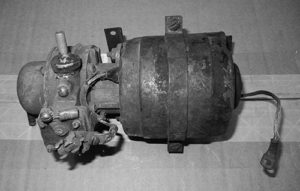 I recommend that you remove the motor from the unit to free up the pump when cleaning it, then reassemble it before testing it with the motor.
After taking it apart, I sprayed WD-40 into the pump to help free it up, then used a drill on the pump shaft to turn it over until it turned freely. I then reassembled the motor and the pump, and now had a working Electro-Vac vacuum pump that I tested with a vacuum gauge.
All well and good, but now where did it all go? I contacted Trico and they were kind enough to send me diagrams showing how and where to mount and service the unit. These diagrams would have been provided in the box with a new unit when they were originally being built and sold. They also sent me original ads for the unit.
Trico apparently figured out, probably from customers' not-too- happy feedback, that their wipers had a few shortcomings. Subsequently, they created the "fix" and made it available to the general driving public, since their wipers seemed to be the standard in most vehicles of that era.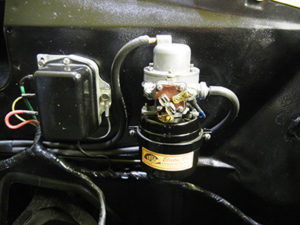 The diagrams showed the unit being mounted on the passenger side of the engine compartment. Mine was a bit full already, so I decided to mount it over on the driver's side next to the voltage regulator, as there was ample space.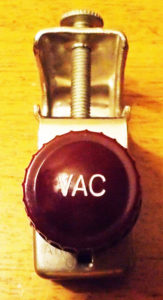 The unit I bought did not come with the switch, so I searched until I found an original switch that came with the unit. Since none were available on the Internet, I did have a switch that was almost identical.
I proceeded to first paint the switch the correct color and used transfer letters to finish it. It does have a light bulb behind the switch that lights up when the switch is turned on, so the paint was a light coat to allow the light to come through.
The final step was to recreate the label. Trico was also kind enough to provide me with a high-resolution picture of a not perfect, but very useable and patina-appropriate label.
I then printed it on sticky-back, water-resistant photo paper. Overall, it turned out not bad.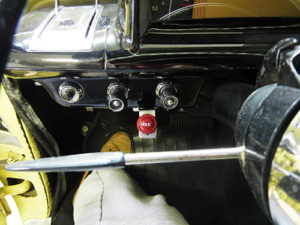 The completed unit was installed in the car and forgotten about, until I was returning from a cruise in Golden, Colo., and it began to rain.
I turned on the wipers and since I was climbing back up the hill, the wipers immediately stopped in the middle of the windshield.
I looked down and there was the pump switch just sitting there, waiting to be turned on. I turned it on and, low and behold, I had working wipers again!
So, the next time you are in the rain with your classic car and the wipers stop, remember there was a fix created by Trico back in 1948 (I have a copy of the original drawing for the bracket dated 8/3/48).
The next time you are at a swap meet or on E-bay, keep an eye out. They come in 12- and 6-volt models. They are not hard to install and they do work. At the end of this are some of the diagrams I received from Trico.
Ed. note: Roy Lange is an IMOA member who resides in Conifer, Colo.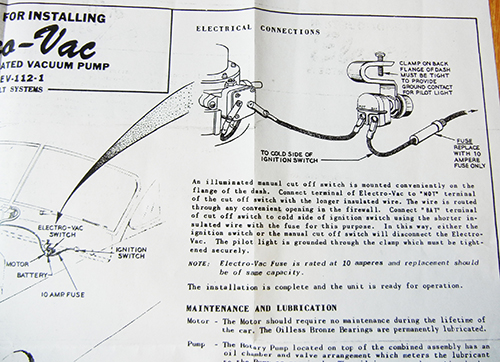 By Roy Lange
This is for all of the people that have cell phones and want to charge them while driving their classic Mercury.
If your car is 12 volt, it is not an issue, because all you need to do is get a cigarette lighter adaptor (pictured at right), plug it in and you are good to go.
The plug reduces the 12 volts down to the 5 volts required to power/charge the phone. But, if you are dealing with a 6-volt positive ground, it is slightly more complicated, but still not too difficult.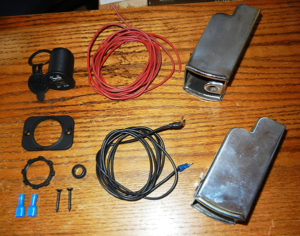 I have a 1953 Monterey convertible that is a 6-volt. I bought a USB kit from eBay (look for it searching for "motorcycle USB ports").
I decided to install it in the ashtray. I wasn't using it anyway, since I gave up smoking when cigarettes went from a quarter to 35 cents from a machine.
I located mine in the ashtray, but you can put yours wherever you want. I had another ashtray in the extra dash that I have hanging on the wall.
First, I drilled a hole in the bottom of the ashtray and put a rubber grommet in it to make sure the metal wouldn't rub, cut the wire and create a short. The best thing about these USB units is that they are all plastic, so there are no grounding issues.
I took the plastic rectangle that came with the unit (one of the reasons I bought this USB plug) and cut it down so that it fits directly in the top of the ash tray.
Since I have a 6-volt positive ground car, I remembered that the "+" side of the plug goes to ground and the "-" side of the plug goes to the hot lead, controlled by the ignition switch (mine is still 6-volt positive ground in the 1953 Merc).
The red wire goes to the power source (ignition switch), while the black wire goes to wherever you want to ground it.
This unit reduces the 6 volts down to the 5 volts required to power or charge the phone. It works great and is not noticeable when it is not being used.
And in the event the next owner (once they pry the steering wheel from my cold dead hands) wants to go back to original, all they have to do is disconnect the two wires and insert the other ashtray.
Ed. note: Roy Lange is an IMOA member who resides in Conifer, Colo.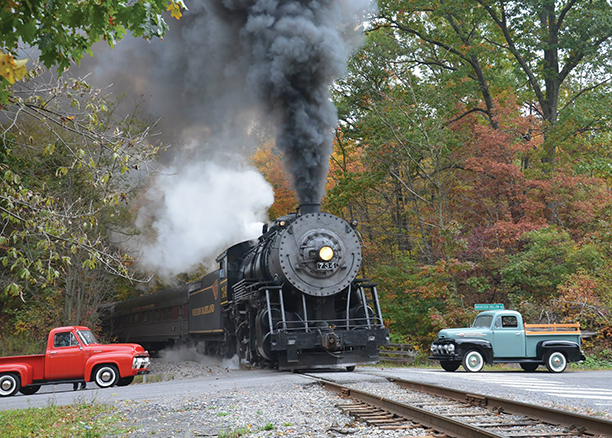 By Todd Haefer
New IMOA member Harry Hartman, of Ridgeley, W.V., has combined his love of classic vehicles and photography to keep a historical record of his cherished Mercurys.
"We are always looking for new and unusual places to photograph our antiques," he said. "We enjoy taking our Mercurys to different scenic spots."
Harry and his wife, Kathy, own a 1952 Mercury M1, '54 Mercury M100; '52 Ford F1, '57 Meteor Rideau 500 and a '49 Mercury M47 panel truck.
"I'm a photography nut," Harry said. "I bought a 35mm camera in 1975 and it opened my eyes to the beauty of the world. I wanted to create a pictorial history of my trucks with the ultimate goal of creating a photo book for each of my vehicles."
Harry got interested in Mercury trucks when he decided to jump into the classic car hobby.
"I wanted to get involved in antique vehicles, and everyone had an old Chevy or Ford. I knew I couldn't afford the typical classic car. I didn't have the money or time for graveyard cases.
"Since my father loved trucks, I decided to go in that direction. I went to pick up the 1952 Ford F1 in Canada, and the guy there asked if I had ever heard of Mercury trucks. I hadn't and then I had to have one."
Besides his photo books, Harry uses his pictures for various greeting and holiday cards.
"Some of the photos make for great Christmas cards, as well as congratulation cards," he said. "We have submitted pictures of our trucks to local community calendars and photo contests, and have been selected for a month or two on each of the community calendars."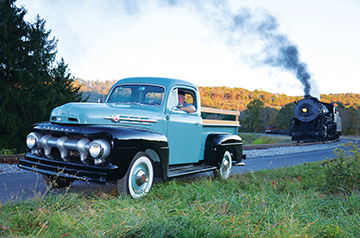 Harry researched train schedules to take the photo that starts off this story, with the M1 and M100 on each side of the oncoming train.
"I'm a retired schoolteacher and the train engineer at the time was one of my former students," he said, "so I was able to find out the schedules. That picture was taken at the Woodcock Lane Crossing in Mount Savage, Md."
The Hartmans put their classics to good use.
"We tell everyone we didn't buy them to just look at," Harry said. "We don't drive them every day, but every weekend at least two of the antiques are on the road. I have three sons and two live very close to us, so there are times that three or four of the Mercurys are out on the road. It is always neat to pull into a car show or a restaurant with all the Mercs and see the oohs and ahhs."
The Hartmans took two of their pickups to the 2015 National Ford Truck Show.
"I get yelled at by purists at shows about why I have a flathead in a '54 truck," he said of the M100. "They base that on 1953 being the last year Ford used them in its trucks. But, Mercury in Canada used flatheads for one more year for its trucks."
His Meteor Rideau 500 was purchased after Kathy mentioned she would like an automatic classic to drive to shows.
"We started looking for a Mercury truck with an automatic, but then the gentleman we purchased the 1952 Mercury from heard me talking about our new search, and said he had been looking for a good home for the Meteor and felt we would take care of it."
He said Kathy enjoys the Meteor so much that she made a whole family of Raggedy Ann and Andy dolls (36-inch, 24-inch and 18-inch) that fill the back seat.
"She said her kids are very quiet and well behaved when she is driving," he said.
Harry said it was another Canadian purchase and draws attention at shows.
"Everyone assumes it is a Fairlane 500 until they look closer," he said. "It has a 292 V-8 and is about 90-percent original."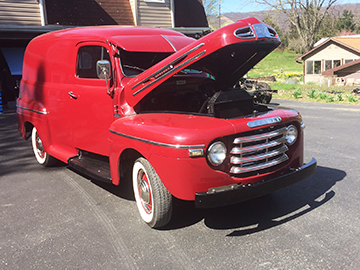 Harry's latest purchase is a 1949 Mercury M47 panel truck.
"It has the flathead V-8 with the Canadian markings on the heads," he said."It has a three-speed on the floor and is about 90-percent original. Personally, I think the only thing that is missing is some wording on the side of the panel. When people saw panel trucks like these originally, they were usually owned by some company – hardware, plumber, market or bakery, to name a few – that had their names on them. I feel it needs something like that on the side."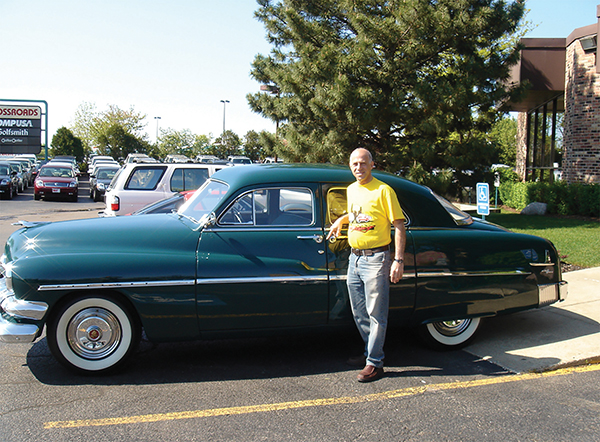 By Todd Haefer
Jerry Robbin, president of the International Mercury Owners' Association, is unique in that he still holds his title 25 years after founding the club in 1991.
"Our club is trying to keep the Mercury marquee alive, just like a museum," he said. "Mercury had an identity crisis when it started and it still does. Many people aren't even sure what a Mercury was. Once they got rid of standalone Lincoln and Mercury stores, Ford and Mercury cars just started to look similar and that was a killer."
Jerry grew up in the Chicago area and it didn't take long for his car interest to develop.
"My dad bought a new car every couple of years, always General Motors and Oldsmobiles," he said. "I always loved looking at the new models at the Chicago Auto Show or at the local dealers.
The first collector car Jerry owned was 1959 Chevy Kingswood wagon he bought in 1986.
This led to his buying a 1959 Mercury Commuter wagon from Carl Hilchen, who later was one of the charter members of the IMOA.
"The first place I went looking for parts for the Commuter was at the Iola Car Show," Jerry said. "I was asking around for Mercury parts and the vendors acted like I was a leper."
He then thought to look for parts through clubs.
"I found that there were no national Mercury clubs," he said. "There were some small ones, pocket clubs, here and there. I decided to find out why there wasn't a national one."
He contacted Chuck Snearly, who worked for Ford Motor Co., about forming a club.
"That led to Ford funding an ad in Hemmings Motor News asking if people were interested in joining a Mercury club," Jerry said. "I sent out a first newsletter to people who responded to the Hemmings ad. After a year, we had a hundred members and there was steady growth after that."
The IMOA's peak year for membership was 2008, when there were 1,400 registered members.
The newsletter eventually morphed into Quicksilver magazine, funded by a membership fee, which provided essential information for members, such as classified ads.
"Many classic car owners are looking to buy or sell a car and parts," Jerry said. "I looked at a membership fee as an investment to find these things. They also like to see pictures of theirs and other cars."
Jerry even wrote articles for awhile.
"I wrote about 'Fred the Wagon,'" he said. "It was written like the car was talking."
Many charter members wrote for the club publication, including Jim Tweedy, Bill Moulton, Jim Wickel, Bill Arnold and John Harvey, the latter who still provides columns for each issue.
Other original members who had a great influence on the club were Carl Hilchen, Paul Melchart and Ernesto Romero.
The first annual IMOA show was in 1993 at the Gilmore Auto Museum in Hickory Corners, Mich. Through the years, members attending the annual show have driven their cars on the Indianapolis 500 race track, toured the South Dakota Badlands and the old frontier town of Deadwood, cruised through the Smokey Mountains, gone country in Branson, Mo., and celebrated Ford's 100th Anniversary in Detroit.
"Everyone I meet at the national shows are such down-to-earth people," Jerry said. "We have a great time together. The people are so important. The best thing about the club is the networking that is created."
The club has a varied membership that have ranged from those with 100-plus collections to those who are still working on the restoration that they started 25 years ago.
The club is truly international, with members hailing from Sweden, Finland, Denmark, Great Britain, Australia, Argentina, Brazil, Canada, Germany, Greece, Iceland, Italy, Mexico, Norway, New Zealand and The Netherlands.
Like many clubs nowadays, there has been a tricky transition between having a club publication and an online presence,
The IMOA is currently juggling the past and present, still publishing Quicksilver as a magazine, but also having its www.mercuryclub.com Web site and a Facebook page.
Jerry is satisfied by what the club has accomplished through the years and what it means to members.
"The greatest thing is the camaraderie and meeting such great people," he said. "I've been able to meet members in Switzerland and rode in their cars there. We have members in Finland, Denmark, Sweden, Great Britain and South America that we help out when they're looking for parts or other information."
By Tim Cleary
Way too soon.
Long-time IMOA member Al Delessio passed away Aug. 27 at the age of 58. He lived his whole life in northern Pennsylvania and worked for one company his entire career.
He had battled the big C and dealt with all the related junk. When he had to go through another round of chemo he always said, "Tim, what can we do, but what the doctors tell us to do?"
Al was pure class and a lifelong car lover and Mercury aficionado. He used his cars as drivers and even used his wagon at work in the vending business. When he told me he could fit a vending machine in the back of his wagon, just like back in the 1960s, I had to smile. How many people were doing that in 2015?
Al's daily driver was a 1990 Mercury Colony Park station wagon and he was always on the lookout for more wagons to find and fix up. He was a super positive person and just loved talking cars. He loved station wagons and was a memory machine on the old cars that he loved all of his life.
His pride and joys were a rare S55 Mercury 428 and a 1967 Cougar. Like every car addict, Al always had a car he was tracking down through calls he got from people who knew to call him about any Mercury product that was somewhere out there, calling his name.
Is it torture or pleasure overload when a car lover hears about a car that sounds so sweet, so amazing, so perfect, we simply must go to see it or at least call the owner? That's how I want to remember Al. I would freeze him in that moment, ready to go see the rare low-mileage car he had just heard about.
If there was a pill for this sickness we shared, Al would not take it. There is always a great find around the corner. Al had a childlike excitement when he would recount to me what he had just heard about that would send both us into old car station wagon orbit.
His wife and daughter were very supportive and even drove some of the cars he loved for their daily activities. That is one sweet family unit.
I could talk his language. That's what car buddies do. We listen and add positive feedback, and fan the flames of excitement. One log on a fire is about as exciting as a candidate's debate. It takes two to really go into the stratosphere and that's why I loved talking to Al.
And that's why I now feel so sad and alone and diminished.
I knew he was in the hospital, but I kept calling. There was a lady with a 1991 Ford Country Squire that was close to him. She wanted to see the car go to a good home. I kept calling, but I got no response. I was nervous about his health.
Then my phone rang. It said Al Delessio. I answered, relieved and excited to know he was OK.
I said, "Hello, Al!" But it was his daughter in tears to tell me Al was gone.
Al didn't care about trophies or shiny paint. That is the mark of a man with a strong self image and a grasp of what matters in our short time on this earth.
Now he is gone. Who will replace the Al Delessios?
He was a Packer fan because he watched the first Super Bowl. A Mercury man because he was there for the glory days. A gentle person who never said a bad word about anybody. A junkyard expert who knew where all the parts were hiding.
The younger generation is great and they can use GPS and find out where there is a $6 IPA beer or a $4 cup of coffee. But they never got to grow up with these old classic rides. That's part of what makes Al Delessio impossible to replace.
Who can I call tonight that had Al's knowledge and passion and love for our hobby? What will happen to our hobby and our wagons when all the Al Delessios are gone?
Please don't use them in demolition derbies. Please don't let them sit unused in a garage. Please don't part them out for some tarted up two door that needs a front clip.
Think of Al and shine up a dusty one. Get it running and take it to a show. Tell the folks passing by about the car and a man named Al who made our hobby so sweet for the folks who were lucky enough to know him.
There will never be another Al Delessio.
Long-time IMOA member Gerald Edward "Jerry" Clor died Oct. 24, 2015, while at home with his wife, Cecelia, in Dallas, Ga., at the age of 66. Jerry lost his courageous battle with cancer after being diagnosed earlier in the year.
He was born in Detroit, Mich., on March 4, 1949, as the second of five children born to Edward L. and Charlotte M. Clor (deceased). He is the brother of Jim Clor (and wife, Kathy, of Sun City, FL), Judy Pink (and husband, Pete, of Lexington, MI), John Clor (and wife, Jenny, of Harper Woods, MI) and Joe Clor (and wife, Kyle, of Grosse Pointe Shores, MI).
As the beloved husband of CeCe, he is the loving father of Aaron Clor, Sara Deko (and her husband, John) and Daniel Clor (and wife Kiali), as well as a proud grandfather to (Ashley and Mikey Clor; John, Joey and Cooper Deko; and Zach, Paige and Daniel Clor, Jr.), step-granddaughter, Brittney Derosier, along with many nieces and nephews.
Jerry graduated from St. Juliana Grade School and St. Anthony High School in Detroit, and gained his college education in Michigan as well as some of the several states (including Washington, New Jersey, Connecticut, Arizona, and Pennsylvania) where he had resided during his accomplished corporate career in pharmaceutical sales and training.
He was a Vietnam Veteran with service in the United States Air Force at DaNang Air Base. He had a life-long passion for cars and had served as regional director for the IMOA.
A story on Jerry's automotive activities will be in the Winter 2016 issue of Quicksilver.
Cruisin' Caskets is a Sun City, Calif., casket fabricating company that specializes in automotive coffins.
"It enables the car aficionado to rest in a true piece of art with personality and style," is the way owner Danny Mendez describes his business.
The cars may embody any make and style of car, ranging from 1950s classics, muscle cars and today's more stylish models.
Cruisin's Web address is www.cruisincaskets.com; e-mail, info@cruisincaskets.com; tel. (951) 215-MERC (6372).
By Rich Anderson
On a wintry December night in 2009, I opened my issue of a local farm and ranch magazine and started to thumb through it.
There in the classifieds, buried in the back pages, was an ad that stated simply, "original 1947 Mercury convertible for sale," followed only by a phone number. No name, address, price or picture.
The next morning I called the seller, who was surprised because he hadn't even received his copy of the magazine yet.
It turned out he was the son of the registered owner, who by that time was living in a nursing home. I was the first call he had received.
Like his father and grandfather before him, the seller lived on the family farm just a few miles south of the Canadian border, and the car was in a bam on the family homestead where it had spent the last 53 years!
The man sounded like a typically blunt, but honest, Montana rancher, and I was inclined to believe him.
After asking about the general condition of the car and leaming it had run into the barn under its own power all those decades ago, and that it had not been wrecked, I decided to buy the car right then, for the price asked, sight unseen.
My last word to the seller at that point was "Today, as soon as the banks open, I will send you a cashier's check for your full price. I will be there to pick the car up as soon as possible."
My home in Billings, Mont., was about 350 miles of icy highway and back roads from the car I was not to see for another two weeks.
The blizzards on the Montana high-line eventually subsided, and on the first clear day, a friend and I took my trailer to the remote homestead near the town of Havre.
There, rolled out of the bam, was my 1947 Mercury convertible. It was exactly as described – very dirty, very original and very intact. The Tucson Tan paint seemed fairly decent from what I could tell. The filthy top was still in one piece. The dash and woodgrain looked potentially beautiful beneath the layers of dust.
Everything was present under the hood. I pocketed the radiator petcock, which was still sitting on top of the air cleaner. The odometer read 27,942 miles.
I then excitedly conversed with the rancher in greater detail about the Merc's history. His father had purchased it from the Ford dealership in Havre in 1954, after the original owner traded it in. It was then used as the family automobile for about two years before the left rear shock absorber was somehow damaged and separated from the frame.
Intending to make repairs before long, the old gentleman (then young) parked his Mercury in the barn. That was in 1956, and the car, though occasionally started and run in place during the early years, was never driven again.
The repairs were never made. Over time, the car was eventually forgotten by the family and simply left where it was. The children and grandchildren, though, knew it was there, but were completely disinterested.
The For Sale ad I had answered was prompted finally by the seller's need to help finance his father's care. In parting that day, this honorable man told me he had received at least 15 phone calls after mine, but he kept his word with me. Our telephone handshake was as firm to him as anything in writing.
Once I got the Mercury home, I found a Carter Oil grease sticker on the doorjamb showing an oil change on July 8, 1954, at 24,529 miles.
First thing, after sweeping and blowing away the remaining loose dirt, I changed the oil and filter, and installed a new battery. I replaced the H-10 spark plugs and squirted transmission oil into the cylinders. New belts, hoses, thermostats and coolant came next (I was able to use that petcock).
After several days, I hand tumed the engine and found it to be free. Neither the gas tank nor the fuel pump were usable in their condition, though, so before startup, Jerry Koch contrived a gravity system that fed gas from a suspended gallon can directly into the carburetor inlet.
The time had come. I called in some of my friends of Big Sky Region #153 of the National Ford V-8 Club, consisting of Russ Anderson of Bridger and Jerry Koch, Al Jenkins and Larry Liptac of Billings.
Russ cautioned me not to switch on the ignition until I had first spun the engine with the starter to see if there was oil pressure. There was almost immediate pressure, so we tried the ignition. The engine started, but it missed badly.
Russ then dislodged a large mouse nest that was packed in the tailpipe. In just a few more turns, the engine was running on all eight and better yet, it sounded great.
That was it for the day, but much work remained before I could test drive the car.
The entire fuel system was redone, from gas tank to carburetor. I found that other than a good flushing, the radiator and cooling system needed nothing. To ensure no future ignition problems, I removed the distributor and ran it over to Al Jenkins' shop. He put it on his K.R. Wilson testing device and found that it was set up perfectly.
Further examination revealed that it had a "Ford factory rebuild" label on it. The points looked new and as the distributors generally do not fail for at least 20,000 miles, Al surmised it must have been replaced shortly before the Merc was put in storage.
Countless hours were spent in cleaning up the interior and canvas top, which originally had been black. I removed both seats and had them professionally cleaned.
The red leather seat and door trim were excellent. The floor coverings, while showing use, were now presentable. The dash, including all woodgraining, gauges and plastic, tumed out to be pristine.
All wheel cylinders were honed and fitted with new kits, as well as the master cylinder. The brake drums only needed a good cleaning and the original brake shoes showed so little wear that they were reused. The brake hoses, of course, required replacement. All chassis grease zerks, after some persuasion, did take grease. New gear lube was put into the transmission and differential, and then more cleaning.
Another item that needed replacing, in additional to the rear shock, was the muffler. I contacted Dan Krehbiel, who referred me to an outlet that still carried a few genuine Mercury parts. As luck would have it, they did have a NOS Ford script 1947 Mercury muffler.
The old girl was now in good shape. Though the engine has never been opened, it runs strong and cool with good compression.
Some time in the car's early life someone replaced the rubber rear fender shields with aftermarket chrome-plated ones. Over the long storage, these had rusted on the surface. But in the trunk, along with the damaged rear shock and a like-new top boot, I found the two original rubber guards in perfect shape. It was a simple matter to put them back on the car.
I repeatedly hand polished and waxed the exterior paint until it looked beautiful from 20 feet. The chrome and stainless trim, including bumpers, likewise responded to T.L.C. All the trim and paint work you see in the photos are 100-percent factory original. So is the nearly perfect glass. Only the tires are new.
My wife Cheri and I trailered the Merc to the Westem National V-8 Meet in St. George, Utah, in October 2010. At its first showing, my "barn find" won a triple Rouge award for its all-original interior, exterior and running gear.
I have driven it very sparingly since. The odometer now reads 29,202 miles. I intend no restoration. The car will be preserved as is.
The 2014 Transit Connect is a versatile wagon that is worth stopping by your Ford dealer for a test drive. It features exceptional 22 mpg city/ 29 mpg hwy. gas mileage.
The Transit Connect Wagon has been completely restyled inside and outside. A new longer wheelbase has been added, making the wagon available as a five-passenger with the short-wheel base and my test vehicle, the seven- passenger Titanium with the longer wheelbase.
Driving Impression
My test drive had the 1.6-liter turbo drivetrain, which provided excellent acceleration. The 1.6 is capable of handling any city or highway driving. The ride and handling were very good for a wagon and it was a great vehicle for errands and car pooling. The Transit Connect has a 2,000 lb. towing capacity.
Under the Hood
The 1.6-liter EcoBoost was very quick for daily driving and capable of going from 0-60 in 8.8 seconds. The EcoBoost delivers 178 hp and 184 lb.-ft. – more torque than the 2.5. The mileage was exceptional at 22 mpg city/29 mpg hwy.
The vehicle earned a five-star Overall Vehicle Score from the National Highway Traffic Safety Administration, the government's highest possible overall rating.
Inside
The Transit Connect Wagon has a flexible interior layout featuring a flat floor height.
The interior is highlighted with quality plastics, plenty of cup holders and storage. It has a high roof, looks great and has built-in storage above the first row of seats. Highlighting the Transit Connect was a large moon roof, power sliding doors and tailgate. My test drive was the loaded Wagon Titanium that had leather and heated front seats, a power driver seat, leather-wrapped steering wheel, dual-zone automatic front climate control, separate manual rear climate controls, SYNC voice-command, rearview camera, MyFord Touch, navigation, 17-inch alloy wheels and MyKey with programmable usage restrictions. It can accommodate about 130 cu. ft. of cargo.
Outside
The new Transit Connect Wagon has some of the current Ford design cues, including the grille. The vehicle has a fun look and is highlighted with fog lights that are set in the bumper. The new rear blade taillights highlight the new 2014 design. Large sliding doors open wide for passenger entry and exit.
Front Seats
* 6-way power driver seat.
* Driver seat with manual- adjustable lumbar support.
* Passenger seat with power adjustable lumbar support.
* Height-adjustable driver seat.
* Cloth seats.
* Bucket front seats.
Rear Seats
* Split-folding rear seatback.
* One-piece folding third-row seats.
Power Features
* Remote power door locks.
* Power mirrors.
* Heated mirrors.
* Two one-touch power windows.
Instrumentation
* Clock.
* Tachometer.
* External temperature display.
* Low fuel-level warning.
Convenience and Comfort
* Cruise control.
* Front, rear and third-row cupholders.
* Front console with storage.
* Front seatback storage.
* Front and rear door pockets.
* Overhead console with storage.
* Retained accessory power.
* Electric power steering.
* 12V front, rear and cargo area power outlets.
* Tilt and telescopic steering wheel.
* Cruise control on steering wheel.
* Rear-view camera.

* Destination guidance and Turn-By-Turn Guidance.
* Destination Download.
* Dual zone air conditioning.
* Cargo area light.
* Front reading lights.
* Leather and simulated alloy steering wheel.
* Dual vanity mirrors.
* AM-FM in-dash single CD player stereo with four total speakers.
* Auxiliary MP3 audio input.
* Pre-wired for phone.
Exterior Measurements
* Width: 72.2 inches.
* Height: 72.8 inches.
* Length: 189.7 inches.
* Front track: 61.7 inches.
* Rear track: 62.4 inches.
* Wheel base: 120.6 inches.
Interior Measurements
* Front head room: 46.9 inches.
* Front hip room: 54.6 inches.
* Front leg room: 40.3 inches.
* Front shoulder room: 57.7 inches.
* Rear hip room: 58.5 inches.
* Rear head room: 45.1 inches.
* Rear leg room: 37.6 inches.
* Rear shoulder room: 58.5 inches.
Weights and Capacities
* EPA cargo volume, all seats up:140.6 cu.ft.
* Cargo capacity, all seats in place: 32.2 cu.ft.
Max. cargo capacity: 68.9 cu.ft.
by George Shearouse
In February 1967, my mother had no idea that Dad was about to surprise her with a Valentine gift she would have for more than 40 years.
It was my father's intention to surprise her with a new Mustang. My uncle owned a Ford dealership in Lakeland, Fla., and I remember his Mustangs. I am sure Dad was itching for a reason to get one. He had a good friend at Central Florida Motors in Orlando. He said that Dad might be interested in this new line of car that Mercury was about to bring out. That got his attention.
He ordered Mom a brand new 1967 standard Cougar. The Cat was "loaded" for its time. It had A/C (a must for Florida), a 289 V-8, AM radio, automatic transmission and a Lime Frost paint job with a black vinyl top.
Mom taught third grade at Lake Como Elementary School. Every Friday after school, she would go to her favorite beauty shop to get her hair fixed. Dad took advantage of this to stage the perfect setup to surprise her with the new Cougar. He felt it was his duty to always have the cars gassed up and ready for any situation. He always did this on Friday.
While Mom was waiting to get her hair done, Dad popped in and asked her for the keys to her car so he could go gas it up for her. While she was under the dryer, Dad returned, handed her the new keys and said, "I'll see you at home," and left.
When Mom was ready to go home, she went out to the parking lot and couldn't find her car anywhere. She went back into the beauty shop and said "I think my car has been stolen." Everyone rushed out to the parking lot to help her. In the slot where her car had been parked was a new Cougar with a sign on the window that said, "HAPPY VALENTINE'S DAY." That weekend we loaded up the new Cougar and went to the beach.
Dad managed to get the newspaper to do a story about the first Cougar delivered to the Orlando area and had a picture of the dealer handing Mom the keys.
She drove the Cougar to work every day and it never left her stranded. She taught school until 1998 and when she retired, the Cougar did too, with a mere 67,000 miles on it. Dad hired a professional photographer to get pictures of Mom and the Cougar at her retirement by the school that she and the Cougar went to every day.
My brother, sister and I all took the driving test in the Cougar to get our license. I was allowed to take the Cat on my first date and it really made me feel like I was something.
A lot of time passed with the little Cougar parked in the garage. The paint was showing signs of age and the dash was drooping from years of the relentless Florida sun beating down on it while it was parked in the school parking lot. The roof under the vinyl top was slowly rusting through. The seats and door vinyl were cooked from the sun, but the Cat still had class.
Dad had been talking about selling it for something new. It was really hard to convince him that we just couldn't sell it, it was family. It was Mom's car, so it was up to her. She decided to let me take it home so I could work on it. I was so excited! I felt as if it was an honor to be entrusted with the care of the family car. I didn't know what to do first or how I would be able to afford it, but at least it wouldn't be in jeopardy of leaving the family.
I knew I needed to start somewhere, so I thought a valve job would be in order and that was something I could handle. This car only had 70,000 miles on it. Well, once the heads were off, I knew this was going to turn into a complete engine rebuild. While the engine was out, it only made sense to drop the transmission, and then the rear end and then … well, you know.
After the mechanical work was done, it was time to start on cosmetics. This is where I was in trouble. The roof! After peeling off the vinyl top, I saw more light than at the planetarium. It was impossible! I was directed to a man named Kenny Driver. He was president of a street rod club in the area and he did fantastic custom body work.
He said that my roof was pretty sad and if I could locate a roof, he would cut off the old one and weld on the new one. Oh great! What was I getting into? I am so thankful for the Internet, the various car clubs and vendor links. I found a guy in South Carolina that had one. Hallelujah! Of course, at this point, I had to remove the interior of the car. I couldn't believe what I was doing to my Mom's little Valentine present.
Kenny did a great job. But, he had 14 other projects going on at the time and it would be a long time before he could get to the body work and painting. I had to find someone willing to tackle the mess I had created. I was directed to Jason's Collision Center. Jason really set me at ease.
"No problem, it isn't in that bad of shape," he said. I think he admired the old girl or felt sorry for her. This took some time but the end result was very emotional. While the car was being resurrected, I was busy finding cosmetic pieces and parts, head liner, carpet, trunk accessories and, of course, the headlight and turn signal upgrades.
We loaded the car on a trailer and took it back to David at the "Upholstery Shop" for the finishing touches. I ran into some more obstacles. The inside vinyl door and rear quarter panels were pretty bad. All the responses online said nobody did those and I would have to locate good used ones. No way!
Randy Goodling of the Cougar Club of America came to my rescue and steered me to the SMS Auto Fabrics guys in Oregon. They could do the old electro seal process to make the original look happen if I could send them the old parts. No problem there. Wow! They did a fine job and even had the original material for the seats.
During the time we were getting the interior parts, John Bauer with Pro Installz was busy installing a Custom Auto Sound stereo, speakers, running power and speaker cables and building a special box for the subwoofer and the power amp. Nice! Well, David and his team put it all back together.
Before Carl's Glass could put in new front and rear glass, I had to decide if I wanted the black vinyl top back on. So much time and energy was devoted to the repair of the roof that I just couldn't cover it up. I was pretty proud when I drove out of the upholstery shop. I was on my way home to finish it off. The car had a new tuxedo, but a pair of old shoes. It had the original hubcaps, but I have always wanted a set of Cragar SS Mags. NewStalgia Wheel sent me a set mounted, balanced and ready to go.
There was only one thing left to make this love affair complete …
On Nov. 29, 2008, Jennie and I were married. Mom was there to see the newlyweds drive off in the little Valentine Cougar to begin their own love affair!
The perfect Valentine!
By Jerry Robbin
The 2014 Ford Edge will have a complete redesign for 2015, but the current model still stands out from the rest of its competitors.
The Edge sports a chrome-intensive front grille that flows into its narrowed headlights. LED running light bars are located where most crossovers would have fog lights, providing another distinctive visual cue for the new Edge.
Driving impression
The 2014 Edge drives just like a car and the ride is exceptional. The steering is responsive, especially on the highway. It's a great vehicle for a family of five on short or long trips.
Under the Hood
My 2014 Edge had the turbocharged 2.0-liter four cylinder with a six-speed automatic, 240 hp and 270 lb.-ft. of torque. This combination delivers 21 city/30 hwy mpg. My Edge had 18-inch tires with an active aerodynamic grille that closes during lower speeds, providing increased gas mileage.
Inside
My 2014 Edge Limited came with the standard rearview camera, Sony sound system, HD radio and MyFord Touch.
It was also equipped with Vista Roof, adaptive cruise control, heated front power seats, leather upholstery, blind-spot monitors, power tailgate, satellite radio, rear parking sensors, power front seats, SYNC and a Bluetooth-driven system that allows drivers to control audio and phone features with voice commands.
The Edge seats have power adjustment for both cushions on the driver's side, and are wide and well sized for larger adults.
The second-row seat has excellent legroom and the seatbacks also recline. The Edge's cargo space behind the second row of seats is 32.2 cubic feet and expands to more than 68 cubic feet with the rear seat down.
Outside
The 2014 Ford Edge has soft contours highlighted with some crisp edges and surfaces. It is not dramatically different from the 2013 model, except for a new massive grille.
 Summary
If you are in the market for a five- passenger CUV, the 2014 Edge is worth a trip to your local Ford dealer for a test drive.
The standard features of the 2014 Edge Limited are:
 Front Seats
* Multi-level heating passenger seat.
* 8-way power passenger seat.
* 8-way power driver seat.
* Passenger seat with power adjustable lumbar support.
* Multi-level heating driver seat.
*Driver seat with power- adjustable lumbar support.
* Height-adjustable driver seat.
* Height-adjustable passenger seat.
* Leather bucket front seats.
 Rear Seats
* Split-folding rear seatback.
* Reclining rear seats.
* Folding with storage center armrest.
* Rear ventilation ducts.
 Power Features
* Digital keypad power door lock.
* Power mirrors.
* Heated mirrors.
* One-touch power windows.
 Instrumentation
* Clock.
* Tachometer.
* Trip computer.
* Low fuel level warning.
* Compass.
Convenience
* Cruise control.
* Cargo net.
* Front console with storage.
 Safety and security
* Four-wheel ABS.
* Front and rear head airbags.
* Dual front side-mounted airbags.
* Child seat anchors.
* Emergency braking assist.
* Front and rear ventilated disc brakes.
* Rear door child safety locks.
* Engine immobilizer.
* Two front headrests.
* Three rear headrests.
* Passenger airbag occupant sensing deactivation.
* Rear center three-point belt.
* Front seatbelt pretensioners.
* Stability control.
* Traction control.
* Electronic brakeforce distribution.
* Front multi-adjustable headrests.
* Rear height-adjustable headrests.
* Post-collision safety system.
* Tire pressure monitoring.
* Front and rear cupholders.
* Front and rear door pockets.
* Overhead console with storage.
* Retained accessory power.
* Front seatback storage
* Power steering
* Universal remote transmitter (for garage door, security system, etc.).
* 12V front, 12V rear and 12V cargo area power outlets.
* Rear parking sensors.
* Tilt and telescopic steering wheel.
* Audio and cruise controls on steering wheel.
* Rear view camera.
* Destination guidance (also Turn-by-Turn Navigation).
* Destination Download.
Comfort
* Interior air filtration.
* Dual zone climate controls for driver and passenger.
* Cargo area light.
* Simulated wood trim on dash.
* Front and rear reading lights.
* Leather and chrome trim on shift knob.
* Leather steering wheel.
* Front and rear floor mats.
* Electrochromatic inside rearview mirror.
* Dual illuminating vanity mirrors.
* Memorized settings for two drivers.
In Car Entertainment
* Mast antenna.
* Sony premium brand stereo system with 12 speakers and subwoofer.
* 390 watts stereo output.
* AM/FM in-dash single CD player with CD MP3 playback.
* Sirius XM satellite radio with six months of provided service.
* Speed sensitive volume control.
* Auxiliary audio input and iPod/iPhone integration.
* Memory card slot.
* Radio data system.
* USB connection.
* Video monitor
* Voice directions only via subscription service navigation system.
* Pre-wired for phone
* Bluetooth wireless data link for hands-free phone.
Exterior Measurements
* Width: 76 inches.
* Height: 67 inches.
* Length: 184.2 inches.
* Ground clearance: 7.9 inches.
* Wheel base: 111.2 inches.
 Interior Measurements
* Front head room: 40 inches.
* Front hip room: 54.8 inches.
* Front leg room: 40.7 inches.
* Front shoulder room: 58.9 inches.
* Rear hip room: 56.3 inches.
* Rear head room: 39.3 inches.
* Rear leg room: 39.6 inches.
* Rear shoulder room: 58.7 inches.
Weights and Capacities
* Maximum towing capacity: 3500 lbs.
* Maximum payload: 909 lbs.
* EPA interior volume: 140.6 cu.ft.
* Curb weight: 4,052 lbs.
* Cargo capacity, all seats in place: 32.2 cu.ft.
* Max. cargo capacity: 68.9 cu.ft.
By John Harvey
There was an article in my local paper recently about how drive-in movie theaters are taking another hit to their existence.
This time, it is the need to convert from 35mm film reels to digital systems that require an investment of something in the neighborhood of $70,000 per screen for the new equipment, plus upgrading the projection booth to computer room- grade environmental standards, because digital stuff generally doesn't handle heat well.
The article said that the number of theaters had dropped from more than 4,000 in the late 1950s to 357 in 2013. Another article I found listed the states with the most operating outdoor theaters – Pennsylvania has 30; Ohio and New York each have 29; Indiana has 20; California has 18; Tennessee and Texas each have 15. Six states have none – Alaska, Delaware, Hawaii, Louisiana, North Dakota, and Wyoming.
I recall many pleasurable evenings at the "passion pits" in the '40s, '50s, '60s, '70s and likely into the '80s, because I recall going to some after moving to Illinois in 1979. It isn't quite the same going with your wife instead of a date – you actually watch the movie, but still, you have the comfort of your own car, you can bring you own refreshments, you can make comments without disturbing anyone else, your feet don't stick to the floor and, well, you know!
I can remember going as a child, where my parents parked near the front of the lot, so it was easy to get to the playground down front of the screen. Maybe I was too young to remember going in pajamas, but I know that I did fall asleep sometimes. In those rows in front of the refreshment stand, people with station wagons backed into the space and had lawn chairs with them. The kids probably ended up crashing in the back of the car, while the parents sat outside.
When I started dating, we parked behind the refreshment stand, where it was darker. People didn't bring their rugrats to those rows – that was strictly for "adults." Even if you went with the guys (or gals), instead of having a date, you parked back there. It wasn't at all uncommon to make a new friend in another car, and end up with two coed cars, instead of two cars of each.
If you went with the guys, you absolutely did not want to leave the car, unless everyone else left too and stayed together. Taking the keys didn't have the same effect it does when you drive cars from 1968 or newer – my 1947 Ford had a locking steering column, but few cars were immobile just because the keys were gone.
It was not unusual to see cars being pushed around by a group of guys. That is why you didn't want to leave the car alone – the rest of your crew would move the car.
I lived in Detroit where it got hot in summer, but not like it does further south. Maybe being young and not knowing any better had a lot to do with it, but I don't recall the sweat and the bugs being much of a hindrance to our activities of clutch bod and kissy face.
Sometimes you'd put the offered heater inside your car, along with the speaker that was also on the post. If you steamed up the windows real bad, there were guys with big flashlights who would bang on the glass and yell, "What 'chou doin' in there, boya?"
"Nothin' officer, nothin',"
"Then get out of there and let a man in!"
The article listed the locations of theaters no longer in Decatur. I drove by a couple of them. One is now the maintenance building for the city's equipment. One is a shopping mall.
I can't tell you the last time I was at a drive-in movie. I sort of recall that it was a Burt Reynolds movie, where he was trying to be a dramatic actor, instead of funny, like Smokey and the Bandit.
I also recall that it rained and we steamed up the windows, but not because we were doing anything spectacular. We fixed that by starting the car and turning on the air conditioning.
I recall when stores put decals on the car doors advertising that they were air conditioned. I don't think I ever went to an indoor movie that was not air conditioned. I find that as I age, I am less and less tolerant of heat and humidity. I get outside and try to get my outside work done early in the morning. I figure that when the school bus goes by, I can make all the noise I want to. These last few weeks, by about 10 a.m., my shirt is dripping, and I have to give it up and head for the air conditioning.
These new drive-in projection systems show picture quality similar to a flat-screen TV. Instead of the speaker you hang on your window, they pipe it into a low-power FM station and you listen to it on your car radio. That is kind of neat. I wonder how many people have to call AAA because they left the key on ACC for 4 hours and killed the battery?
I think the demise of the drive-in theater has more to do with universal air conditioning than anything else. Probably daylight saving time hasn't helped, either. I mean, they have to wait until it is dark to show the film and by 9 p.m., the dog comes looking for me to say that it is time to go to bed.
By Pat Eager
As the song goes, "Get your kicks on Route 66," and that's exactly what IMOA did at its national meet in Springfield, Ill., Sept. 27-29.
Members began checking in at the Northfield Inn on Thursday. It was great to see old friends and renew acquaintances while "oohing and aahing" over the beautiful Mercurys. Five of our Canadian members were there, and it's always good to see them. We had several first-time attendees, and signed five new members.
Some of the many highlights of our trip were:
* A trolley ride from the hotel to the Abraham Lincoln Presidential Library and Museum, which covers 40,000 square feet of galleries, theaters and historical displays.
* The Dana Thomas House, one of Frank Lloyd Wright's largest and most elaborate Prairie-style designs. The house has 35 rooms that contain more than 100 pieces of original furniture, as well as 250 art glass windows.
* Lincoln's New Salem reconstructed village, where Lincoln lived as a young man.
* Lincoln's Tomb is where Abraham Lincoln, Mary Todd Lincoln and three of their sons are entombed.
* The old State Capitol of Illinois, where the first legislative session was held in 1877. The building has a 405-foot dome, and is a combination of Renaissance Revival and Second Empire style. There was an encampment in the courtyard and the participants were staging a reenactment of the period. It is interesting to note that on May 4-5, 1865, Abraham Lincoln's body laid in state in Representative Hall as a crowd of 75,000 filed by to pay their last respects.
Lincoln's home was the only home the Lincolns ever owned. Actual Lincoln family furnishings and period artifacts gives one a view of Lincoln as a husband, father, neighbor and politician.
* The Executive Mansion has been the official residence of Illinois governors since 1855. Visitors may visit the ballroom, dining room and Lincoln's bedroom.
* The Cozy Dog Drive-In was opened in 1949. The restaurant is full of Route 66 memorabilia and souvenirs. It is famous for its "hot dog on a stick." IMOA cruised to the restaurant Friday evening and some members ate there. It was a neat sight to see all the Mercurys filling the parking lot.
* Shea's Gas Station Museum has been on Route 66 for over 50 years. There's a lot of vintage service station memorabilia, including thousands of oil cans, fuel pumps, a 1952 Airstream travel trailer and a restored 1984 Ward school bus. The owner, Bill Shea, has many interesting stories to tell to visitors from all over the world. The original owner, Bill's father, received a proclamation naming him as "Father of the Mother Road."
Of course, since Springfield was Abraham Lincoln's home, many of our members took advantage of the great historical sites.
The International Route 66 Mother Road Festival and Car Show was unbelievable.
Thousands of people from around the world attend this annual event, featuring hundreds of classic and vintage vehicles. There is live entertainment, dozens of food booths, one-of-a-kind exhibits, and more. The festival takes place along 20 blocks of Historic Downtown Springfield. Streets are closed, so you can meander leisurely without traffic concerns.
IMOA was one of the featured guests. In the big, and I mean big, parade on Friday evening, IMOA was first in line after the dignitaries and police led the parade. The streets were lined with spectators, some watching the parade in groups, some grilling out and having their own party. Nonetheless, they were all watching the parade. Quite a sight to behold.
On Saturday, the big festival really started moving on. IMOA had its own block of cars lined up on both sides of the street. IMOA had a registration tent and lots of people stopped by. Club applications and Quicksilvers were distributed to anyone interested in Mercurys.
About 3:30 p.m., we left the show to return to the hotel and prepare for our banquet.
The banquet was held in the Diamond Room at the Northfield Inn. We enjoyed a sit-down meal and cash bar. It was nice to relax after a couple of days of hurrying and scurrying to participate in the many events and attractions.
After dinner, awards were presented by Jerry Robbin and Virgil Klein, judging chairman. Recipients were surprised and thrilled with the award plaques, which were black with the dash plaque logo in the center.
During the evening, Joyce Culling and Judy Miller made their way through the crowd, selling half-pot tickets and the winner of the half-pot was Evelyn Miller. She took home $273.
After the awards were presented, Don and Joyce Culling conducted the raffle drawing. They had procured many nice gifts for the members to win.
With the end of the raffle, so came the end of our 2013 show. Members were saying their goodbyes, and some proceeded to the final "Free and Cold" Tailgate Party, sponsored by Wayne and Judy Miller in the parking lot of the hotel.
On Sunday morning, with rooms cleared, bags packed, and check-out over, we were "on the road again," heading home until next year's show. Hope to see you then!
By John Harvey
I sure miss my teenager. He left 12 years ago when he got a government job by joining the Navy.
I rediscovered all of the services he performed while he lived here. The lawn, the snow, the garbage cans, hauling the water-softener salt to the basement – he was another set of hands for various projects around the house.
I never had any problems getting him to do anything. Maybe it was because I had the ultimate weapon. I could make him the worst thing a teen can be – a pedestrian.
If it ever occurred to him that if I took the car keys away, I'd have to get up in time to have him at football practice at 6 a.m. and then go back to school and pick him up after games, he was smart enough to keep his mouth shut.
I had to send him to a parochial school 15 miles away that didn't provide bus service. I have found a substitute – other people's teenagers. I have heard their parents complain about how hard it is to get them to do things. I don't seem to have any trouble. Maybe it's because I added a component they haven't tried – money.
Lucky for me, I didn't have a daughter. Sons are your parents' revenge for letting you grow up. Daughters, on the other hand, are God's revenge for all the fun the father had before he was married – now he has to worry about other men's sons, doing what he would have done, had he only known. Maybe I wasn't all that bad, after all. I have a pal who has twin daughters. He said that when they turned 7 years old, they turned into wives in training. When they hit their teens, he fully understood why some species eat their young.
What brought this line of thought on was that I am putting the last touches on my finished-basement project. I have a couple teens working with me to do the heavy lifting. We were talking about how things have changed in the more than 50 years since I was their age.
Not only have cars changed – how they look at them and how they use them has changed significantly. To be real honest, I'm glad I grew up in the 1950s.
I was raised in the city of Detroit, where the population was nearly 2 million. It is currently less than 700,000 and the police union has placed signs on the city limits telling you to enter at your own risk  because they can't protect you. At one time, being out after midnight was not all that dangerous. I worked band jobs and routinely went to mass at 2 a.m. at a church in the downtown area. I'm leary of going into Southfield now, let alone actually crossing 8 Mile Road.
Pretty much every few weeks, there was a dance or sock hop at school. Seems to me that a sock hop cost like 25 cents a head and a nice dressy dance cost $1.25 a couple. Back then meant that the girl wore a nice dress, and the guy wore a coat and tie. Now it means that the T-shirt you wear doesn't have obscene graphics. You'd go out somewhere afterwards for food, then, well, you get the idea. The schools coordinated their dates, so that they didn't compete with each other. We used to go "slumming" at neighboring schools' sock hops, looking for some "strange."
 Yes, there were places you could get beat up and robbed. But they didn't drag you out of your car at stoplights or shoot at you as you drove down the street. There were lots of dark places you could go park with your date and engage in a little kissy face and clutch bod, without worry about someone beating on you, unless her brother or the guy who thought he owned her caught you.
We could go to the drive-in movie and engage in pretty much the same thing. You occasionally wanted to look at the screen, or if you were really smart, find a review, just in case someone asked you about the movie. Sit-down movie theaters had balconies where you would feel out of place if you weren't engaged in exploration. There was always the drive-in restaurant with car hops. Street racing was super rare – few of us had cars that were quick when new, and most were real long in tooth.
We did a lot of our dating in the car, because the car was a great place to spend time. I took my teens out into the barn and showed them my toys from the 1950s. One of the kid's parents have a Cadillac. The 1951 Pontiac four-door sedan I have has more floor in the back seat than the Caddy has in front. My ' 50 Ford Club Coupe has more backseat floor than the Caddy.
They can see how those nice wide bench seats and relatively flat floors would be conducive to a little friendly wrestling, watching movies and eating. Every car or truck they can think of has a center console, or what could be referred to as a Great Wall.
One of the teens drives a Sunbird two door. The back seat in it is little more than a padded package shelf. He says that you can't get the car seats his little sisters are required to have to fit back there. The other one uses his mom's Monte Carlo SS. You'd think that would be kind of a cool car for a teen to drive. Well, he is 6'6". He has to scrunch up to drive it and there is absolutely no way he is getting into the back seat. None of his friends will go there, either. He says he actually prefers driving his dad's Astro van, but it is trashed.
I told them about all the fun we used to engage in – the submarine races, the drive-ins, impromptu contests of speed, making out, etc. I had a number of cars that are now considered really super cool. I know why I no longer have them – they were junk.
For instance, I had an MG-TC. It was tiny and tight, even back then. To be kind, it leaked. The heater was a joke. I went to pick up a girl. Her dad took one look at it  and told me that his daughter was not riding in a death trap like that. I went home and got my mom's 1957 Mercury station wagon. He let her go in that. I never asked myself if he was actually my pal or just didn't know his daughter very well.  There are things you can do inside a '57 Mercury station wagon that are totally impossible in an MG-TC.
I asked the teens how they date. To start with, they look at their car  as transportation modules. It is a way to get someplace, then you get out and leave it. There is a drive-in movie in Litchfield, about 80 miles from here. There are not any drive- in restaurants where they bring your food and you eat in the car, just drive throughs, where you get your garbage and go home. There is no such thing as a school dance. They might go to a movie, but more often, they just go rent a couple movies,  go to one of their homes and watch it there.
The multiplex has pretty well killed doing anything in the movie theater, except watch the movie. The home entertainment center hasn't done the movie theater business any good either.
Back in my day, I can just see having a date in her basement or mine. I mean in the car, she might be all over you, but in the basement, with parents upstairs, and a few brothers and sisters bouncing around – yeah, sure!
I'm glad I'm old!
By Jerry Robbin
With gasoline prices hovering at around $4.50 per gallon, Ford has the perfect vehicle for great gas economy and transportation. Ford has raised the bar for entry-level vehicles with the Fiesta.
The competition, such as Kia, Hyundai, Nissan and Toyota, should definitely be concerned, as the Fiesta is  a contender for the top entry-level vehicle.
Under the Hood
A 1.6-liter twin-cam four-cylinder engine that produces 120 hp and 112 lb-ft of torque powers the Fiesta. This four-cylinder DOHC produces fantastic fuel efficiency and power.
My test drive had the optional new automatic transmission, resulting in a great fuel economy of 30 mpg city/40 mpg highway.
Driving Impression
The Fiesta handles like a larger vehicle and the seating is very comfortable. The design and shape of the vehicle gives the illusion that it is bigger than it really is.
The Fiesta holds the road and has excellent driving dynamics when making quick hairpin turns. The steering is responsive and the four-cylinder drivetrain is adequate for city or highway driving. Electronic power steering is standard.
Inside

The Fiesta has a futuristic interior with contemporary touches that make you feel like you are in a larger vehicle. The center stack has the controls for the door locks and  other creature features like stereo, air conditioning, phone – the list goes on.
The front seats are very comfortable; the rear seat is adequate for children and tight for adults. The Fiesta storage space is amazing in the hatchback or the sedan.
Outside
The Fiesta styling has a contemporary flare and bold design that does not look inexpensive.
The exterior has neat touches such as projector headlights, fog lights, LED tail lights and side-marker turn signals in the mirrors.
The Fiesta I tested had the optional 17-inch alloy wheels.
Safety
* Four-wheel ABS
* Front and rear head airbags
* Dual front side-mounted airbags
* Child seat anchors
* Ventilated front disc /rear drum brakes
* Rear door child safety locks
* Engine immobilizer
* 2 front headrests
* 3 rear headrests
* Passenger airbag occupant sensing deactivation
* Rear center 3-point belt
* Front seatbelt pretensioners
* Turn signal mirrors
* Stability control
* Traction control
* Electronic brakeforce distribution
* Emergency interior trunk release
* Front height-adjustable headrests
* Rear height-adjustable headrests
* Post-collision safety system
* Tire pressure monitoring
Summary
If you are in the market for a commuter vehicle that has great gas mileage and is fun to drive, you should test-drive the Ford Fiesta. It's a great vehicle for those with kids or for a second vehicle.
Measurements

* Width: 66.8 in.
* Height: 58.0 in.
* Length: 173.6 in.
* Front track: 57.7 in.
* Rear track: 57.7 in.
* Wheel base: 98.0 in.
* Cargo capacity with all seats in place: 12.8 cu.ft.
* EPA interior volume: 97.9 cu.ft.
* Curb weight: 2578 lbs.
Interior
Front Seats
* Front head room: 39.1 in.
* Front hip room: 50.6 in.
* Front leg room: 42.2 in.
* Front shoulder room: 52.7 in.
* Cloth
* Bucket front seats
Rear Seats
* Rear hip Room: 49.2 in.
* Rear head room: 37.1 in.
* Rear leg room: 31.2 in.
* Rear shoulder room: 49.0 in.
* Split-folding rear seatback
* Rear ventilation ducts
By John Gunnell
Photos by Linda Clark
John Gunnell demonstrates through these 12 photos, how to replace the 1962 Mercury master cyclinder that he located at B.S. Wisniewski (Wizzy's) auto parts store.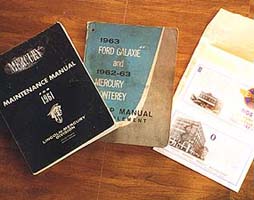 1 – Shop manual and supplement are big help. After six months, master cyclinder was found at Wizzy's in Milwaukee, Wisconsin. It came complete with an invoice, return policy and company history.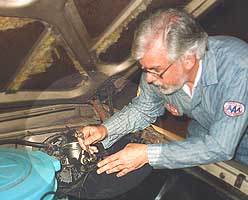 2 – Although the first two steps in shop manual were confusing, it was easy to start by disconnecting brake line from brass fitting on master cylinder using 3/8-inch wrench to back off the flare nut.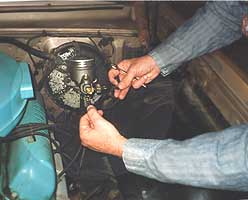 3 – Move brake line away from front of brass fitting on front of old master cylinder. Disconnect tow electrical wires attached to the stop-light switch on the left-hand side of the brass fitting.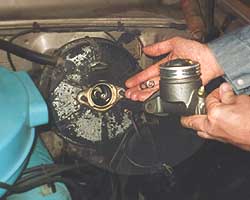 4 – Remove old master cylinder. Leave brass fitting and stop-light switch attached. We tried to remove it on the car and broke a piece off of the brass fitting. save the nuts and washer for the master cylinder.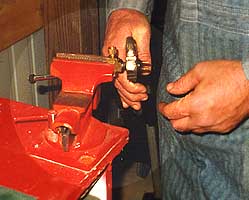 5 – Clamp master cylinder in vise and remove brass fitting. Put brass fitting in vise and remove stop-light switch with Vise-Grips. Luckily, NAPA store found a fitting to replace the broken one.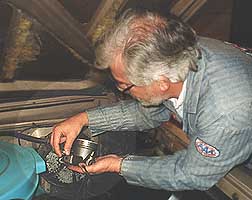 6 – Move the new master cylinder into place over the rod that protrudes from the vacuum booster. Using the washers and nuts you saved in step 4, fasten master cylinder to firewall.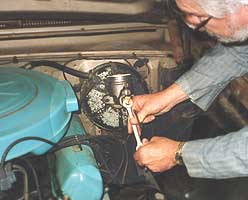 7 – Thread stop-light switch into side of brass fitting. Thread brass fitting into opening in front of new master cylinder. Using the proper open-end wrenches, tighten both to proper torque specs.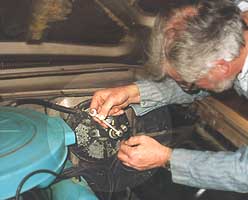 8 – Insert 3/8-inch flare nut on end of hydraulic line into the front of the brass fitting on the front of the master cylinder. Carefully tighten the 3/8-inch flare nut to proper torque specification.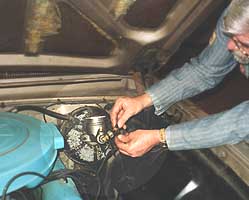 9 – Re-attach the two electrical wires to the stoplight switch threaded into the left-hand side of the brass fitting. These wires thread through a retaining clip bolted to the vacuum booster.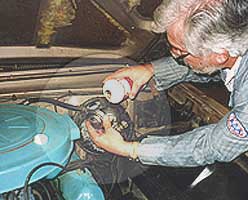 10 – Remove the screw-off cap on the new master cylinder and fill it with clean, name-brand, high quality brake fluid to level reommended in shop manual. Replace screw-off cap.
11 – A bleeder valve was added to the '62 Mercury master cylinder (which is why the one-year-only part is hard to find). Bleeding here gets you enough hydraulic pressure to safely move car.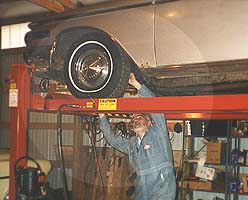 12- Last step is bleeding the hudraulic system at each wheel. Having a "Backyard Buddy" to lift the car up and a friend to pump the pedal are big pluses. Crack each bleeder to let air escape.
Sorry, no there are no listings available.