Current Issue of Quicksilver - Spring 2021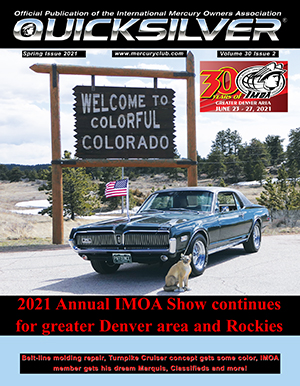 The show schedule for the 2021 IMOA National Car Show has been added and can be accessed in the Events section. It also lists a number of restaurants in the area. Registrations are still coming in; if you haven't yet, the deadline is June 12 and links to registration forms are listed in the 4/27 update below.
The IMOA Board of Directors had a conference call last weekend and made a final decision to go ahead with the 2021 IMOA annual car show. An increased number of registrations in the past month and the widespread distribution of COVID vaccines nationwide led to their decision.
Taking place in the greater Denver area, the show will be held June 23-27.  Daily visits include the Coors Brewery, Forney Museum of Transportation and the Colorado Railroad Museum., with the option of attending the All-Ford Car Show on Sunday, June 27, in Golden. Registration forms for the IMOA show are here: 2021 IMOA NATIONAL SHOW Registration Form
The registration form for the All-Ford show is here: 2021 FOMOCO PicnicApp
For those who may have been undecided on whether to attend or not, the registration deadline is June 12.
IMOA members should have received their Spring 2021 issue of Quicksilver by now.
Articles include fixing belt line molding on a 1953 Mercury; the short history of the Merkur; the restoration of a 1939 Sedan; a member's 1966 Comet Cyclone GT; the "Bob Hope Special" Mercury; another installment on Tom Maruska's XM Turnpike Cruiser restoration; and much more.
The new Spring 2021 Classifieds are already online in the Classifieds section.
There is a modification of the New Membership application form. The first page is a roundup of member benefits with the second page the actual form to fill out to apply. The purpose is for IMOA members to hand out the form to Mercury owners they come across who are not aware of the club. For those who do not want to tear out the back-to-back page from the magazine, the forms can be downloaded from here: New Member Application
Please note that when you click on the link and it takes you to the PDF image, you will have to click again to get both pages.
Also, a note to members that the IMOA fax number has been discontinued. Other contact information remains the same: e-mail, info@mercuryclub.com; phone, (847) 997-8624 and mail, IMOA, P.O. Box 1245, Northbrook, Ill., 60065-1245.