Current Issue of Quicksilver - Summer 2019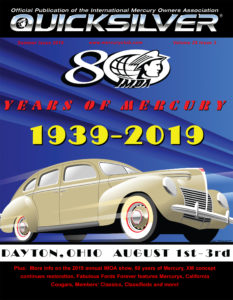 Update 7-1-19: The upcoming Summer 2019 issue of Quicksilver magazine is ready to go to the printer.
Please be aware that the host Marriott hotel for the Aug. 1-3 show is only holding rooms for IMOA members through July 2. Rooms may still be available after that, but there is no guarantee. Also, the deadline registration for car judging is over as of July 15. Anyone can still attend the show, but may have to deal with other motel reservations and cannot have a car judged at the Saturday show.
The Summer Classifieds are already posted in the Classifieds section.
The Summer issue features more restoration work on the 1956 XM Turnpike Cruiser by Tom Maruska, blue-themed Mercurys written up by Rob May; IMOA President Jerry Robbin's review of the 2019 Ford Raptor; a short history of 80 years of Mercury; Members' Classics;, Letters to the Editor and more. Some of these stories are in the Blog section.
There is a modification of the New Membership application form. The first page is a roundup of member benefits with the second page the actual form to fill out to apply. The purpose is for IMOA members to hand out the form to Mercury owners they come across who are not aware of the club. For those who do not want to tear out the back-to-back page from the magazine, the forms can be downloaded from here: IMOA New Member Registration
Please note that when you click on the link and it takes you to the PDF image, you will have to click again to get both pages.
Also, a note to members that the IMOA fax number has been discontinued. Other contact information remains the same: e-mail, info@mercuryclub.com; phone, (847) 997-8624 and mail, IMOA, P.O. Box 1245, Northbrook, Ill., 60065-1245.