Current Issue of Quicksilver - Spring 2020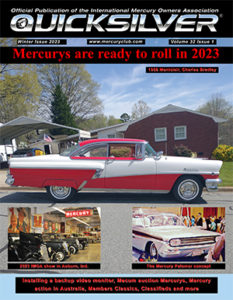 Update 4-5-20
The IMOA club is sorry to report that the 2020 annual car show, scheduled for the Denver area, has been cancelled due to the ongoing Covid 19 virus crisis.
The IMOA board of directors made the decision April 5.
The following is the official statement:
"In a teleconference meeting of the IMOA board on Sunday, April 5, it was decided to cancel the 2020 IMOA show in the Denver area due to the current national situation of the Covid 19 virus.
"This is being done for the safety of our members and their families. Refunds for all payments to the show will be made in the next couple of weeks.
"Please remember to cancel your hotel reservations, as those have been made on an individual basis.
"For those of you registered for the All Ford Show that was following the IMOA show, the FoMoCo club will be refunding your entry fee for their show, as well.
"The board is working diligently on sites for the 2021 show, which tentatively will still be in the Denver area.
"This decision by the board was not made lightly. We certainly want all of you to be safe and keep those Mercurys on the road.
"Please be smart, safe and healthy and we look forward to seeing you in 2021."
The Spring 2020 issue of Quicksilver has been slightly delayed by about a week because of the board meeting, and should arrive about the third week of April.
It features stories on Mercury hubcap identifications, another installment on Tom Maruska's XM Turnpike Cruiser restoration, an air conditioning restoration, medallion fixes and much more.
As usual, the new Spring 2020 Classifieds are in the Classifieds section.
There is a modification of the New Membership application form. The first page is a roundup of member benefits with the second page the actual form to fill out to apply. The purpose is for IMOA members to hand out the form to Mercury owners they come across who are not aware of the club. For those who do not want to tear out the back-to-back page from the magazine, the forms can be downloaded from here: New Member Application
Please note that when you click on the link and it takes you to the PDF image, you will have to click again to get both pages.
Also, a note to members that the IMOA fax number has been discontinued. Other contact information remains the same: e-mail, info@mercuryclub.com; phone, (847) 997-8624 and mail, IMOA, P.O. Box 1245, Northbrook, Ill., 60065-1245.