Summer 2022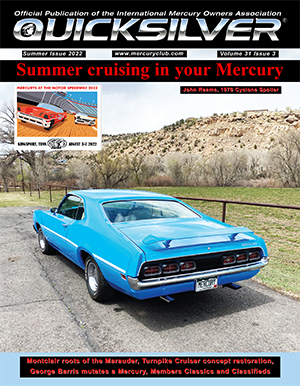 UPDATE 7/14/22
The Summer 2022 Quicksilver has been mailed. It has the schedule for the Aug. 3-7 annual IMOA show, with deadlines coming up for room reservations and car registrations for judging. Other stories include a test drive of the Ford Mach-E GT electric SUV by IMOA President Jerry Robbin, Tom Maruska's latest update on his XM Turnpike Cruiser restoration, the Montclair roots of the Marauder, a Mercury mutation by George Barris, highlights of the Golden, Colo., All-Ford show, troubleshooting a coolant problem on a 1983 Capri and much more.
The updated Summer 2022 Classifieds are posted in the Classifieds section.
There is also a link for members to vote for the IMOA Board of Directors:  Page 25
Sorry, no there are no listings available.