Winter 2023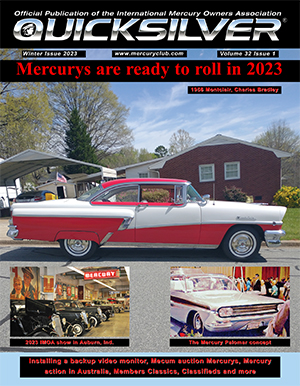 UPDATE 1/13/23
The Winter 2023 Quicksilver is mailing and should be arriving soon. It features information on the 2023 annual IMOA show Sept. 6-9 in Auburn, Ind., with scheduled visits to the Auburn Cord Duesenberg Automobile Museum, the Early Ford V-8 Foundation Museum and the National Automotive and Truck Museum.
You can read related stories in the Events and Blog sections.
The Winter 2023 issue also features stories on a 1956 Medalist, how to add a video monitor to your classic, Australian Mercury news, a quick fix to replacing your armrest covers, Mecum Mercury auction news and much more.
Are you a visitor interested in joining the International Mercury Owners Association? Click here to download the Membership Registration form: Membership Registration
Sorry, no there are no listings available.