Winter 2023 Classifieds
Cars For Sale
1939 four-door Town Sedan. All stock, runs good, driven regularly. Clean title, car is in California. Some rust, good restoration project car with clean interior, car is in good condition. Original flathead. First year of Mercury production. Have complete car history. As seen in Ford V-8 Times Vol. 58 No. 4. Asking $13,500 OBO. Contact Bill at (805) 467-3859. or e-mail billsmerc39@yahoo.com.
1941 two-door convertible street rod, highly modified. Quite possibly the nicest one in existence. With only 2,400 break in miles, cruises at 80 mph. Sporting a built 350/sbc engine, 700 R4 transmission, Height's Mustang II front end, 4-wheel power disc brakes, 8-inch Ford rr, 3.25:1 ratio, Ididit tilt steering column, Vintage air-heat-defrost, custom sound w/remote, Autometer gauges, custom dash, 4 leather bucket seats in a rose and beige color. Body color is a two-tone cinnamon glaze/gold mist. American Racing wheels, shaved doors/deck lid, lighted V-8 trunk detail. Asking $62,900. Contact Dee at (208) 233-9362; e-mail dmaninc@theonlyother.com.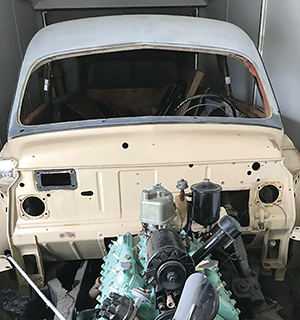 1950 Mercury woodie. Car is apart, ready to be put back together, motor ready to put in. Chrome all redone, brand new wood kit. We are available for answering questions, sending pictures and discussing offers. Asking $38,000. Call (518) 858-6049.
1950 convertible. Absolutely beautiful car. Repainted once about 20 years ago. Always a rust-free car; no body mods, 1951 skirts. Car has Offenheiser heads and dual intake with dual carburetors. Original equipment goes with the car. Red exterior with red and black interior. Ran when parked in garage about eight years ago. Car originally purchased from a huge collector in New Jersey for $78,000; will sell for $63,000. Call (518) 858-6049.
1953 Mercury four-door sedan, 6- volt system, runs good, 79,000 original miles, clean, many new parts, documented records, extra parts, nice vehicle. Looking for a new caregiver.                    $9,550 or OBO. Photos on request. (845) 399-4557; saveriofisco@gmail.com.
1955 Montclair Sun Valley two-door hardtop. Has rust, a few body trim missing, fairly straight body. 292 engine, hasn't run since 1974. PS, PB, automatic, all glass is good – no cracks, chips or delaminating. Top roof glass is fair, all door panels are in good shape. Needs total restoration. $6,000 OBO. Contact Robert at mercuryman55@yahoo.com.
1963 Meteor S-33, buckets console 260 V-8 complete, project, $3,000. 1964 Comet wagon Villager woody, no engine, no transmission, K code, 289 four barrel, 210 hp, not hipo. Have all trim moldings, doors, etc. Wagon is complete. Without engine $2,400; w/engine $2,900. No title. 1965 Comet Caliente two-door hardtop, no engine, no transmission, w/title, was six cylinder, nice quarters, rust in floors, $1,200. 1986 Capri 5.0 five speed, runs, drives, $3,000. I have lots of parts for 1964-65 Comets, 1956 Mercury wagon tailight lenses, trim, moldings. Contact Carlos at (720) 281-0940; e-mail calicometcarlos@yahoo.com.
Cars Wanted
1940 Coupe two- door only, show condition. Contact Ron (WA) (360) 871-4100.
Looking for a 1960 Mercury four door, preferred with cold AC, sound driving condition and not a show car.
Call Ed at (765) 998-7201 (IN).
Parts For Sale
New plastic chrome tail light trim two piece. 1998 up for Mercury Grand Marquis. $65. Contact Rick at (610) 258-4768.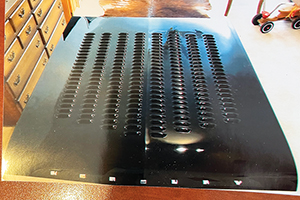 Louvered 1962 Meteor hood. $400 or OBO. Contact Ray at (303) 646-9133; e-mail plains_gal@yahoo .com.
1954, many parts, carburetors, distributors, hubcaps, radiator. Call with parts needed. Paul (FL), (941) 740-1300.
Parts Wanted
I'm looking for a NOS or good used right rear lower fender panel for a 1950 Mercury two-door sedan. Part # 8M16312A, NOS right front fender stainless trim, rear body filler panel between body and bumper. Call Mark (315) 387-6106 or barbjane1949@yahoo.com.
For 1951 Mercury, one pair small bumper guards for front of car. Contact John (PA), (610) 584-6053.
Miscellaneous
New original Mercury owners manuals, 1956, '57, '57 TPC and '58 Mercs. Price $30 each. Postage paid. Contact Sam Benton (CO) (303) 421-3341.
Quicksilver magazine collection, 1998 to 2010, about 40 mags. All in excellent condition, sell all or individually. Fred Tierney (508) 528-6468; e-mail mercruiser57@hotmail.com.
Business opportunity, owner retiring: Profitable classic automotive parts and rebuilding company established in 1987 with an extensive world-wide customer base, exclusive vendors and online presence. We have the largest inventory of NOS, new, repro, rebuilt and used Ford, Lincoln and Mercury parts in the world. This is a perfect opportunity for any classic Ford, Lincoln or Mercury hot rod or classic car rebuilders/restoration house or parts resellers. Purchase includes all Inventory, customer and custom vendor data base, websites, online shopping cart, eBay store, equipment, supplies and fixtures. Priced well below value. Serious buyer please e-mail: lincoln@lincolnoldparts.com. Priced low at $795,000. All offers considered. Confidentiality agreement required. The party offering this business for sale asks you to please include the following information: Why are you interested in purchasing a business – your approximate timeframe, your business experience and financial capability. Contact Kelly McClure at (727) 445-7551.
CARS FOR SALE
1947 Mercury Coupe with back seat, V-8, three-speed shift on steering wheel, 87,000 miles, Maroon, excellent body, no rust, runs fine, recent front end work, very good original upholstery, 114K Deluxe Model. $23,000. Call (475) 239-0878 (CT). Leave message if no answer.
1950 convertible, rust-free original car, no body mods, 1951 skirts, engine has Offenhauser heads and dual intake, have original parts for engine, dual exhausts, red car with black convertible top, red and black interior, wide whitewalls, all chrome, very nice. Car has been in storage for approximately 25 years, absolutely beautiful car. Pictures upon request. $60,000. Contact Mike at (518) 858-6049.
1953 Monterey woody station wagon. Car is complete. 255 manual three-speed with overdrive. Clean title. Ready for a new caregiver and total restoration. Car originally comes from New Jersey and is currently in L.A. Call for further information. Asking for $3,000 and will take $2,500 without engine and transmission. Contact bobhoward.heco @yahoo.com. (626) 833-7674.
1956 Montclair Phaeton, two-tone blue, power steering, brakes, windows and seats. Full wheel covers with spinner hubcaps, 312 engine, runs great. Interior in good condition. Contact Chet at (978) 427-7065.
1956 Monterey four-door sedan. Interior is in very good condition. Always starts and runs good. Whitewall tires, full hubcaps with Mercury Man emblems. Prefer to sell both automobiles as a package, but could separate. Contact Chet at (978) 427- 7065.
    1964 Parklane convertible. Excellent example of a rare 25th Anniversary southern California car. 60,000 original miles, rebuilt 390, transmission and carb, body, top and interior in excellent condition. Two-owner vehicle, It has been in Canada for the last 33 years (garage kept). Located 15 miles north of Oroville, Wash. $29,000 US. Contact Mark at (250) 498-0472; dmark2346@gmail .com.
1964 Parklane Marauder, original California car that had original paint before restoration. Painted in its original color, 410 c.i. engine, rebuilt Cruise-O-Matic transmission, Power windows, power seat, power steering, power brakes tinted glass and factory air conditioning (needs to be charged), bucket seats and console. All new brake cyclinders, flex lines and booster rebuilt. New carpet, new kick panels, new headliner, new seat covers, rebuilt door panels. Turquoise with white interior. Car is in Newfoundland, Canada. Asking $23,000 American dollars. For more detailed pictures or more information, Contact Bob at (709) 770-7283 or e-mail futura2010nl@yahoo.ca.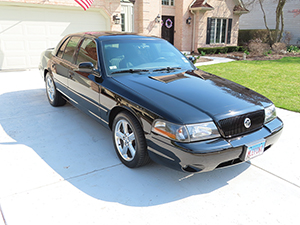 2003 Marauder. All original, garage kept and covered, well maintained and very clean. This has been a tightly held car; I purchased it from my father, who purchased it new. I have the original sales sticker and sales brochures. Only 43,000 miles, asking $20,000 and willing to consider good offers. Contact Darrell at dtcarpenter92@gmail.com or call (847) 224-8995.
2003 blue Marauder, all original, 130,000 miles, rides beautifully, Fly into Tampa, Fla., and drive it anywhere. Title in hand. Will e-mail pictures. $12,800 OBO. (813) 928-7330 or e-mail rcallen1507@gmail.com.
These cars are located in Bayfield, Wis. Price point – best offer. Contact rjschm@hotmail.com; (715) 613-1519.
CAR WANTED
Looking for a driver 1955 Mercury convertible. Phone: (920) 432-7089.
PARTS FOR SALE
1954 Mercury, two NOS front fenders, two NOS front fender inner supports, two NOS doors, two NOS vent windows. Many unidentified parts. Would like to sell all. $1,800 OBO. Contact Richard at (810) 765-3473; e-mail wikrdik@comcast.net.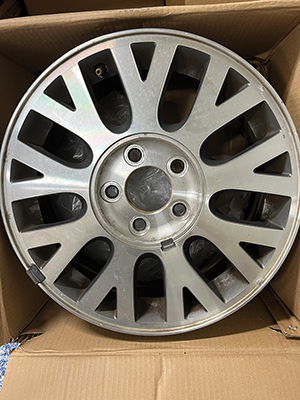 2003 Grand Marquis LSE Lacy Wheels, decent shape, 4 @ 16″ split 9 spoke. No tires. $280 OBO. Must pick up in Tampa, Fla. Will e-mail pictures. (813) 928-7330 or e-mail rcallen1507@gmail.com.
1956 Mercury spinner wheel covers (3 sets), NOS new $1,200. Very nice set with new red Ford crest centers, $800. Driver quality set $400. Can send photos. Contact Fred at (816) 550-3725; e-mail findfredgardner @gmail.com.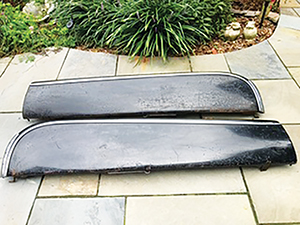 1957-58 Mercury Turnpike Cruiser skirts/shields. Original condition, great shape, $1,400 for pair. tom.guinta@snet.net; (203) 209 7904. Connecticut.
For 1966 Comet, fender black flag emblems or pair of metal ornament bezels. Call or text (518) 542-3829 (NY).
PARTS WANTED
Dashpad for a 1967 Caliente. Contact Dave at (845) 597-5513.
In need of rear quarters and wheelhouses for a 1968 Montego convertible. If you have some for sale or know of a supplier, please contact Daryl at darylis@shaw.ca.
I'm looking for a NOS or good used right rear lower fender panel for a 1950 Mercury two-door sedan, Part # 8M16312A, NOS right front fender stainless trim, rear body filler panel between body and bumper. Call Mark at (315) 387-6106 or e-mail barbjane1949@yahoo.com.
Need a rocker panel molding for a 1967 Monterey two-door hardtop, body code 63A, Ford part #C7MY-5410176-A. Call Jerry (IN) at (219) 363-8366 or e-mail mtracecruizin @csinet.net.
1953 Monterey woody, Mercury emblem at rear door, 15 inches, top blk. wood divider between front and rear door. Contact bobhoward.heco @yahoo.com. (626) 833-7674.
POSSIBLE SCAM ALERT
Hi, this is Natalie selling the Montclair I hope you're still interested. The car is in really good condition, has no issues or accidents, no rust or leaks, straight body, no work needed ready to enjoy. It was my husband's baby "Life's too short to drive a boring car" he always said but he passed away last year he served his country well and I'm sure he's in a good place now. I had thyroid surgery and moved back to my late folks house in Iowa to recover and considering the difficult circumstances I'm forced to sell it. I made arrangements with a local shipper to help me with the sale as I'm unable to and the car is prepped & ready for delivery which is covered in the $15,300. If still interested in buying and need more details provide your name and a shipping address I'll forward it to them and they'll provide you the terms and legal contract to show authenticity & delivery are guaranteed. I have several folks interested so I'll be waiting for your reply soon hopefully.Here's the link to the ad for pictures https://www.automall-online.com/index.php?page=item&id=16150. Once again the car is being sold nationally it's here in Iowa at the shipping facility and will be delivered from here at no extra cost the $15,300 for it is all you pay. Along with the car you'll get the title and all registration papers plus all other documentation for it and a notarized bill of sale signed by me ready for registration. Inspection & test drive are available on the spot once delivered and a return policy is also available and full money back if for any reason you reject it. If the terms are agreeable provide your name and shipping address I'll forward it to the shipping guys they'll contact you and you'll be able to talk to them directly.
IMOA MEMBERS CAUTION! WATCH FOR SCAM ARTISTS!
We have many members report that they have been solicited by non members to send money for vehicles and parts (some solicitations are from USA, Canada & abroad)!
CAUTION!CAUTION!CAUTION!CAUTION!CAUTION!CAUTION!CAUTION!
Sorry, no there are no listings available.