Current Issue of Quicksilver - Summer 2023
UPDATE  7/7/23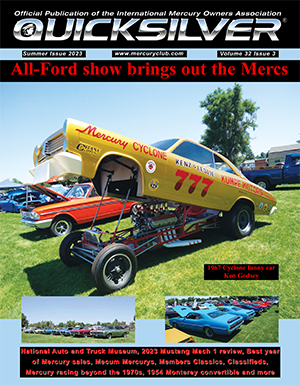 The Summer 2023 Quicksilver was just sent to the printer and should arrive in a couple of weeks. It features information on the 2023 annual IMOA show Sept. 6-9 in Auburn, Ind., with scheduled visits to the Auburn Cord Duesenberg Automobile Museum, the Early Ford V-8 Foundation Museum and the National Automotive and Truck Museum.
You can read related stories in the Events and Blog sections. The Summer Classifieds are already online.
The issue also features stories on the National Auto and Truck Museum, the 1968 Mercury Le Grand Marquis concept, coverage of the June All-Ford Show in Golden, Colo., Mercury racing through the 1990s, a 1954 Monterey convertible, the best year of sales for Mercury, Members' Classics, Mecum Mercury auction news and much more.
Are you a visitor interested in joining the International Mercury Owners Association? Click here to download the Membership Registration form:  IMOA Registration