2023 Ford Maverick Tremor lives up to expectations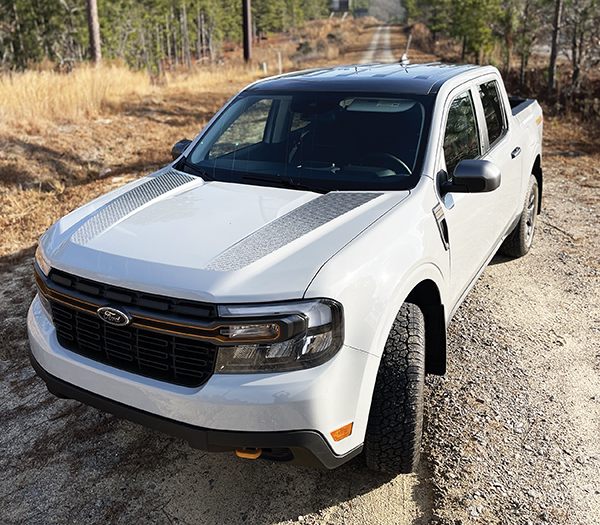 By Jerry Robbin
The hot new Tremor package for the Maverick has arrived! This trim level offers off-road street credentials for Maverick owners. It's offered as a $2,995 option on the mid-level XLT and top-tier Lariat trims with all-wheel drive and the 250 hp turbo-charged four-cylinder.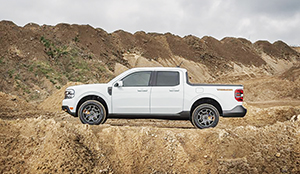 Driving Impression
The Maverick Tremor has a 0.8-inch suspension lift and a unique all-wheel-drive system that replaces the rear differential with a pair of clutch packs.
Touching a button behind the Tremor's gear selector forces them shut, locking both the all-wheel-drive system and the rear axle.
Tremor trucks also get stronger half shafts, a heavy-duty transmission cooler and a low-speed off-road cruise control known as Trail Control.
A special front fascia, along with the hiked-up suspension, boosts the approach angle from 21.6 to 30.7 degrees.
Seventeen-inch Falken Wildpeak A/T3W all-terrain tires, steel skid plates and two off-road driving modes (Mud and Ruts, and Sand, replace the Sport and Eco modes in standard Mavericks) are lifted straight from the Maverick's other off-road kit.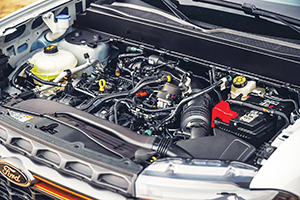 Under the Hood
Maverick's 250 hp 2.0-liter turbocharged inline-four dishes out ample power and torque without hesitation.
Safety Features
Anti-lock brakes automatically sense when a tire has stopped rotating under extreme braking and will modulate the brake pressure to allow the tire to rotate. This increases the vehicle's ability to turn while braking.
Stability control automatically senses when the vehicles handling limits have been exceeded and reduces engine power and/or applies select brakes to help prevent the driver from losing control of the vehicle.
Front-impact airbags for the driver and passenger have been designed to protect the head during a frontal crash. Side impact airbags for the front seats have been designed to protect the torso during a side impact collision. Overhead airbags are used to protect the occupant's heads in the event of a side collision or rollover.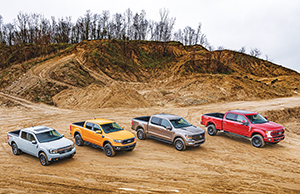 Knee airbags help to protect the occupant's lower extremities from serious injury in the event of an accident.
Seatbelt pretensioners automatically tighten seatbelts to place the occupant in the optimal seating position during a collision.
The vehicle is equipped with an ignition disable device that will prevent the engine from starting if the correct original manufacturer key is not used.
Inside
Inside, orange stitching and a flurry of Tremor badges highlight this unique vehicle.
The seats hold you firmly in place and the controls are well laid out and easy to access.
The Maverick also has more passenger space than expected, with a rear seat that's comfortable. Ford has made the interior appear more expensive than it is with plastic surfaces that have attractive textures and cleverly designed storage bins are everywhere.
The interior is well done, and as with all Tremors, it has touches of bronze everywhere and Tremor embroidered on the seats.
The gauge cluster is configurable for driver info controlled from the steering wheel. High on the dash is an eight-inch touchscreen that is simple, but works well. You operate all audio, Bluetooth, apps, Apple CarPlay and Android Auto.
The center console houses a round gearshift knob and buttons for the drive modes, the traction control and all-wheel drive settings. It even has a place to put your phone where you can actually see it when driving.
Back seat room was better than expected in a small truck. Back seat passengers get USB ports and a power outlet. The back seat folds up and has storage underneath for valuables.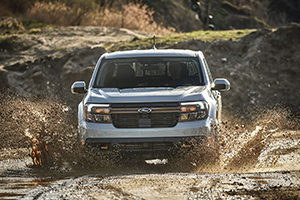 Outside
The 2023 Maverick Tremor has unique grille, wheels and side grilles that adopt Tremor orange and dark gray accents, while an option group grays out the roof, door handles and mirror caps.
The wheels are twin five-spoke designs with one segment in orange. The front fascia has underbody shielding that protects the 2.0-liter engine's vital parts.
Splashes of orange on the tow hooks, fender vents, grille trim and wheel pockets add some interest to the Maverick's basic-box exterior design.
The Road Plus Appearance package has black hood and lower-door decals plus a gray roof, door handles and mirror caps.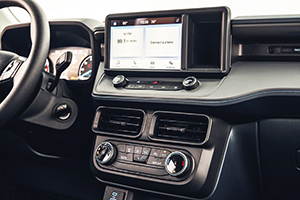 Summary
The Ford Maverick has a position in the market with its unique pedigree. The Tremor package builds on that balance, elevating this compact truck's ability with its personality and road manners. There's nothing else like this truck on sale today.
Specifications
• Wheelbase: 121.1 inches.
• Length: 200.7 inches.
• Height: 69.5 inches.
• Legroom: 43.9 inches.
• Headroom: 40.8 inches.
• Width with mirrors: 83.5 inches.