Ford 2023 Super Duty Tremor Offers Upgrades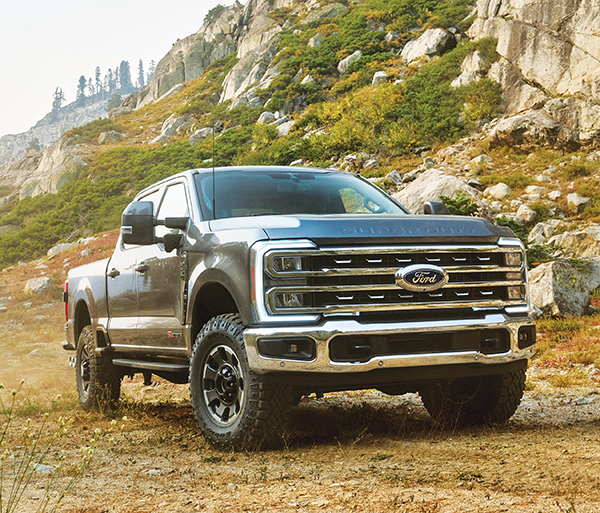 By Jerry Robbin
The Ford Super Duty Tremor package is back again for 2023 and includes upgrades that make this unique truck so exciting. The package starts with 35-inch Goodyear DuraTrac tires and unique 18-inch wheels.
Upgrades to the 2023 Tremor include Tremor-badged twin-tube shocks and progressive coil springs tuned specifically for each engine option and the F-350's rear-leaf springs.
Other features of the Tremor include heavy-duty running boards, skid plates and Ford's selectable drive modes (including Rock-Crawl).
The Tremor package highlights include a front lift, a uniquely tuned suspension and a Dana front axle with vent tubes, as well as a limited-slip differential.
Driving Impression
Trail Turn Assist, a feature debuted in the Ford Bronco, will be included with the Tremor package for 2023. Trail Turn Assist aids in making tight turns while off-road by engaging the brakes on the inside rear tire.
The Tremor has increased maneuverability in tight quarters by braking the inside rear wheel. Driving the Tremor truck makes you feel like you are the "King of the Road." The maneuverability and braking are superlative on the 2023 Tremor.
Under the Hood
Under the hood, the new 7.3-liter V-8, which is good for about 430 hp at 475 pound-feet of torque.
Safety Features
Ford offers features to make driving the 2023 F-250 safer and easier. Adaptive cruise control and lane-keep assist help on the highway, and work with a trailer attached. Blind-spot monitoring is available, as well as blind-spot sensors that can be attached to a trailer.
Front and rear proximity sensors come in handy when parking, as do front and rear automatic emergency braking. Various security features, like trailer theft alert and scheduled ignition hours, aid the new F-250's work-ready appearance.
Safety features include:
· Adaptive cruise control.
· Auto hold.
· Automatic load-leveling headlights.
· Blind-spot warning with trailer coverage and fifth-wheel/gooseneck coverage.
· Camera system with up to 28 views.
· Driver monitoring system.
· Intersection turn assistance.
· Parking sensors.
· Trailer reverse guidance.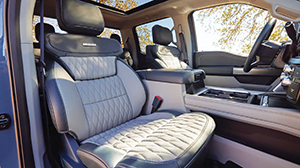 Inside
The 2023 F250 interior of the new Super Duty trucks gets upgrades. The new cabin gets a 12-inch display on the Lariat.
The Lariat has Max Recline seats that fold nearly flat, an Alexa hands-free system and a B&O sound system. The seats hold you firmly in place and are unbelievably comfortable.
Revised headlights and taillights are part of the new Super Duty, but the interior is essentially lifted from the current F-150.
Ford's Pro Power Onboard adds outlets for power tools and accessories in the bed of the truck, as well as inside the cabin, while providing 2.0 kilowatts of power.
Another nice addition is 5G connectivity that's standard across the range. An onboard Qualcomm modem taps into AT&T's network and provides Wi-Fi connectivity for up to 10 devices.
New available features include onboard payload scales, a 360-degree trailer camera system that provides drivers a top-down view of the trailer and a blind-spot warning system.
This is the first pickup in the U.S. with embedded 5G capability, enabling faster mapping, Wi-Fi and Ford Power-Up software that updates while driving. All-new available Trailer Navigation identifies the best real-time drive route to take based on trailer size.
Outside
The 2023 Tremor has exclusive styling details, such as a revised front fascia, exclusive wheels and a unique DNA. Expect the unexpected with revised bumpers and exterior features, such as better approach and departure angles.
Summary
The 2023 F-250 Lariat Tremor is a truck that will far exceed your expectation! Note that while I was able to test-drive this vehicle, it won't be in showrooms until spring of 2023.
Specifications
• Wheelbase: 141.4 inches.
• Length: 231.8 inches.
• Height: 78.9 inches.
• Legroom: 43.9 inches.
• Headroom: 40.8 inches.
• Width with mirrors: 105.9 inches.
• Minimum ground clearance: 9.7 inches.