Bristol Motor Speedway a highlight of 2022 IMOA show
The IMOA has announced that next year's annual car show will be held Aug. 3-7 in the Kingsport area of Tennessee.
One of the highlights is a Thursday, Aug. 4 visit to the Bristol Motor Speedway track, where members will be able to drive their cars on the racetrack, plus get a tour of the grounds.
The host hotel will be the Meadowview Marriott in Kingsport, Tenn., where the car show judging will be held Saturday, Aug. 6.
Registrations forms can be accessed here: IMOA Show Registration
Bristol hosts races in several NASCAR touring series, highlighted by two major NASCAR Cup Series weekends. The biggest names in NASCAR, including Dale Earnhardt, Darrell Waltrip, Cale Yarborough, Richard Petty, Jeff Gordon, Rusty Wallace, Kyle Busch, Dale Earnhardt Jr., and Bobby Allison have earned victories at the legendary track.
The short track is a 0.533-mile concrete oval with corner banking ranging from 24 to 28 degrees, and a pair of 650-feet straightaways. Also part of the complex, the adjacent quarter-mile dragstrip, Bristol Dragway, offers more than 50 events annually.
Work began on what was then called Bristol International Speedway in 1960, and it took approximately one year to finish. Many of the original ideas that facility founders Larry Carrier, Carl Moore and R.G. Pope came up with for the track were sketched on envelopes and brown paper bags.
Purchase of the land on which BMS now sits, as well as construction of the track, cost approximately $600,000. The entire layout for BMS covered a little more than 100 acres.
The very first NASCAR race at BMS, held on July 30, 1961, was won by Jack Smith with relief help from Johnny Allen.
The facility was held by several different owners in the early days, but eventually found its way back to Carrier ownership in 1985. On Jan. 22, 1996, Carrier sold the speedway to O. Bruton Smith and Speedway Motorsports, Inc., at a purchase price of $26 million.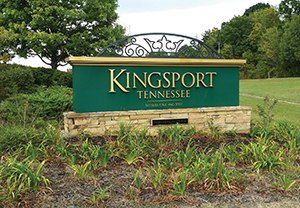 Other things to do in the surrounding area include:
* Coker Tire is 209 miles from Kingsport. Some members may want to order tires for pick-up.
* Gray Fossil Site, 1212 Suncrest Drive.
* Bays Mountain Park and Planetarium, 853 Bays Mountain Park Road.
* Appalachian Ghost Walks Tours, 490 Hemlock Road.
* Allandale Mansion, Kingsport.
* Appalachian Caverns, 420 Cave Hill Road.
* Historic Jonesborough.
* Carter Family Fold, A.P. Carter Highway.
* Virginia Creeper Trail.
* Wahoo's Whitewater Rafting Adventures.
* Kingsport Carousel, 350 Clinch-field St, Kingsport.
More information will be in upcoming issues of Quicksilver.