2021 Annual IMOA Show in Colorado
By Virgil Klein
With 66 Mercurys from all decades of production (except 1939), the 2021 IMOA show in Denver, Colo., was a great success. It was nice to see so many of our IMOA members in attendance.
The official show activites, organized by Chuck Clarke, began on Thursday morning, June 24, with a tour of the Forney Transportation Museum.
We divided into three groups of Mercury owners and were treated to guided tours of the facility. The Forney hosts did a wonderful job of leading these tours. As a special treat for our group, we were allowed to look around the storage area of future and past displays. This area is seldom opened to the public. Thank you, Forney, for a great experience.
Thursday evening saw the traditional "Circle of Friends" in the parking lot of the Marriott. Those who brought sweatshirts and jackets needed to use them, as the weather was quite cool.
Many thanks to Kathy Orcutt, the cookie lady, for the tasty treats.
Friday, June 25, saw IMOA visit the Colorado Railroad Museum. The museum made a special train available to us for a few laps around their loop track.
Afterwards, IMOA members were able to roam the grounds at their leisure. There was much interesting railroad equipment to view, at least to this rail fan.
Friday evening saw another "Circle of Friends." IMOA members are the friendliest group of people, especially when free adult beverages are available. Did I mention it rained?
Saturday, June 26, was a bright, sunny morning with cars being parked for the show beginning around 7 a.m. I find it interesting how many ways car owners have devised to get their car ready for a show.
Judging began at 10 a.m. with a great judging crew. They finished their judging by 11:30. It was a good thing, as the skies darkened and lightning appeared with the always accompanying thunder. And, of course, it rained. Fortunately, no hail at IMOA's location.
However, the rain only lasted a short time and IMOA was able to hand out awards at 1 p.m. The sun had returned and it was a very nice afternoon.
I would be remiss not to mention Judy Miller and all of her efforts selling hats, fender covers and 50/50 tickets. Judy has an endless supply of energy. In the end, all of the hats were sold and almost all of the fender covers. Thanks, Judy!
Many of IMOA's members also attended the All Ford Show and Picnic at Arapahoe Park on Sunday, June 27, sponsored by the local Ford/Mercury/Lincoln car clubs. We all had a great time at this show, with several IMOA members winning awards. Once again, pending weather caused the trophies to be handed out early.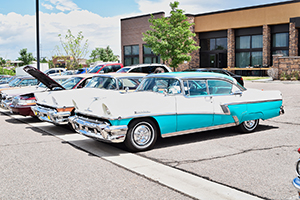 To summarize; this was a great show, with a great location at the Marriott in Westminster and great excursions. Thanks to everyone who participated.
I hope everyone had a safe and uneventful trip home. Look forward to seeing all of you next year.