Blast from the past: 2007 Montego
By Jerry Robbin
Slotted in size between the Milan and Grand Marquis, the 2005 Montego was the Mercury counterpart of the Ford Five Hundred.
The Montego was introduced as an all-new model for 2005. Mercury styling cues, such as the waterfall-style grille and LED tail lamps with metal crossbars, did a good job of distinguishing the Montego from the Ford Five Hundred, which shared its structure and most hardware.
The Mercury managed to look more crisp and more heavy, while the Ford looked softer and lighter.
Otherwise, the Montego shared its general appearance with the Five Hundred. Their proportions of metal to glass are similar to that of Audi sedans, and the overall shape is not unlike that of the Volkswagen Passat. The Montego was tall for a modern sedan, a design influenced by SUVs.
High-intensity discharge headlamps were standard, as were large and bright tail lamps. The Luxury model came with 17-inch alloy wheels, while the Premium got 18-inch alloy wheels, not just for looks, but also for better brake cooling.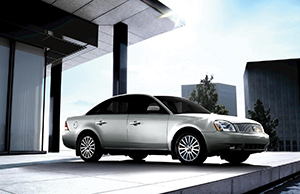 Driving Experience
On the road, the 2007 Montego was smooth and quiet. Its Duratec 3.0-liter V-6 works well with its wide-ratio, six-speed automatic. The transmission always seemed to match the right gear with the driving situation, and was extremely smooth and quiet in operation. The CVT version also performed well, thanks to low final-drive gearing and computer-optimized ratio changes.
Rated just 203 hp, the Montego looks weak compared to the Japanese and Korean competition, which reach as high as 270 hp, but it tops the 190-hp V-6 that's standard in the comparably priced Chrysler 300 (the highly publicized Hemi-powered 300C costs nearly $10,000 more). Fuel economy is an EPA-estimated 21/29 mpg city/highway for front-drive models, while AWD models are rated at 19/26 mpg.
The Montego handled well on smooth roads at a moderate pace. It's a big car, however, and didn't do as well when driven hard on bumpy, winding roads, where it starts to protest by bobbing around a bit.
The suspension, a modified version of the Volvo XC90 setup, performed just fine on smooth and medium-bumpy road surfaces, working with the stiff body and chassis to keep noise to a minimum. The rear suspension, located far outboard, kept the Montego hunkered down.
The all-wheel-drive system uses electronic controls to achieve optimum performance whether on dry, wet or snow-covered roads. Normally, only the front wheels are driven. But, when an electro-hydraulic limited-slip coupling senses a difference in speed between the front wheels and rear wheels, it can distribute up to 100 percent of the driving torque to the rear.
The brakes were excellent for a car of this size and weight. They react quickly to pedal input, the pedal travel is short and quick deceleration follows.
The aluminum disc brakes on Montego are large, designed to offer more stopping power than previous designs, and give off less brake dust on the front wheels due to a change in friction material. Antilock brakes were standard, as is Electronic Brake-Force Distribution.
ABS helps the driver maintain steering control while using the brakes full force, especially on uncertain surfaces. EBD continuously and instantly shifts maximum braking force between front and rear wheels as needed to improve braking stability and reduce stopping distances.
Safety
Safety was a top priority in Montego's design. Features that you can't see included energy-channeling frame structures engineered by Ford and Volvo that help absorb crash forces before they reach the passenger compartment, a strong crossmember in the roof, and an energy-absorbing cross-car tube that provides exceptional side-impact protection.
In AWD models, even the central driveshaft collapses to protect Montego's occupants by absorbing crash energy. The Montego was designed to meet tough future standards for rear-end impacts.
ABS brakes automatically sense when a tire has stopped rotating under extreme braking, and will modulate the brake pressure to allow the tire to rotate. This increases the vehicle's ability to turn while braking.
Front-impact airbags for the driver and passenger have been designed to protect the head during a frontal crash.
Seatbelt pretensioners automatically tighten seatbelts to place the occupant in the optimal seating position during a collision.
The Montego was equipped with an ignition disable device that prevents the engine from starting if the correct original manufacturer key is not used.
Under the Hood
The Montego features a 3.0L V-6 engine producing 203 hp. It has a six-speed transmission with overdrive. Its mileage is rated at 21 mpg city and 29 mpg highway.
Inside
Inside is where the Montego shined in several ways. It's among the roomiest of family sedans with 108.3 cubic feet of interior room. The back seats were notably roomy and lead the category in headroom and knee room. The Montego had more interior space than competitive vehicles that are up to seven inches longer.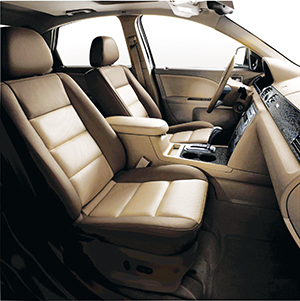 Its trunk, at 21.2 cubic feet, is also the largest in its class (aided by a space-saver spare tire). Both rear seats and the front passenger seat can fold down, extending the useful cargo area of the Montego to station wagon proportions. With the front seat flopped over, you get nearly 50 inches of storage length down the right side of the car.
Montego's interior design was influenced by SUVs. The beefy steering wheel looks like it came from an auto show dream truck, with more buttons than ever for added convenience, easier operation of the cruise control and more audio functions.
Other SUV design cues include the overhead console and the big brow shading the instruments. All the graphics are large, white on black, and very easy to read.
There's enough brushed aluminum trim to tell you you're in a Mercury. The Luxury model came with a straight-grain wood trim, while the Premium got burled wood trim. Three interior color schemes were available: two-tone grey, two-tone tan and black.
A large, oval-shaped clock is the central feature of the instrument panel, which is dark on top and light on the bottom, just as the seats are dark on the outside and light on the inside (unless you opted for the all-black interior). The instruments were easy to read and the controls are easy and quick to use.
The driving position in the Montego is pleasantly high off the ground, affording excellent driver visibility. The seats sit about four inches higher than the seats in the discontinued Sable. Visually, they are a bit of a throwback, blocky and plain in appearance. But they are also large, plush and supportive. The rear seats are set up higher still so that rear-seat passengers can see out without craning.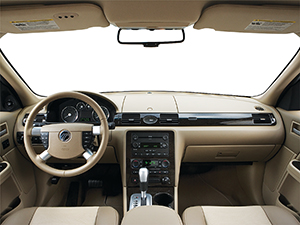 Inside features
• AM/FM/CD stereo with six speakers, including subwoofer.
• Remote trunk release
• Audio and cruise controls on steering wheel.
• Simulated wood trim on center console.
• Overhead console with storage.
• Front seatback storage.
• Tilt-adjustable leather steering wheel.
• Simulated wood trim on doors.
• Cargo net.
• Climate control.
• Power steering.
• Dual illuminating vanity mirrors.
• Front And rear cupholders.
• Electrochromatic inside rear-view mirror.
• Front And rear door pockets.
• Retained accessory power.
• Rear floor mats.
• Universal remote transmitter.
• Adjustable pedals.
• Front And rear reading lights.
• Leather trim on shift knob.
• Simulated wood trim on dash.
• Digital keypad power door locks.
• Power mirrors.
• Heated mirrors.
• Compass.
• Trip computer.
• Tachometer.
• Clock.
• Low fuel level warning.
Outside
The Montego's looks were restrained and inoffensive. There's even a slight air of Mercedes from the back, which is one of the Montego's better angles. The bulbous front end doesn't do the car any favors in the visual distinction department, however. The fungus effect set in, though, and we began noticing little touches like the subtle crease up the center of the hood, and the body sides unmarred by rub-strips.
Summary
The Montego was a five-passenger family sedan that was roomy and luxurious. It benefited from safety features and engineering developed by Volvo. All-wheel drive is available for bad weather and low-traction conditions. Both transmissions work well. The CVT that comes with AWD models is a vast improvement over earlier designs because of its electronic controls.
Specifications
• Length: 200.4 inches.
• Width: 74.5 inches.
• Height: 61.5 inches.
• Wheelbase: 112.9 inches.
• Curb weight: 3,720 lbs.
• Front headroom: 39.4 inches.
• Front legroom: 41.3 inches.
• Front shoulder room: 57.8 inches.
• Front hip room: 53.7 inches.
• Rear headroom: 38.7 inches.
• Rear shoulder room: 57.6 inches.
• Rear hip room: 53.3 inches.
• Rear legroom: 41.3 inches.
• Cargo capacity: 21.2 cu. ft.