Blast from the past: 2003 Mercury Marauder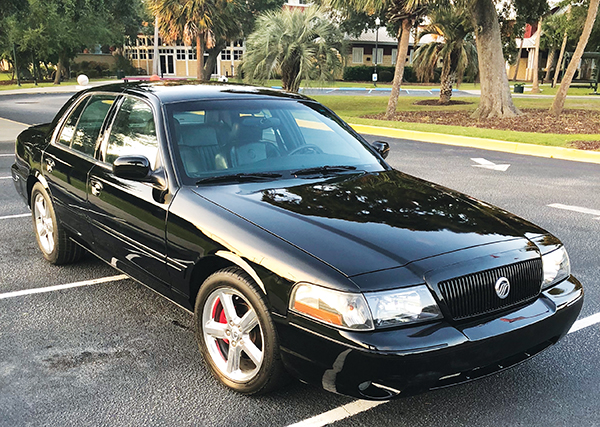 By Jerry Robbin
Let's set the stage for the evolution of the last muscular full-size body-on-frame sedan that still roams the earth: the 2003 Mercury Marauder.
The front clip of the 2003 Marauder is from the Grand Marquis, except for a black-finished grille, new bumper cover and Cibie driving lights. The headlamps have blacked-out bezels, giving the Marauder the appearance of wearing a sinister burglar's mask.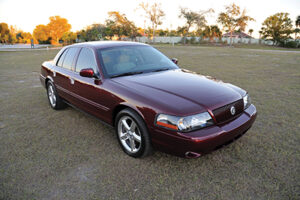 Driving impression
The Marauder definitely has attitude. Whether you are an enthusiast with a family, who're seeking to have a sedan with an emphasis on both thrills and utility, the Marauder can handle both jobs.
Fast, handsome and practical to boot, the Marauder has a ride that's clearly designed to be more than just a one-trick pony. Acceleration is amazing and the handling is superb. The brakes are adequate for the Marauder.
Under the hood
The Marauder's dual overhead camshaft, 32-valve, 281 c.i. V-8 produces 318 pound-feet of torque, which means that it not only sounds sweet, but you can also rocket down the road with more power and speed than almost anything else in its price range.
Inside
The interior is fitted with twin front bucket seats, a center console with auxiliary AutoMeter gauges for oil pressure and amps, brushed aluminum trim and silver-faced gauges. A 140-watt Alpine AM/FM/CD/cassette player is mounted into the dash.
Enthusiast drivers will appreciate the white-faced displays, which include a 140-mph speedometer, 7,000-rpm tachometer and full instrumentation with temperature, oil and voltage gauges.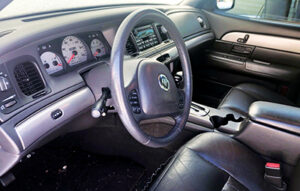 Bright trim replaces the fake wood found in the Grand Marquis, adding a touch of attitude. A floor shifter juts out of the center console for a sporty feel, while the five seating positions are upholstered in leather with the winged god Mercury's head embossed in the seatbacks.
"Marauder" is embroidered into the floor mats to remind the driver this is a special car.
Here are some of the Marauder's features:
* Remote trunk release.
* Audio And cruise controls on steering wheel.
* Overhead console with storage.
* Front seatback storage.
* Cruise control.
* Leather steering wheel.
* Cargo net.
* Tilt-adjustable steering wheel.
* Climate control.
* Dual illuminating vanity mirrors.
* Speed-proportional power steering.
* Front and rear cupholders.
* Rear floor mats.
* Universal remote transmitter.
* Adjustable pedals.
* Front and rear reading lights.
* Leather trim on shift knob.
* Trunk light.
* One-touch power windows.
* Power mirrors.
* Remote keyless power door locks.
* Heated mirrors.
* Bucket front seats.
* Height-adjustable passenger seat.
* 8-way power passenger seat.
* Height-adjustable driver seat.
* Driver seat with power- adjustable lumbar support.
* Passenger seat with power-adjustable lumbar support.
* 8-way power driver seat.
Outside
The car sports 18 x 8-inch polished alloy five-spoke wheels, with the godhead stamped on the wheel caps.
At the rear, there's a new fascia embossed with the Marauder name (the only other places the name appears is on the front floormats and the face of the speedometer).
The taillamps and license plate lights feature black-tinted lenses.
Safety Features
With its basis on the Grand Marquis, the 4,165-pound Marauder has all the standard safety features of the day.
Federal crash testing of the Grand Marquis has resulted in a five-star rating for frontal impacts and four-star ratings for side impacts.
The 2003 Marauder comes standard with four-wheel disc antilock brakes with electronic brake force distribution and panic assist, which applies the brakes full-force when a panic stop is detected.
Also standard is the Personal Safety System (advanced restraint and airbag systems) and seat-mounted side airbags.
Summary
The Marauder fulfilled its mission of offering family-car utility with muscle-car attitude.
The Marauder was priced at $34,495 and offered only two options: a $200 trunk organizer and a $350 trunk-mounted six-CD player.
When you purchased the car, you got a limited-edition black leather jacket with Mercury's head on the lining, snaps and zipper, making you feel that you were part of an exclusive club.
The 2003-2004 Maurader is fast becoming a hot collectible.
Specifications
* Front head room, 39.4 in.
* Front hip room, 58 in.
* Front leg room, 42.5 in.
* Front shoulder room, 60.1 in.
* Rear head room, 38.1 in.
* Rear hip room, 58.7 in.
* Rear leg room, 38.4 in.
* Rear shoulder room, 60.3 in.
* Curb weight, 4,165 lbs.
* Length, 211.9 in,
* Height, 56.8 in.
* Wheelbase, 114.7 in.
* Width, 78.2 in.