1972 Cougar had origins as an online Mercury find
By Rob May
This California convertible Cat, a 1972 Cougar XR-7 owned by Larry Hurt, makes its den in Oxnard, Calif., and has made appearances at Ventura Classic Car Club (VCCC) and Central California Mercury Club (CCMC) functions.
Born in Carthage Ill,. Larry Hurt has five brothers and two sisters.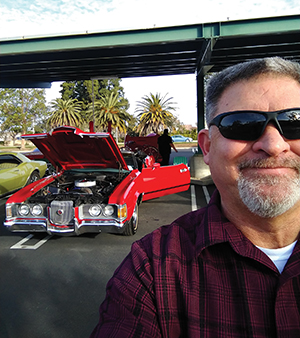 "In 1984, I joined the Navy Seabees (Construction Battalion) and was a construction electrician for 22 years," Larry said. "During the last part of my career, I was a part of the Mobile Utilities Support Equipment (MUSE) program and became a power generation technician."
Larry met his wife, Rebecca, while in the MUSE program, and they have been happily married for more than 20 years.
"We have two beautiful daughters Katelynn (18) who started Ventura College in January 2020, and Sarah (14) who is a freshman in high school."
Larry never expressed any "car guy" traits, so Rebecca was a little surprised when he told her about wanting a classic car.
"I decided I wanted a classic car between 1965-75, convertible and I was leaning towards the Cougars," Larry said.
His Cat was found on eBay, and he negotiated with a dealership in Boise, Ida., without even seeing the car in person.
"The pictures sold me and it was just a matter of getting a fair price," Larry said. "When I got the car delivered, all my mechanic friends said the car was in really great shape mechanically."
The car was a restored 1972 Cougar XR-7 convertible, factory interior in great condition, nearly new black power top with glass rear window, and it already had a chrome air cleaner housing, valve covers and dual exhaust tips.
The original V-8, 351-2V Cleveland mated to its factory original Code X FMX 3-speed automatic transmission, now is upgraded with an Edelbrock aluminum 4-barrel intake manifold with a Holly 4-barrel carb.
"There is still a lot of little things I want to do, but it is more cosmetic and a personal thing than a mechanical one," Larry said.
In the '70s, car manufacturers had mostly designed the larger body style for the comfort to be on the road. The Cougar XR-7 was Mercury's way to compete with the muscle cars of the era. This car is no exception.
It will still toss your head back when you step on the gas, even at highway speed.
The convertible look is a California classic design and the eye- poppin' red color turns heads.
"Oh yeah, I get a lot of looks when they hear the Flowmaster duals rumbling," Larry said.