1/18th-scale Mercurys sold in 1967 and '68
By Rob May
In the last issue of Quicksilver, we detailed 1/64th- and 1/43rd-scale promos in the cases where Mercury joined with other entities, including a third party, to their mutual benefit in advertising.
Typical hard-plastic promo models are 1/25th-scale cars and trucks. Cougar dealer models were never offered in this size (although AMT offered a kit in hobby stores). Instead of this common size, we will discuss the larger 1/18 soft-plastic Mercury Cougar promotional representatives.
These collectibles initially were a Mercury dealer product that later merged into the toy market.
In 1967, Mercury dealerships utilized Gay Toys Inc. to advertise. A mail-away offer and direct-dealer placement introduced the new Cat in 1/18th scale. In this case, there was no third-party product involvement. One could walk into the Mercury dealership and acquire this soft plastic item or wait for one to be mailed to their home.
Details were fairly accurate. The white interior included a steering wheel, which is often missing through the years. A clear plastic piece formed the windshield and rear glass. Side roof posts are commonly found bent when the clear plastic is missing.
Colors offered were light blue, green and dark burgundy red. License plates indicated "1967," although blank plates are found indicating the transition to the next model year.
For 1968, these Mercury Cougar advertisement items continued. All part molds were the same as 1967, with a couple distinctive differences: license plates now had "1968" and the side marker lights are clearly on the body (versus the rear emblem found on the '67).
All colors from 1967 carried over; in addition, a darker blue, yellow and red were added to the regular line.
Initially produced for Mercury as advertising material, Gay Toys Inc. transformed them into a toy, as well.
Instead of blank mailing boxes, these Cats were placed onto colorful display platforms. Along with the regular line, a "Drag Kat" version with hood scoop (GTE style) was presented in a box platform.
Interiors for the scoop version were now in white and black. Bumpers are black. Exclusive to this version is an additional orange body color.
The 1967 Cougar promos are fairly common, although ones with boxes are highly desirable. The '68 versions are much harder to find, with the Drag Kats less seen than their regular counterpart.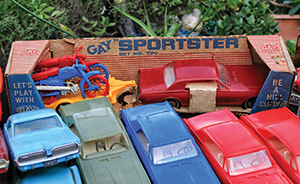 By far the rarest Gay Toys Inc. 1/18th piece to find is the "Sportster" set 790 that includes a Cougar pulling a trailer with a pair of motorcycles.
A yellow "hitch" attaches to the rear bumper, enabling the car to connect to the trailer.
Beyond 1968, no Cougars were offered by Gay Toys Inc. GT40 models were produced in the 1/18th scale. Other Ford products were made in smaller scales, but no other Mercury vehicles.
All photos are by Georgina Garcia May Photography and all cars will remain the May family museum.