Getting creative with your Mercury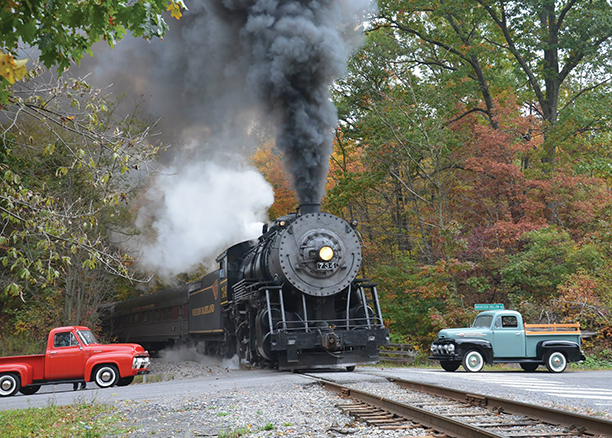 By Todd Haefer
New IMOA member Harry Hartman, of Ridgeley, W.V., has combined his love of classic vehicles and photography to keep a historical record of his cherished Mercurys.
"We are always looking for new and unusual places to photograph our antiques," he said. "We enjoy taking our Mercurys to different scenic spots."
Harry and his wife, Kathy, own a 1952 Mercury M1, '54 Mercury M100; '52 Ford F1, '57 Meteor Rideau 500 and a '49 Mercury M47 panel truck.
"I'm a photography nut," Harry said. "I bought a 35mm camera in 1975 and it opened my eyes to the beauty of the world. I wanted to create a pictorial history of my trucks with the ultimate goal of creating a photo book for each of my vehicles."
Harry got interested in Mercury trucks when he decided to jump into the classic car hobby.
"I wanted to get involved in antique vehicles, and everyone had an old Chevy or Ford. I knew I couldn't afford the typical classic car. I didn't have the money or time for graveyard cases.
"Since my father loved trucks, I decided to go in that direction. I went to pick up the 1952 Ford F1 in Canada, and the guy there asked if I had ever heard of Mercury trucks. I hadn't and then I had to have one."
Besides his photo books, Harry uses his pictures for various greeting and holiday cards.
"Some of the photos make for great Christmas cards, as well as congratulation cards," he said. "We have submitted pictures of our trucks to local community calendars and photo contests, and have been selected for a month or two on each of the community calendars."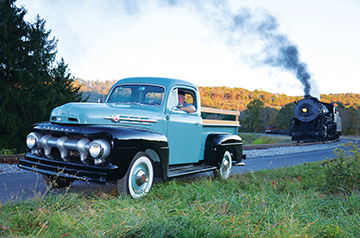 Harry researched train schedules to take the photo that starts off this story, with the M1 and M100 on each side of the oncoming train.
"I'm a retired schoolteacher and the train engineer at the time was one of my former students," he said, "so I was able to find out the schedules. That picture was taken at the Woodcock Lane Crossing in Mount Savage, Md."
The Hartmans put their classics to good use.
"We tell everyone we didn't buy them to just look at," Harry said. "We don't drive them every day, but every weekend at least two of the antiques are on the road. I have three sons and two live very close to us, so there are times that three or four of the Mercurys are out on the road. It is always neat to pull into a car show or a restaurant with all the Mercs and see the oohs and ahhs."
The Hartmans took two of their pickups to the 2015 National Ford Truck Show.
"I get yelled at by purists at shows about why I have a flathead in a '54 truck," he said of the M100. "They base that on 1953 being the last year Ford used them in its trucks. But, Mercury in Canada used flatheads for one more year for its trucks."
His Meteor Rideau 500 was purchased after Kathy mentioned she would like an automatic classic to drive to shows.
"We started looking for a Mercury truck with an automatic, but then the gentleman we purchased the 1952 Mercury from heard me talking about our new search, and said he had been looking for a good home for the Meteor and felt we would take care of it."
He said Kathy enjoys the Meteor so much that she made a whole family of Raggedy Ann and Andy dolls (36-inch, 24-inch and 18-inch) that fill the back seat.
"She said her kids are very quiet and well behaved when she is driving," he said.
Harry said it was another Canadian purchase and draws attention at shows.
"Everyone assumes it is a Fairlane 500 until they look closer," he said. "It has a 292 V-8 and is about 90-percent original."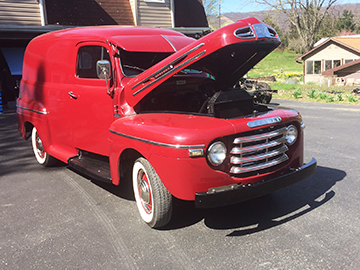 Harry's latest purchase is a 1949 Mercury M47 panel truck.
"It has the flathead V-8 with the Canadian markings on the heads," he said."It has a three-speed on the floor and is about 90-percent original. Personally, I think the only thing that is missing is some wording on the side of the panel. When people saw panel trucks like these originally, they were usually owned by some company – hardware, plumber, market or bakery, to name a few – that had their names on them. I feel it needs something like that on the side."