Current Issue of Quicksilver - Fall 2022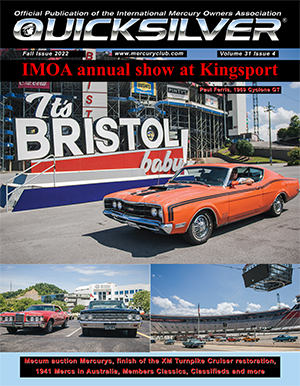 UPDATE 11/10/22
We have just found out that there was a mixup in the mailing of the Fall 2022 Quicksilver. It was supposed to have mailed about a month ago and instead the copies apparently sat in a warehouse. It is currently being mailed out so members should receive their copies soon.
UPDATE 10/24/22
The Fall 2022 Quicksilver has been mailed. It features highlights of the 2022 IMOA car show that was held in Kingsport, Tenn., in August. Other stories include the finish of Tom Maruska's restoration of the XM Turnpike Cruiser concept car, upcoming Mecum Auction sales, 1941 Mercurys in Australia, Members' Classics, IMOA President Jerry Robbin's review of the 2022 Ford Ranger Lariat and more.
The updated Fall 2022 Classifieds are posted in the Classifieds section.