Summer 2023 Classifieds
Cars for Sale
1941 two-door convertible street rod, highly modified. Quite possibly the nicest one in existence. With only 2,400 break in miles, cruises at 80 mph. Sporting a built 350/sbc engine, 700 R4 transmission, Height's Mustang II front end, 4-wheel power disc brakes, 8-inch Ford, 3.25:1 ratio, Ididit tilt steering column, Vintage air-heat-defrost, custom sound w/remote, Autometer gauges, custom dash, 4 leather bucket seats in a rose and beige color. Body color is a two-tone cinnamon glaze/gold mist. American Racing wheels, shaved doors/deck lid, lighted V-8 trunk detail. Asking $61,941. Contact Dee at (208) 233-9362; e-mail dmaninc@theonlyother.com.
1954 Mercury two-door hardtop. 74,000 miles, Black with Red/White interior, skirts, continental kit. Beautiful car. $27,500.
1954 four-door sedan, nice interior, PS, PB. Runs excellent, one repaint. Green, nice chrome and stainless. $14,500. Call Larry at (479) 459-7302 (OK).
1956 Monterey two-door hardtop. Blue and White, Driver, many spare parts included. Located in Waterbury, CT. Too much to mention here. $28,000. Call Joseph at (203) 754-4588.
1954 two-door hardtop, make one out of two, one is loaded (power seat, power steering, power brakes). $3,000. Call Rolf at (914) 388-3611.
1957 Turnpike Cruiser, four-door hardtop, everything in there, runs good. $5,000. Call Rolf at (914) 388-3611.
1962 Monterey S-55 convertible, Black with Red interior and white top, unrestored w/factory a/c, 390 hp, automatic, wrong engine. All else is correct. Needs light restoration and correct 390 to make it driveable. Car kept indoors, need space. Will send pictures to interested parties. $10,000 O.B.O. Cntact Stephan at (318) 455-4466; e-mail sspence88 @yahoo.com.
1963 Comet convertible. 200 6 cyl. New interior. New top. Vintage air. Dual master cylinder. Merc-O-Matic transmission. New heater core. Under 76,000 miles. Custom radio. AM/FM and Bluetooth. Lots of new parts in front end. Asking $21,000. Phone (641) 203-6402.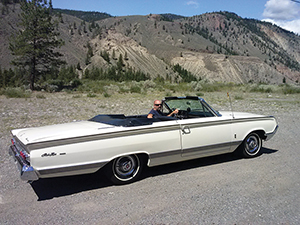 1964 Parklane convertible. Need a car for this year's IMOA show? Excellent example of a rare 25th Anniversary convertible. Original rust-free Southern California car. Rebuilt 390, transmission and carburetor. Body, top, interior and chrome are all in excellent condition. Power bench seat, power windows and glass rear window. The car has had the same owner for the past 34 years. Located 15 miles north of Oroville, Wash., in Canada's desert country. $29,000 US. Contact Mark at (778) 288-9082 or e-mail dmark2346@gmail.com for more info or pics.
1972 Cougar two door, 1973 Cougar XR-7 convertible, 1978 Marquis four door. For more information, contact Howard at (412) 377-5027; e-mail howard.hunter2019 @gmail.com.
1991 Mercury Grand Marquis LS four-door sedan. Runs excellent, rebuilt engine, new steering gear, new top and paint, looks great, interior nice. Downsizing collection, must go! Great road car. $8,500 OBO. Call (303) 463-0759. Pictures upon request.
Cars Wanted
1966-69 Cyclone CJ. Can be 390 or CJ. Call (972) 743-1012 or e-mail singletonins@yahoo.com.
Parts for Sale
1957 Monterey convertible parts for sale. Instrument cluster housing. Pair gauge bezel rings chrome. Pair tail light assemblies. Pair front fender moldings. One rocker molding. Set dash moldings. Convertible top frame parts. 1957-58 bumper brackets. Pair front fender scripts. Gas pedal and linkage. Generator and P.S. pulleys. Trunk latch. Upper inside windshield molding. Heater control. And much more. E-mail for more information mercruiser57@hotmail.com.
1976 Capri II (Ghia), outside molding, 2.8 engine, runs good, transmission, power steering, air conditioning, switches, clocks, maplights, Ghia interior parts, door rear (black/red), console parts, steering, fan and clutch. Lots of small parts, Ghia aluminum rims, 1984 Capri Turbo, internal parts, TRX rims plus more parts. Call for more info. Chris at (970) 389–3930 (CO).
Restored 1955 Mercury accessory steering wheel. An original 1955 Mercury accessory steering wheel which has been recast in new epoxy, not restored by filling cracks. This has sharp crisp lines at the bottom which are often worn smooth. The original chrome grips and the horn ring were rechromed. An NOS power steering horn button is included. This is a white wheel, 17″ diameter. Considered to be the most attractive of the Mercury accessory wheels. This one is in show condition. Price is $1,995 plus shipping. Contact Roger at (406) 656-1521 for more info (land line only, so no texts). Or e-mail rathomsen @msn.com.
Parts Wanted
Need a fuel sending unit for a 1960 Mercury Commuter station wagon. Please contact David at (202) 288-5831.
1966 Mercury S-55 firewall clips needed. These support the wiring harness and also the windshield washer fluid tube. Quantity four needed. 1966 S-55 rocker trim, both sides, and a single rear quarter panel S-55 emblem. Contact Nick at (920) 629-1564.
1951 Mercury hub caps, good condition or better, no dents, rust or scratches. Contact kyoungs1@ nycap.rr.com.
Needed for a 1954 Monterey Sun Valley: Passenger side rear corner roof stainless molding. Part Number BR6050040-A, described in the Mercury Parts Book as Cover Assembly. This is a stainless snap-on piece about two inches long that covers the glass rear join between the over-the-roof stainless and the front-to-rear stainless. Contact Casey by e-mail at caseystoudt @yahoo.com.