Spring 2023 Classifieds
Cars For Sale
1941 two-door convertible street rod, highly modified. Quite possibly the nicest one in existence. With only 2,400 break in miles, cruises at 80 mph. Sporting a built 350/sbc engine, 700 R4 transmission, Height's Mustang II front end, 4-wheel power disc brakes, 8-inch Ford, 3.25:1 ratio, Ididit tilt steering column, Vintage air-heat-defrost, custom sound w/remote, Autometer gauges, custom dash, 4 leather bucket seats in a rose and beige color. Body color is a two-tone cinnamon glaze/gold mist. American Racing wheels, shaved doors/deck lid, lighted V-8 trunk detail. Asking $61,941. Contact Dee at (208) 233-9362; e-mail dmaninc@theonlyother.com.
1947 Coupe with back seat, V-8, three-speed shift on steering column, 87,000 miles, Maroon, excellent body, no rust, runs fine, recent front end work, very good original upholstery, 114K Deluxe Model. $19,000. Call David at (475) 239-0878 (CT). Leave message if no answer.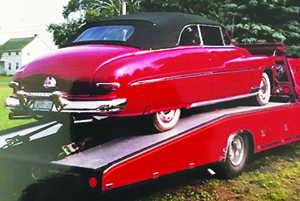 1950 convertible. Absolutely beautiful car. Repainted once about 20 years ago. Always a rust-free car; no body mods, 1951 skirts. Car has Offenheiser heads and dual intake with dual carburetors. Original equipment goes with the car. Red exterior with red and black interior. Ran when parked in garage about eight years ago. Car originally purchased from a huge collector in New Jersey for $78,000; will sell for $60,000. Call (518) 858-6049.
1950 Mercury woodie. Car is apart, ready to be put back together, motor ready to put in. Chrome all redone, brand new wood kit. We are available for answering questions, sending pictures and discussing offers. Asking $38,000. Call (518) 858-6049.
1950 woodie wagon, 72,000 miles, Roanoke Green Metallic, green interior, radio, heater, third seat, visor, fender skirts, new wood, paint, wood graining, interior; Goodyear whitewalls, brakes, exhaust, radiator, $85,000, Contact Ken at (937) 376-1511.
1954 two-door sedan, good stainless side trim, running gear,in tack,V-8, three-speed stick, ruff sheet metal, no title, OEM rims, parked 50+ years outside. $500. Call Bob at (715) 551-0660 (WI).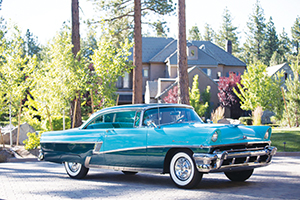 1956 Monterey hardtop coupe. Powered by its original 225 hp, 312 c.i. V-8 engine, with valve job performed by Mercury specialist about 10 years ago. New radiator. Original Merc-O-Matic transmission Approx. 86,000 original miles. Meticulously prepared and re-sprayed in original eye-catching two-tone colors: Verona Green/Pinewood Green Metallic. Interior professionally and partially restored maintaining original colors and materials. Owned 20 years. Complete service document file, including original sales receipt. Excellent condition, mostly original mechanically and cosmetically. Everything works to perfection, including clock and radio. Located in Vacaville, Calif. Complete photo file upon request. $32,500 obo. Contact (214) 616-8346; e-mail johnmacpherson2@mac.com.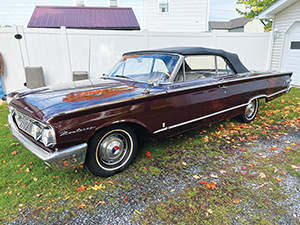 1963 Monterey S-55 convertible. 390 c.i. with rare factory four-speed manual transmission. Dual exhaust, rebuilt brake booster and new clutch. Interior is in very good condition. AACA Class HPOF award winner on several occasions. Asking $15,000. For more pictures or info, contact Mike at (570) 584-5038. Leave message if no answer.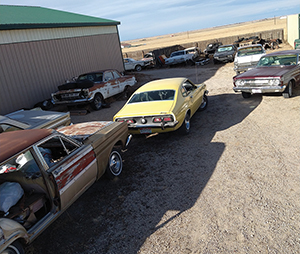 1963 Meteor S-33, buckets console 260 V-8 complete, project, $3,000.
1964 Comet wagon Villager woody, no engine, no transmission, K code, 289 four barrel, 210 hp, not hipo. Have all trim moldings, doors, etc. Wagon is complete. Without engine $2,400; w/engine $2,900. No title.
1965 Comet Caliente two-door hardtop, no engine, no transmission, w/title, was six cylinder, nice quarters, rust in floors, $1,200
1986 Capri 5.0 five speed, runs, drives, $3,000.
I have lots of parts for 1964-65 Comets.1956 Mercury wagon tailight lenses, trim, moldings. Contact Carlos at (720) 281-0940; e-mail calicometcarlos@yahoo.com.
1964 Parklane convertible. Need a car for this year's IMOA show? Excellent example of a rare 25th Anniversary convertible. Original rust- free Southern California car. Rebuilt 390, transmission and carburetor. Body, top, interior and chrome all in excellent condition. Power bench seat, power windows and glass rear window. Same owner last 34 years. Located 15 miles north of Oroville, Wash., in Canada's desert country. $29,000 US. Contact Mark at (778) 288-9082 or e-mail dmark2346@gmail.com for more info or pics.
Cars Wanted
1940 Coupe two door only, Show condition. Contact Ron (WA) (360) 871-4100.
1957 or '58 Turnpike Cruiser two- or four-door hardtop. Needs to be a driver or better. Contact Joseph at (619) 929-2755 or e-mail jventura@cox.net.
Parts For Sale
Third seat frame, $200; master cylinder new, $75; 1953-54 hardtop rear windshield, $200; sideglass, $30 each; rechromed 1954 grille, $150; hood lower front chrome, $150; hood scoop, $100; hardtop right-hand door, $100; 1952 road lamps, $800; 1953 road lamps, $1,900; 1953-54 rear quarter gravel shields NOS, $100; 1954 carburetor, $100; 1955-56 rocker stainless, $200; air cleaner, $100; vent window frame hardtop, $75 each; fender skirts, $125 pair; 1955 deluxe steering wheel, $500; exhaust manifolds, $200 pair; 1956 carburetors, $100; power brake unit, $250; new rocker arms, shafts, 292 rods, $40 each; 1957 exhaust manifolds, $250 pair; Turnpike Cruiser air cleaner, $100. For more information, contact Ken at (937) 376-1511.
1970 Mercury Cyclone GT FMX automatic transmission, $500. Pick up only in Angola, Ind. Call (239) 209-8714; e-mail millertime3610@ hotmail.com.
Rare factory accessory. 1955-56 Mercury factory outside visor. The visor is in good condition, missing one bracket which could be fabricated. There is some surface rust on the underside and some cancer on the right side behind the end cap. All stainless trim is there, including the end caps. Visor needs sanding and paint, has no dents. Price is $350. Shipping charges would be additional. Contact Bill at (845) 304-1257 or e-mail bronxboy1203@gmail.com.
Parts Wanted
Looking for clutch actuation parts for 1956 Medalist: 1) Release Lever Fulcrum and 2) Release Lever Anti-Rattle Spring. Information I have indicates part numbers are MB-7547-A for the fulcrum and MK-7562-B for the spring. Would be willing to have new parts made from samples. Jim (NY), (607) 661-0289 or jclaire61@ yahoo.com.
I need the engine compartment wiring harness for a 1963 Monterey. I think that Ford and Mercury are probably the same. I have found the complete harness, but I only need the wiring that is under the hood. Call (512) 267-7307; e-mail fordonly @austin.rr.com.
Need a passenger door vent window for a 1949-51 Mercury. Condition of glass unimportant. Need the latch in complete condition. Anyone who can refer me to a wrecking yard with one of these cars would be much appreciated. Contact Larry at (509) 910- 2632.