Museum Mania in Auburn for 2023 IMOA car show
The location of the 2023 annual IMOA Car Show has been announced and it features not one, not two, but three car museum visits!
The dates are Sept. 6-9 and the host city is Auburn, Ind.
The museum visits include the Auburn Cord Duesenberg Automobile Museum, Early Ford V-8 Foundation Museum and the National Automotive and Truck Museum.
The host hotel is the Comfort Inn Suites Auburn, 1137 W. 15th St., Auburn, phone, (260) 570-4529.
Registration forms are at: 2023 registration
The Cord museum has graciously allowed club members to park their trailers, if any, at their facility during the show dates. This was due to limited parking at the Comfort Inn.
The Auburn Cord Duesenberg Automobile Museum (automobilemuseum.org) opened in 1974. The museum inhabits the auto builder's original factory showroom building.
After the demise of the Auburn company in 1937, the factory showroom and headquarters served as a parts and restoration center for the obsolete Auburn, Cord and Duesenberg cars, which lasted through the 1940s and '50s.
When the museum opened in 1974, visitors experienced the splendor of the 12,000-square-foot showroom in its original appearance. Accessible once again was a magnificent example of art deco architecture, glorifying America's zenith of machine-age style.
Every characteristic of the main display room, designed by A.M. Strauss of Fort Wayne, had been revitalized: the elaborate, hand-painted ceiling friezes (breath-taking borders of ornamental plaster in colorful relief), ornate Italian three-tiered chandeliers, geometric terrazzo floor, 72 etched-glass side lights, gracefully curving central grand staircase, vertical wall panels, Philippine walnut woodwork, and soaring plate glass windows carrying "Auburn," "Cord" and "Duesenberg" in blazing gold letters.
The entire environment enjoyed by visitors in the 1930s was recreated with successful authenticity.
The National Automotive and Truck Museum is also located in Auburn, which was home to many horseless carriage and motorcar manufacturing companies. As you stroll through the remaining production buildings of the Auburn Automobile Company, you can almost feel and hear the excitement of the designers and mechanics working to create some of the world's finest automobiles.
The Service and New Parts Building and the L-29 Cord Building were declared a National Historic Landmark in 2005. The original factory buildings that house The National Automotive and Truck Museum of the U.S., Inc. represent more than 130 years of transportation manufacturing.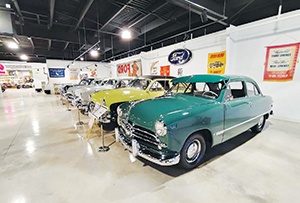 The Early Ford V-8 Museum is a one-of-a-kind museum dedicated to 1932-53 Ford history. It consists of three major sections: an Early Ford Speed exhibit, Industrial Engine, Farming displays and a 1940's Ford service garage. The Frank Corey Gallery houses many of our 1932-53 vehicles, and Floyd Motors depicts a 1936 Ford dealership.
There will be more detail on these museums in subsequent issues of Quicksilver.
Many thanks to Jerry and Kathy Orcutt for putting together this year's show! They took most of the pictures in this story during a November 2022 visit to the museums.
Interest in this year's show is already high, with members having already signed up due to e-mail blasts from the club.
We look forward to seeing you in Auburn!
Schedule of events
Thursday, Sept. 7
9 a.m., leave for the Early Ford V-8 Foundation Museum, 2181 Rotunda Drive, Auburn, Ind., (260) 920-4377. Admission $6 per person.
Noon, leave to go eat TBD (stay approx. 1 1/2 hrs.), then leave for the Byler Lane Winery, 5858 Co. Rd. 35, Auburn. Admission is no charge.
Friday, Sept. 8
9 a.m., leave for the Auburn Cord Duesenberg Museum. Admission is $10.50 per person. (260) 925-1444. Web site, automobilemuseum.org.
Stay approx. 3 hours, lunch location TBD, (again approx. 1 1/2 hrs.) and then go to the National Auto and Truck Museum, 1000 Gordon M. Buehrig Pl., Auburn. Web site, natmus.org. Admission is $7 per person.
If you buy an admission ticket for both the Cord/Duesenberg and the National Auto/Truck Museum, the admission price is $15.50 per person for both museums; you save $2.
Saturday, Sept. 9
8 to 10 a.m. IMOA registration at the show site parking lot, Auburn Cord Duesenberg Automobile Museum.
8 a.m., IMOA show field opens.
9:30 a.m., judge's meeting on show field.
10 a.m., IMOA judging begins.
2 p.m., Presentation of IMOA awards.
After the show, join your IMOA family for a casual dinner at 5 p.m. at the Paradise Buffet, $15.95 per person.
Sunday, Sept. 10
Farewell until next year's show!