Fall 2022 Classifieds
CARS FOR SALE
1947 Mercury Coupe with back seat, V-8, three-speed shift on steering wheel, 87,000 miles, Maroon, excellent body, no rust, runs fine, recent front end work, very good original upholstery, 114K Deluxe Model. $23,000. Call (475) 239-0878 (CT). Leave message if no answer.
1950 convertible, rust-free original car, no body mods, 1951 skirts, engine has Offenhauser heads and dual intake, have original parts for engine, dual exhausts, red car with black convertible top, red and black interior, wide whitewalls, all chrome, very nice. Car has been in storage for approximately 25 years, absolutely beautiful car. Pictures upon request. $60,000. Contact Mike at (518) 858-6049.
1953 Monterey woody station wagon. Car is complete. 255 manual three-speed with overdrive. Clean title. Ready for a new caregiver and total restoration. Car originally comes from New Jersey and is currently in L.A. Call for further information. Asking for $3,000 and will take $2,500 without engine and transmission. Contact bobhoward.heco @yahoo.com. (626) 833-7674.
1956 Montclair Phaeton, two-tone blue, power steering, brakes, windows and seats. Full wheel covers with spinner hubcaps, 312 engine, runs great. Interior in good condition. Contact Chet at (978) 427-7065.
1956 Monterey four-door sedan. Interior is in very good condition. Always starts and runs good. Whitewall tires, full hubcaps with Mercury Man emblems. Prefer to sell both automobiles as a package, but could separate. Contact Chet at (978) 427- 7065.
    1964 Parklane convertible. Excellent example of a rare 25th Anniversary southern California car. 60,000 original miles, rebuilt 390, transmission and carb, body, top and interior in excellent condition. Two-owner vehicle, It has been in Canada for the last 33 years (garage kept). Located 15 miles north of Oroville, Wash. $29,000 US. Contact Mark at (250) 498-0472; dmark2346@gmail .com.
1964 Parklane Marauder, original California car that had original paint before restoration. Painted in its original color, 410 c.i. engine, rebuilt Cruise-O-Matic transmission, Power windows, power seat, power steering, power brakes tinted glass and factory air conditioning (needs to be charged), bucket seats and console. All new brake cyclinders, flex lines and booster rebuilt. New carpet, new kick panels, new headliner, new seat covers, rebuilt door panels. Turquoise with white interior. Car is in Newfoundland, Canada. Asking $23,000 American dollars. For more detailed pictures or more information, Contact Bob at (709) 770-7283 or e-mail futura2010nl@yahoo.ca.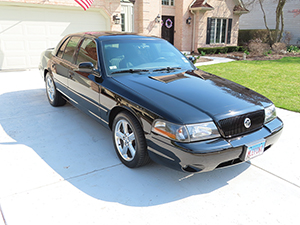 2003 Marauder. All original, garage kept and covered, well maintained and very clean. This has been a tightly held car; I purchased it from my father, who purchased it new. I have the original sales sticker and sales brochures. Only 43,000 miles, asking $20,000 and willing to consider good offers. Contact Darrell at dtcarpenter92@gmail.com or call (847) 224-8995.
2003 blue Marauder, all original, 130,000 miles, rides beautifully, Fly into Tampa, Fla., and drive it anywhere. Title in hand. Will e-mail pictures. $12,800 OBO. (813) 928-7330 or e-mail rcallen1507@gmail.com.
These cars are located in Bayfield, Wis. Price point – best offer. Contact rjschm@hotmail.com; (715) 613-1519.
CAR WANTED
Looking for a driver 1955 Mercury convertible. Phone: (920) 432-7089.
PARTS FOR SALE
1954 Mercury, two NOS front fenders, two NOS front fender inner supports, two NOS doors, two NOS vent windows. Many unidentified parts. Would like to sell all. $1,800 OBO. Contact Richard at (810) 765-3473; e-mail wikrdik@comcast.net.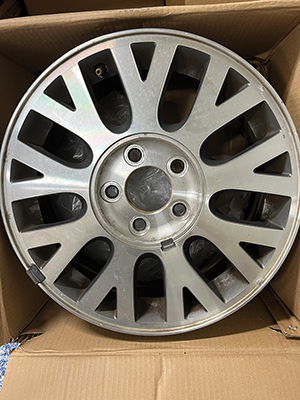 2003 Grand Marquis LSE Lacy Wheels, decent shape, 4 @ 16″ split 9 spoke. No tires. $280 OBO. Must pick up in Tampa, Fla. Will e-mail pictures. (813) 928-7330 or e-mail rcallen1507@gmail.com.
1956 Mercury spinner wheel covers (3 sets), NOS new $1,200. Very nice set with new red Ford crest centers, $800. Driver quality set $400. Can send photos. Contact Fred at (816) 550-3725; e-mail findfredgardner @gmail.com.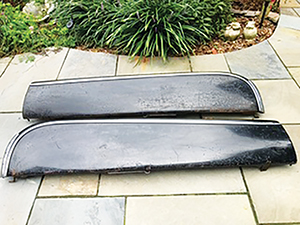 1957-58 Mercury Turnpike Cruiser skirts/shields. Original condition, great shape, $1,400 for pair. tom.guinta@snet.net; (203) 209 7904. Connecticut.
For 1966 Comet, fender black flag emblems or pair of metal ornament bezels. Call or text (518) 542-3829 (NY).
PARTS WANTED
Dashpad for a 1967 Caliente. Contact Dave at (845) 597-5513.
In need of rear quarters and wheelhouses for a 1968 Montego convertible. If you have some for sale or know of a supplier, please contact Daryl at darylis@shaw.ca.
I'm looking for a NOS or good used right rear lower fender panel for a 1950 Mercury two-door sedan, Part # 8M16312A, NOS right front fender stainless trim, rear body filler panel between body and bumper. Call Mark at (315) 387-6106 or e-mail barbjane1949@yahoo.com.
Need a rocker panel molding for a 1967 Monterey two-door hardtop, body code 63A, Ford part #C7MY-5410176-A. Call Jerry (IN) at (219) 363-8366 or e-mail mtracecruizin @csinet.net.
1953 Monterey woody, Mercury emblem at rear door, 15 inches, top blk. wood divider between front and rear door. Contact bobhoward.heco @yahoo.com. (626) 833-7674.