Summer 2022 Classifieds
Cars For Sale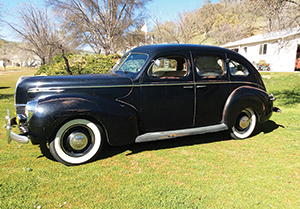 1939 four-door Town Sedan. All stock, runs good, driven regularly. Clean title, car is in California. Some rust, good restoration project car with clean interior, car is in good condition. Original flathead. First year of Mercury production. Have complete car history. As seen in Ford V-8 Times Vol. 58 No. 4. Asking $15,000 OBO. Contact Bill at (805) 467-3859 or e-mail billsmerc39@yahoo.com.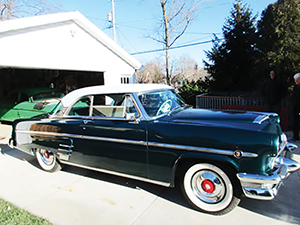 1954 Monterey. Great body, solid engine, runs great. Merc-O-Matic. New tires, dual exhaust and headers. New fender skirts still in box. Everything you will need for new front disc brakes. $8,500. Call or text Dennis at (414) 614-3821.
1956 Montclair two-door hardtop, 48,384 miles, California car, no rust, totally restored. Power steering, power disc brakes, AC, radial whitewalls, 312 engine, automatic. Call Paul for details at (941) 740-1300; $25,000 OBO.
1957 Monterey two-door hardtop, asking $19,000, Contact johnnyroyer45@ gmail.com; call (970) 327-4710.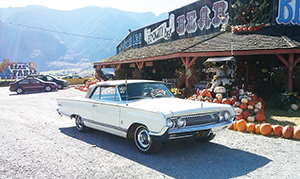 1964 Parklane convertible. Excellent example of a rare 25th Anniversary southern California car. 60,000 original miles, rebuilt 390, transmission and carb, body, top and interior in excellent condition. Two-owner vehicle, It has been in Canada for the last 33 years (garage kept). Located 15 miles north of Oroville, Wash. $38,000 US. Contact Mark at (250) 498-0472; dmark2346@gmail .com.
1964 Park Lane convertible, power steering, brakes and windows, AC, no rust, no engine, no transmission, Have floor shift console. $4,000 O.B.O. Call Rolf at (914) 388-3611. (Saugerties, NY).
1972 Cougar two-door hardtop, $8,000 OBO; 1973 Cougar XR-7 convertible, $9,000 OBO; 2003 Marauder, $20,000 OBO. Will take offer if all three are bought together. Contact Howard at (412) 377-5027; e-mail howard.hunter2019@gmail .com.
Parts For Sale
1952 Merc-O-Matic transmission. Complete with carb linkage, trans. linkage, air supply scoop, flex plate, torque converter. I live in the New York metro area, Long Island. $450. Call (631) 678-3316. If there is no answer, please leave a message.
1959 Mercury, good used rear bumper, $100; 1961 station wagon, very nice used LH and RH taillight assemblies, $150 a pair; 1961 Comet, good used grille, $150; 1963 Mercury, used grille, $150; 1964 Mercury, used lower metal dash panel, includes radio, glovebox, switches and wiring, $100; 1965-66 Mercury, good used rear center bumper, $150; 1967-68 Mercury, aftermarket LH repair quarter panel, $100; 1975-76 Monarch, front NOS LH and RH wheel lip moldings, $100 s pair; 1978-79 Mercury, 15″ Set of 4 aluminum wheels and center caps, $400. Contact John Baumann at johnscougars@gmail.com.
1956 Mercury parts for sale. Front and rear windshields, radiator, fuel tank, two complete sets of S.S. mouldings. Plus, too much more to mention. $1,500 for all. Contact Joseph (CT) at (203) 754-4588.
Parts Wanted
Need the little flip cover over the trunk lock keyhole for a 1950 Monarch. Not sure if Mercury has this cover. Am willing to buy the entire Monarch deck trim piece. Contact Larry at (509) 910-2632; e-mail jslfour@hotmail.com.
Aluminum trim on rear quarters for 1964 Comet station wagon 202. Contact Jeff at (319) 472-5395.
Looking for four-speed console for a 1970 Cyclone Spoiler. Contact John at john@reams-construction. com.
Parts for 1955 Mercury accessory steering wheel. Have two incomplete wheels, need all four chrome rim pieces, parts #8627, #8628, #8629, #8630, plus horn ring for one wheel and two chrome rim pieces, parts #8627 and #8630 for other wheel. Contact Tim at tkom@shaw.ca or call (780) 426-2916.
I'm looking for the reverse light lenses for 1959 Colony Park four-door station wagon. I believe that both sides are the same. The part numbers are MB–59. Contact wragona@gmail .com.