2022 IMOA Show in Tennessee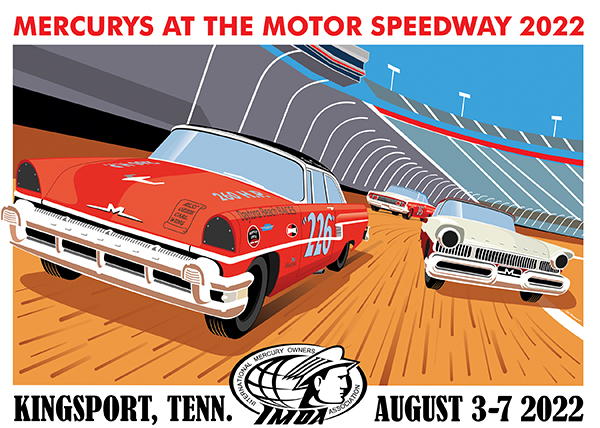 The countdown has begun for the annual IMOA show, to be held Aug. 3-7 in the Kingsport area of Tennessee.
The highlight of the show is a Thursday, Aug. 4 visit to the Bristol Motor Speedway track, where members will be able to drive their cars on the racetrack, plus get a tour of the grounds.
Also planned is a visit to Bays Mountain Park and Planetarium on Friday.
The host hotel will be the Meadowview Marriott in Kingsport, Tenn., where the car show judging will be held Saturday, Aug. 6.
IMOA members are encouraged to register as soon as possible, since the club needs to have rooms reserved, a few weeks before the show.
The room registration deadline is July 13, with a car judging registration deadline of July 20.
2022 IMOA Show Schedule
We enourage IMOA members to be safe where possible. Where posted, please adhere to guidelines to wear masks.
Wednesday, Aug. 3
No scheduled activities. Meet and Greet your fellow Mercury enthusiasts at the Marriott hotel if you arrive this early.
Thursday, Aug. 4
7:30 to 9:30 a.m., car show registration located in the hotel lobby.
11:30 a.m., meet in lobby for those who paid the $100 for the Bristol Motor Speedway tour and laps (A few spaces still may be available, so check availability at the registration desk).
We will meet at the Bristol reception area/souvenir shop at 1 p.m. We will have to sign a race track waiver at the reception area that will allow us on the track.
There will be a buses to pick us up at the reception area. The buses will take us on a tour of the drag strip and other key areas.
We will return to the reception area via bus and then take our cars to the race track for our laps. The total time at Bristol will be approximately 3 to 3-1/2 hours.
Lunch will be available at a nominal charge at concession stands.
Bristol Motor Speedway, 151 Speedway Blvd, Bristol, Tenn. Phone: (866) 415-4158; Website, www.bristolmotorspeedway.com.
5.30 to 6 p.m., car show registration in the hotel lobby.
Friday, Aug. 5
7:30 to 9:30 a.m., car show registration located in the hotel lobby.
9:45 a.m., meet in lobby to caravan to Bays Mountain Park and Planetarium. 853 Bays Mountain Park Rd, Kingsport, Tenn. Website, www.baysmountain.com.
4 p.m., IMOA board meeting (board members only).
4 to 5 p.m., car show registration in the hotel lobby.
Saturday, Aug. 6
8 a.m., IMOA show field opens.
8 to 10 a.m., IMOA registration at show site, Marriott parking lot.
9.30 a.m., judges' meeting on show field.
10 a.m., IMOA judging begins.
2 p.m., presentation of IMOA awards.
4 p.m., join your IMOA family for a casual dinner at the Marriott for a pasta buffet.
You must have pre-paid for the pasta dinner. The cost is $29 and a few spots may be available. Inquire at registration desk
Sunday, Aug. 7
Farewell till next year!
Alternate Things to do
Nightly gathering of the "Circle of Friends" in the Marriott parking lot. For more information, contact Wayne Miller at (763) 807-0540.
If the registration desk in lobby is not open to pick up packets and T-shirts, call Jerry Robbin at (847) 997-8624.
Things to do Kingsport
https://vacationidea.com/tn/kingsport-tennessee.html.
https://visitkingsport.com/regional-attractions.
Attractions
1. Gypsy Circus Cider Company.
2. Hook and Ladder Distillery.
3. Bays Mountain Brewery Company.
4. Allandale Mansion.
5. Fort Henry Mall.
6. Mountain Music Museum.
7. Abingdon Olive Oil Company.
8: Kingsport Carousel.
9. Friday Twilight Alive Summer Concerts, 7 to 9 p.m. Free. No coolers or pets.
10. Golf: Cattails of Meadow View. One of the top golf courses in Tennessee. Looks beautiful!
These are just a few and can be checked out on the internet, if you're interested.
Restaurants in Kingsport area
1. Braedens BBQ, www.braedens .com.
2. Chef's Pizzeria, chefspizzeria .com.
3. The Mustard Seed Cafe, www.themustardseedcafe.net.
4. Phil's Dream Pit, www.philsdreampit.com.
5. The Chop House, www.thechophouse.com.
6. Riverfront Seafood Company, riverfrontseafood.com.