Spring 2022 Classifieds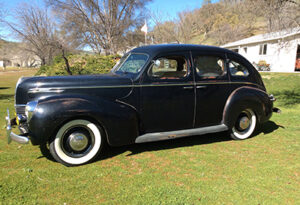 Cars For Sale
1939 four-door Town Sedan. All stock, runs good, driven regularly. Clean title, car is in California. Some rust, good restoration project car with clean interior, car is in good condition. Original flathead. First year of Mercury production. Have complete car history. As seen in Ford V-8 Times Vol. 58 No. 4. Asking $15,000 OBO. Contact Bill at (805) 467-3859 or e-mail billsmerc39@yahoo.com.
1950 Mercury convertible, rust-free original car, no body mods, 1951 skirts, engine has Offenhauser heads and dual intake, have original parts for engine, dual exhausts, red car with black convertible top, red and black interior, wide white walls, all chrome, very nice. Car has been in storage for approximately 25 years, absolutely beautiful car. Pictures upon request. $60,000. Contact Mike at (518) 858-6049.
1950 Mercury woody wagon, 72,000 original miles, Roanoke Green Metallic, green interior, new wood, wood graining, interior, paint, chrome, tires, brakes, exhaust, radio, heater, third seat. $85,000. Contact Ken at (937) 376-1511.
1956 Montclair Phaeton, two-tone blue, power steering, brakes, windows and seats. Full wheel covers with spinner hubcaps, 312 engine, runs great. Interior in good condition.
1956 Monterey four-door sedan. Interior is in very good condition. Always starts and runs good. Whitewall tires, full hubcaps with Mercury Man emblems. Prefer to sell both automobiles as a package, but could separate. Contact Chet at (978) 427- 7065.
Cars Wanted
Looking to purchase a 1957 Monterey two-door sedan/post. This can be a complete car or just a solid body. I am willing to travel and pick up, or have it shipped. Contact Gene at moulds4you@yahoo.com.
Any Mercury that may have been sold new from Whitey's Lincoln-Mercury in Mansfield, Ohio. 75 years in new car business, looking for vehicle that originated from our dealership for sentimental reasons. Ask for Dirk at (419) 529-4000. E-mail sdirk714@mmgauto.com.
Parts For Sale
Mercury-Ford Y blocks and parts (239 c.i.), $100 each; 1954 Mercury block, $250; 1955-56 Y block, $250; 1955-56 air cleaners, $125; 1957 air cleaner, $125; 1957 Turnpike Cruiser air cleaner, $125; 1954-56 four-barrel Holley carburetors, $130 each; 1955-56 dual exhaust manifolds, $250 a pair; 1957 exhaust manifolds (312), $250 a pair; 1962 exhaust manifolds, $250 a pair. Contact Ken at (937) 376-1511.
1959 Mercury, good used rear bumper, $100; 1961 station wagon, very nice used LH and RH taillight assemblies, $150 a pair; 1961 Comet, good used grille, $150; 1963 Mercury, used grille, $150; 1964 Mercury, used lower metal dash panel, includes radio, glovebox, switches and wiring, $100; 1965-66 Mercury, good used rear center bumper, $150; 1967-68 Mercury, aftermarket LH repair quarter panel, $100; 1975-76 Monarch, front NOS LH and RH wheel lip moldings, $100 s pair; 1978-79 Mercury, 15″ Set of 4 Aluminum Wheels and Center Caps, $400. Contact John Baumann at johnscougars@gmail.com.
1956 Mercury parts for sale. Front and rear windshields, radiator, fuel tank, two complete sets of S.S. mouldings. Plus too much more to mention. $1,500 for all. Contact Joseph (CT) at (203) 754-4588.
Parts Wanted
Finish panels #C1MB 54290B10-1C for a 1962 Monterey. Contact Steve at (763) 228-0354. Please leave a message or e-mail steve.gahlon@ gmail.com.
1951 hubcaps, set of four, good condition, no rust, scratches or dents. Contact me at kyoungs1@ nycap.rr.com.
Front windshield for 1962 Mercury Commuter wagon. Call (951) 232-6583 or e-mail kvenitaj@att.net.
Parts or an entire parts car for a 1959 Mercury Colony Park four-door wagon. Contact (516) 328-3423, or e-mail wragona@gmail.com.
For 1951 Mercury. Small front bumper guards; straight front bumper; trunk floor mat. Call John at (610) 584-6053.