Fall 2021 Classifieds
Cars for sale:
1953 Monterey four-door sedan, automatic, all stock, very good condition, runs and drives great, clean vehicle, no rust. Flathead V-8, 78,000 original miles, extra parts. Asking $16,000 or best offer. Photos available. Contact Sam at (845) 399-4557.
1962 Monterey Custom two-door hardtop, 390 4V with three-speed stick and overdrive. 355 gear, only driven seven years as a family car. All paperwork since new, purchased from original owner 32 years ago. Recent exhaust, tires, brakes, extra parts. Asking $10,950. Contact Bob at (715) 551-0660.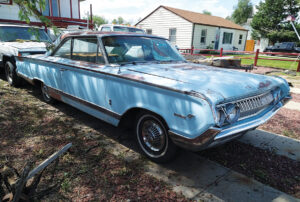 1964 Mercury Marauder Park Lane two-door hardtop w/ title. $5,900. 390 four-barrel, automatic, light blue and blue interior, 97-percent complete. Has nice original '64 Merc spinner wheel covers. Small rust spot behind rear wheels. Needs to be trailered. Call (720) 633-7956 or e-mail me at calicometcarlos@yahoo.com.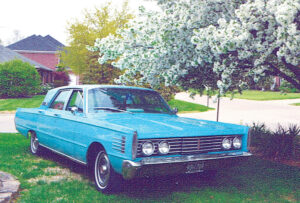 1965 Monterey Breezeway Sedan, Cruise-O-Matic, 390 engine w/2bbl carburetor, only offered 1963-68. Only three owners since new. 92,450 miles, 95,718 miles at present. Located in Indiana. Asking $20,000. For more images or questions, contact Dan at djeager76@aol.com, or call (812) 760-6685.
1972 Standard Cougar Coupe, 50,000 miles, $8,000.
1973 Cougar XR-7 convertible, $12,000.
1978 Marquis Brougham four-door, $3,000.
2003 Marauder, 30,000 miles, $18,000.
Call Howard (PA), (412) 377-5027.
Car wanted:
Looking for a decent 1949 Mercury two door, San Diego, (619) 475-5641.
Parts for sale:
1960 Monterey Montclair chrome trim accessory, fender ornaments. $30 each. Contact peager1996@aol .com, or call (812) 589-0921.
1961 Mercury remote-controlled outside rearview mirror kit (CIMB-17696-C) in original box. Parts used to attach mirror included with directions. Asking $399. Located in Indiana. Contact peager1996@aol .com; or call (812) 589-0921.
Parts wanted
Right front fender stainless side trim and right front (4 door) door trim for 1949 four-door sedan. Day phone (941) 371-1568; Eve. (941) 323-1776 (FL); e-mail albavry@gmail .com.
Need the following for a 1947 convertible: Top front fender trim (both sides); part number (not quite sure), 29A-16188-A; radio (working or not) with five presets; fog lamp assemblies. Contact Tom at (310) 872-9402; e-mail tdorow44@gmail .com.
Miscellaneous:
1949 Mercury Custom street rod diecast metal collector bank. New, still in box. Limited edition. $20. Contact peager1996@aol.com.; or call (812) 589-0921.

Ertl American Muscle 1949 Mercury coupe diecast black, 1:18 scale, new in box. $50. Contact peager1996@ aol.com, or call (812) 589-0921.
Cars For Sale
1950 Mercury convertible, rust-free original car, no body mods,1951 skirts, engine has Offenhauser heads and dual intake, have original parts for engine, dual exhausts, red car with black convertible top, red and black interior, wide white walls, all chrome very nice. Car has been in storage for approximately 25 years, absolutely beautiful car. Pictures upon request. $60,000. Contact Mike @ (518) 858-6049.
1954 Monterey. Bittersweet and Arctic White. Stock engine and automatic transmission with power brakes and power steering. BF Goodrich Silvertown radial tires, new radiator and gas tank. Asking $30,000. For additional information and pictures, contact Doris Krebser at krebser@optionline.net or phone (914) 471-5833.
1963½ Marauder Sport Custom. Z-Code 390, Merc-O-Matic three speed restored to factory specs. Upgrades: power front disc brakes, comp cam, 750 Holley, Pertronix ignition, Borgeson power steering, Autometer gauges, American Racing Wheels 15 x 7 with 235/70 rubber, K & N air filter. 6,000-plus miles on engine/transmission rebuild. New battery 10/24/2020. This car underwent a five-year restoration. It has received numerous awards. Never any body damage. Have Georgia title. No disappointments. $45,000. Contact William (Don) Edwards at (770) 301-6481 call or text, or by e-mail at shortcut1944@aol.com.
1964 Comet Caliente two-door hardtop, beige color. Original 289 4V carb, four speed, no engine, no transmission. Has bucket seats and console. I have steering column and pedal if you wish to convert it to an automatic. $3,800. Call or text Carlos in Colorado at (720) 281-0940; or e-mail calicometcarlos@yahoo .com.
1964 Comet wagon Villager woody, no engine, no transmission. Is an original 289 4V and automatic car. I have all parts to complete this car from my Comet parts cars. $3,400. Call or text Carlos in Colorado at (720) 281-0940; or you can e-mail calicometcarlos@yahoo .com.
1964 Marauder Parklane 390 two-door hardtop,  97 percent complete. Original paint, no Bondo. Little rust behind rear wheels. Nice spinner Mercury man wheel covers. $6,100.  Colorado car. Contact Carlos Vera at (720) 281-0940, or e-mail calicometcarlos@yahoo.com.
1964 Parklane Convertible 25th Anniversary. This two-owner car was imported to western Canada by me in 1989 from Pebble Beach, Calif. It is Wimbledon White with black interior and a tan top. We have rebuilt the 390, the carb and transmission. Replaced the carpets and interior and top. Chrome and paint has also been done. There were 7,910 miles when we bought it and it just turned 60,000. I have all receipts, including some from California. This vehicle is in excellent condition. We reside very close to the U.S. border near Oroville, Wash. Asking $38,000 U.S. Contact Mark at dmark2346@gmail .com.
1966 Mercury Cyclone convertible. 292, V-8, automatic on the floor with console, GT Hood, skirts, brand new battery, body very nice, light blue, perfect dark blue convertible top, rust free, interior there but needs to be installed, stored many years, original drive-train. Pictures upon request. Asking $16,995. Contact Mike@ (518) 858-6049.
1968 Park Lane convertible. 37,600 miles. 390 V-8, C-6 transmisson, PS, PB, P seats, A/C works, original tan interior with no rips; black convertible top works well; car is one of 1,112 built n 1968. $25,500. E-mail rchristiansen1943@gmail.com.
Cars Wanted
1954 Mercury wanted, either a Monterey or Custom two-door hardtop. Finished car. Call (757) 866-8479 or e-mail creesonbxwd@gmail.com.
Parts Wanted
1954 Mercury, left-door panel medallion used with power windows, BG 7321025-A; 1954 Mercury Sun Valley only, stainless roof mouldings, top middle and rear side trim.
BR 6050040-A (RH – Middle Side)
BR 6050041-A (LH – Middle Side)
BR 6050050-A (RH – Rear Side)
BR 6050051-A (LH – Rear Side)
Contact David at (513) 504-1777; e-mail fordflatheadfan@gmail.com.
Four hub caps for a 1951 Mercury. Good condition or better, no scratches, dents or rust. Do not have to have the Mercury head. Contact kyoungs1@nycap.rr.com.
Interior rear-view mirror for 1953 wagon. Need complete unit, including windshield trim piece. Contact Rex at (661) 742-8230; e-mail rexandjeanine@yahoo.com.
Left rear taillight lens, w/o backup light, for 1964 Comet 202 wagon. Contact Jeff at (319) 472-5395.
Looking to buy a ram air seal for a 1970 Cyclone Spoiler 429 Cobra Jet. It seals the top of the air cleaner with the underside of the hood. The original part number is D0GY-9B624-A. I purchased a repro, but it does not fit well and it won't compress when closing the hood. I'd like to find a NOS or mint used one. This is one of the last parts needed to complete the restoration. Can anyone help out with this? Contact Tom at (480) 438-3396; e-mail tomlovescoolcars @gmail.com.
Looking for NOS passenger side front fender for 1992-2002 Grand Marquis, part #F8MZ16005AA. Also NOS side door molding for 1995-97 Grand Marquis in silver or paint-to-match. Contact Mario at (917) 748-6334; e-mail mfavenoso@si.rr.com.
POSSIBLE SCAM ALERT
Hi, this is Natalie selling the Montclair I hope you're still interested. The car is in really good condition, has no issues or accidents, no rust or leaks, straight body, no work needed ready to enjoy. It was my husband's baby "Life's too short to drive a boring car" he always said but he passed away last year he served his country well and I'm sure he's in a good place now. I had thyroid surgery and moved back to my late folks house in Iowa to recover and considering the difficult circumstances I'm forced to sell it. I made arrangements with a local shipper to help me with the sale as I'm unable to and the car is prepped & ready for delivery which is covered in the $15,300. If still interested in buying and need more details provide your name and a shipping address I'll forward it to them and they'll provide you the terms and legal contract to show authenticity & delivery are guaranteed. I have several folks interested so I'll be waiting for your reply soon hopefully.Here's the link to the ad for pictures https://www.automall-online.com/index.php?page=item&id=16150. Once again the car is being sold nationally it's here in Iowa at the shipping facility and will be delivered from here at no extra cost the $15,300 for it is all you pay. Along with the car you'll get the title and all registration papers plus all other documentation for it and a notarized bill of sale signed by me ready for registration. Inspection & test drive are available on the spot once delivered and a return policy is also available and full money back if for any reason you reject it. If the terms are agreeable provide your name and shipping address I'll forward it to the shipping guys they'll contact you and you'll be able to talk to them directly.
IMOA MEMBERS CAUTION! WATCH FOR SCAM ARTISTS!
We have many members report that they have been solicited by non members to send money for vehicles and parts (some solicitations are from USA, Canada & abroad)!
CAUTION!CAUTION!CAUTION!CAUTION!CAUTION!CAUTION!CAUTION!
Sorry, no there are no listings available.