Spring 2021 Classifieds
For Sale
Mercury 1950 M-47 pickup. Original powertrain, painted in 1998. Radial tires plus a set of American alloy wheels with appropriate radial tires as sample shows in picture. More pictures available. $19,500. (830) 285-3538.
1950 Mercury convertible, rust-free original car, no body mods, 1951 skirts, engine has Offenhauser heads and dual intake, have original parts for engine, dual exhausts, red car with black convertible top, red and black interior, wide white walls, all chrome very nice.  Car has been in storage for approximately 25 years, absolutely beautiful car. Pictures upon request.  $60,000. Please contact Mike at (518) 858-6049.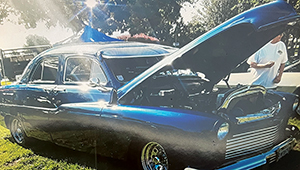 1951 Mercury, $20,000. Four door, three speed, flathead. All stock. Contact (707) 548-4953; e-mail michael.bruno@att.net.
1955 two-door Custom, 351 Cleveland, automatic, red with metal flake, Montclair model, $25,000. Contact (707) 548-4953.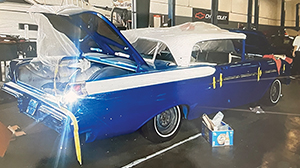 1957 Turnpike Cruiser, Cold Bolt Blue/White project car. Needs interior, engine rebuilt. More than $10,000 in chrome, Asking $20,000 or best offer. Contact (707) 548-4953.
1964 Comet Caliente two-door hardtop, beige color. Original 289 4V carb, four speed, no engine, no transmission. Has bucket seats and console. I have steering column and pedal if you wish to convert it to an automatic. $3,800. Call or text Carlos in Colorado at (720) 281-0940; or you can e-mail calicometcarlos@yahoo .com.
1964 Comet wagon Villager woody, no engine, no transmission. Is an original 289 4V and automatic car. I have all parts to complete this car from my Comet parts cars. $3,400. Call or text Carlos in Colorado at (720) 281-0940; or you can e-mail calicometcarlos@yahoo .com.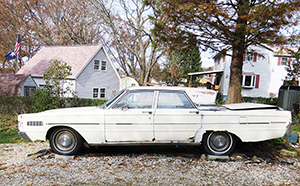 1966 Montclair, four-door sedan, low miles, nearly rust free. PS, PB, factory air conditioning, 390 automatic transmission. Runs, but needs a good tune-up and paint. Included for parts: 1966 Monterey Breezeway with 390 automatic. Whole car but rusty body. 1965 Monterey Breezeway dismantled with dozens of major clean body parts including four doors, left front fender, front and rear bumpers, trunk lid and many small chrome and electrical items. $2,800 for everything. Contact for photos. Contact Richard at (724) 846-9276; e-mail ramble_merc@ yahoo.com.
1966 Mercury Cyclone Convertible.  292, V-8, automatic on the floor with console, GT hood, skirts, brand new battery, body very nice, light blue, perfect dark blue convertible top, rust free, interior there but needs to be installed, stored many years, original drivetrain. Pictures upon request. Asking $16,995.
Contact Mike at (518) 858-6049.
Parts For Sale
Due to a series of events, my insurance repair turned into a total. So I have parts, but no longer have the car. These were for a 1987 Grand Marquis Colony Park: 1982-87 front fiberglass header complete. Excellent chrome, restored. Ready to paint and install. Clean from Tucson, Ariz., $250.
1982-87 front bumper, complete with all trim and support pieces. Great chrome, clean and rust free, $150. NOS grille 1982-87. Still in Ford factory wrapper, $125. 1987 Colony Park complete RF set fender chrome and most for LF fender. Contact if interested so I can give the details. 1987 Colony Park (7) rolls of wood grain film. New, still in factory tube. $125 each. 1987 plus other years, Set (4) blue interior door cards, complete with arm rests and controls (except no controls for driver's door). Nice, clean with no water damage. $100. Set (4) nice used turbine wheels, $120. Contact Rick at rambler_merc@yahoo.com; (724) 846-9276.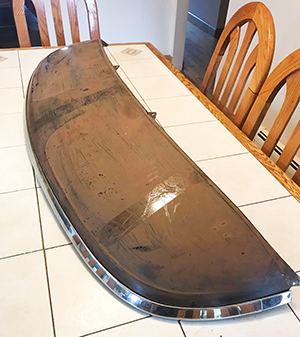 Exterior sunvisor for 1955 or '56 Mercury. The visor is in good condition, missing one bracket that could be fabricated. Surface rust on underside and cancer on right side behind end caps. Needs sanding and paint; has no dents. Has all stainless trim. Price $350 plus shipping. Contact Bill at (845) 304-1257 or e-mail bronxboy1203@gmail.com for more info and photos.
1957 Monterey convertible parts. New-in-box headlight switch, front fender moldings,,dash molding set, trunk lock with emblem and lock, OSRV mirror, bumper brackets, fender scripts, front door moldings, shift control, up inside windshield molding, front ash tray, drive shaft, pair single headlight doors, side moldings, dashboard frame, front seat back rest frames, wiper pivots and cable assemby, and many more parts. E-mail for prices and availability at mercruiser57@hotmail.com.
Parts Wanted
1964 390FE Police Interceptor intake manifold single four barrel, part number C7AE-9425-F. Contact (780) 922-0532; e-mail crimson1@telus.net.
Need for 1962 Monterey, passenger- side turn signal lamp assembly. Used or new. Contact (715) 551-0660.
For a 1953 Mercury: Drag link repair kit for power steering. Temperature gauge. Bumper jack hook. Contact Mike at (203) 272-6187. E-mail mpbarrett4350@cox.net.
1968 Montego MX wagon back door. Contact Duane at (607) 244-5227.
Wanted: trunk lid for 1940 Mercury convertible. Contact John (Ontario) at (519) 371-9405; e-mail mcauto@bmts.com.
POSSIBLE SCAM ALERT
Hi, this is Natalie selling the Montclair I hope you're still interested. The car is in really good condition, has no issues or accidents, no rust or leaks, straight body, no work needed ready to enjoy. It was my husband's baby "Life's too short to drive a boring car" he always said but he passed away last year he served his country well and I'm sure he's in a good place now. I had thyroid surgery and moved back to my late folks house in Iowa to recover and considering the difficult circumstances I'm forced to sell it. I made arrangements with a local shipper to help me with the sale as I'm unable to and the car is prepped & ready for delivery which is covered in the $15,300. If still interested in buying and need more details provide your name and a shipping address I'll forward it to them and they'll provide you the terms and legal contract to show authenticity & delivery are guaranteed. I have several folks interested so I'll be waiting for your reply soon hopefully.Here's the link to the ad for pictures https://www.automall-online.com/index.php?page=item&id=16150. Once again the car is being sold nationally it's here in Iowa at the shipping facility and will be delivered from here at no extra cost the $15,300 for it is all you pay. Along with the car you'll get the title and all registration papers plus all other documentation for it and a notarized bill of sale signed by me ready for registration. Inspection & test drive are available on the spot once delivered and a return policy is also available and full money back if for any reason you reject it. If the terms are agreeable provide your name and shipping address I'll forward it to the shipping guys they'll contact you and you'll be able to talk to them directly.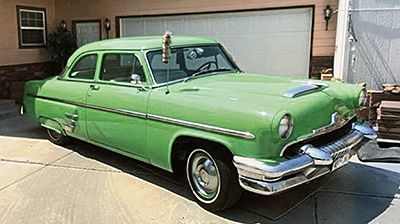 1954 Mercury Custom, three-speed transmission, engine has been rebuilt. Good tires, sound body. Much work has been done in the interior, but more work is needed. Dual exhaust, Hollywood mufflers. After-market continental kit. Fender skirts, new brakes. $6,000. Contact Dennis at (414) 764-6472 or (414) 241-1631 (cell).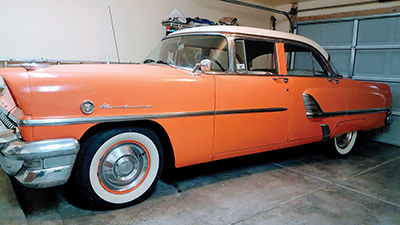 1955 Monterey four door, 292, Arctic White over Persimmon. I'm the second owner, owned since 1999, St. Louis built. Lifetime in New Mexico. Garage kept, 98-percent original. $25,000/OBO. Contact Les at (505) 205-4842; e-mail lhswindle@msn .com.
1955 Monterey two-door hardtop, Peacock Blue and White, matching interior. Montclair trim on door. 292 automatic transmission, power steering, dual exhaust, new-bias look whitewalls, radials from Coker Tires. Body restoration about 10 years ago. Continental kit available. Call for more info. $26,000. Contact Leo at (207) 249-8329 in South Carolina.
1957 Mercury two-door hardtop. Started restoring 15 years ago, now needs to be finished. Merc-O-Matic automatic push-button transmission, 312 engine and rear end all rebuilt. Frame is 100% finished with all-new components (brake lines and gas line). Has PS, PB, glass is all good (have NOS front windshield). Parts car goes with this sale, so there is two of everything except the drive train. Car has been bead blasted and primered, except the two doors and trunk lid. The only rust is a little on inside the trunk lid; I have lots of pictures I can send. Located in St. Louis, MO. Over $10,000. invested, will sell for $6,500 OBO. Call (314) -846-5588; e-mail jstevedodson @charter.net.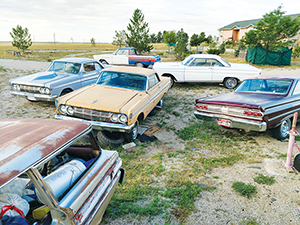 Beige 1964 Caliente hardtop (no engine, no transmission), was 289 and four-speed. Has bucket seats and console, $3,100. White 1964 Cyclone hardtop (no engine, no transmission), was 289 and four-speed car. Has bucket seats and console, $3,700 (I have steering column and pedal to convert to automatic for both cars, if you wish).
1964 gold wagon Villager "woody," (no engine, no transmission), was 289 automatic car. $2,600. 1965 Caliente hardtop (no engine, no transmission), was six-cylinder, $800. I have parts cars to make sure these cars are complete. Call, text, e-mail Carlos Vera in Colorado, (720) 281-0940; e-mail calicometcarlos@ yahoo.com.
1968 Mercury Cyclone for sale. Blue with blue interior. 390-Holly 4 bbl V-8, automatic, PS, PB, factory air, bucket seats, console. Restored 10 years ago. $16,000 obo. Contact Doug at (717) 829-4739 or e-mail duggnis@embarqmail.com.
Parts for sale
1946-48 parts. All original. I have collected a lot of items, including all of the two-door and sedan stainless, complete front parking and rear taillight assemblies, complete grille, too many others to list. Contact me at tildeng@att.net for info and pictures.
Parts for 1957 Monterey convertible. Pair single headlamp. Doors, front and rear bumper brackets, air cleaner, door moldings, assorted convertible top frame pieces and bows, dash moldings, fender scripts, wiper cables and pivots, ash trays, osrv mirror, windshield inside molding. Plus more, e-mail for prices and availability, mercruiser57@hotmail .com.
Multiple parts for sale as a package, for 1962 Monterey hardtop and-or convertible – some parts interchangeable. You pick up. Package includes two carburetor bases, one windshield wiper motor, three convertible door windows, one 352 air cleaner, two steering wheels, two front chrome headlamps, one ignition coil, two generators, one power steering unit. There are also four boxes of parts that include brackets, small moldings, pulleys, lights, etc., one instrument dash panel (complete), four stainless steel hubcaps, one front stone deflector, one radiator, 20 or more long molding pieces in stainless steel, chrome and aluminum. Total cost is $500. Also includes collection of IMOA Quicksilver issues 2009-2019 free! Contact Larry at (919) 542-2353. ID your call as "Mercury Parts."
Parts wanted
Stainless steel vent shades for 1949-51 Mercury four door in good condition. Contact Gene at (727) 808-8005; e-mail gene678@icloud.com.
I'm looking for a complete used roof for a 1955 Sun Valley. All the exterior/interior trim the glass the Sun Valley only used. I need the four roof supports and the VIN tag that goes to this roof. Call (620) 297-3013.
Clutch and brake pedal assembly for 1952 Mercury; not sure, but maybe '53 and '54 may also fit. E-mail me at mlilawski@yahoo.com.
Looking for B pillar interior plastic trim for a 1965 Monterey two-door hardtop or convertible, left-hand side.
Contact Al at (847) 361-4193; e-mail alhellebuyck@gmail.com.
Need antenna wire from antenna to radio on roof mount for 1942-48 Mercury closed car. Ford is the same. Contact Bruce at (608) 214-7239; e-mail zepherland@gmail .com.
Miscellaneous
8×5 dealership sign. One side of original sign with aluminum frame. Picture shows sign lit up with LED lights. $695. Call (920) 419-8700.
Looking for the owner of a 1957 Turnpike Cruiser, motor number 57LA50377M. One-tone Pastel Peach color, 2DRHT. I sold it in the late 1980s to a broker, buying for a collector in Scandinavia, possibly in Denmark, Sweden or Norway, so the vehicle may be in Europe. I have the original bill of sale, which I would like to get to the current owner. Contact Kirke at kvenitaj@att.net; cell (951) 232-6583; home (951) 682-5496.
IMOA MEMBERS CAUTION! WATCH FOR SCAM ARTISTS!
We have many members report that they have been solicited by non members to send money for vehicles and parts (some solicitations are from USA, Canada & abroad)!
CAUTION!CAUTION!CAUTION!CAUTION!CAUTION!CAUTION!CAUTION!
Sorry, no there are no listings available.