Spring 2021 Classifieds
For Sale
Mercury 1950 M-47 pickup. Original powertrain, painted in 1998. Radial tires plus a set of American alloy wheels with appropriate radial tires as sample shows in picture. More pictures available. $19,500. (830) 285-3538.
1950 Mercury convertible, rust-free original car, no body mods, 1951 skirts, engine has Offenhauser heads and dual intake, have original parts for engine, dual exhausts, red car with black convertible top, red and black interior, wide white walls, all chrome very nice.  Car has been in storage for approximately 25 years, absolutely beautiful car. Pictures upon request.  $60,000. Please contact Mike at (518) 858-6049.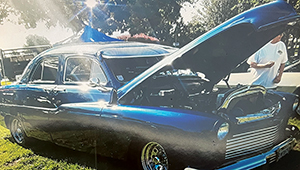 1951 Mercury, $20,000. Four door, three speed, flathead. All stock. Contact (707) 548-4953; e-mail michael.bruno@att.net.
1955 two-door Custom, 351 Cleveland, automatic, red with metal flake, Montclair model, $25,000. Contact (707) 548-4953.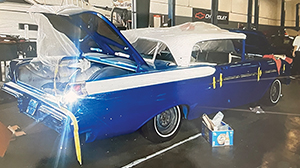 1957 Turnpike Cruiser, Cold Bolt Blue/White project car. Needs interior, engine rebuilt. More than $10,000 in chrome, Asking $20,000 or best offer. Contact (707) 548-4953.
1964 Comet Caliente two-door hardtop, beige color. Original 289 4V carb, four speed, no engine, no transmission. Has bucket seats and console. I have steering column and pedal if you wish to convert it to an automatic. $3,800. Call or text Carlos in Colorado at (720) 281-0940; or you can e-mail calicometcarlos@yahoo .com.
1964 Comet wagon Villager woody, no engine, no transmission. Is an original 289 4V and automatic car. I have all parts to complete this car from my Comet parts cars. $3,400. Call or text Carlos in Colorado at (720) 281-0940; or you can e-mail calicometcarlos@yahoo .com.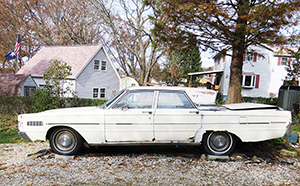 1966 Montclair, four-door sedan, low miles, nearly rust free. PS, PB, factory air conditioning, 390 automatic transmission. Runs, but needs a good tune-up and paint. Included for parts: 1966 Monterey Breezeway with 390 automatic. Whole car but rusty body. 1965 Monterey Breezeway dismantled with dozens of major clean body parts including four doors, left front fender, front and rear bumpers, trunk lid and many small chrome and electrical items. $2,800 for everything. Contact for photos. Contact Richard at (724) 846-9276; e-mail ramble_merc@ yahoo.com.
1966 Mercury Cyclone Convertible.  292, V-8, automatic on the floor with console, GT hood, skirts, brand new battery, body very nice, light blue, perfect dark blue convertible top, rust free, interior there but needs to be installed, stored many years, original drivetrain. Pictures upon request. Asking $16,995.
Contact Mike at (518) 858-6049.
Parts For Sale
Due to a series of events, my insurance repair turned into a total. So I have parts, but no longer have the car. These were for a 1987 Grand Marquis Colony Park: 1982-87 front fiberglass header complete. Excellent chrome, restored. Ready to paint and install. Clean from Tucson, Ariz., $250.
1982-87 front bumper, complete with all trim and support pieces. Great chrome, clean and rust free, $150. NOS grille 1982-87. Still in Ford factory wrapper, $125. 1987 Colony Park complete RF set fender chrome and most for LF fender. Contact if interested so I can give the details. 1987 Colony Park (7) rolls of wood grain film. New, still in factory tube. $125 each. 1987 plus other years, Set (4) blue interior door cards, complete with arm rests and controls (except no controls for driver's door). Nice, clean with no water damage. $100. Set (4) nice used turbine wheels, $120. Contact Rick at rambler_merc@yahoo.com; (724) 846-9276.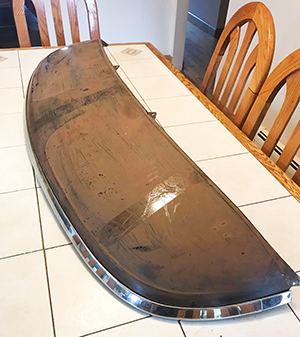 Exterior sunvisor for 1955 or '56 Mercury. The visor is in good condition, missing one bracket that could be fabricated. Surface rust on underside and cancer on right side behind end caps. Needs sanding and paint; has no dents. Has all stainless trim. Price $350 plus shipping. Contact Bill at (845) 304-1257 or e-mail bronxboy1203@gmail.com for more info and photos.
1957 Monterey convertible parts. New-in-box headlight switch, front fender moldings,,dash molding set, trunk lock with emblem and lock, OSRV mirror, bumper brackets, fender scripts, front door moldings, shift control, up inside windshield molding, front ash tray, drive shaft, pair single headlight doors, side moldings, dashboard frame, front seat back rest frames, wiper pivots and cable assemby, and many more parts. E-mail for prices and availability at mercruiser57@hotmail.com.
Parts Wanted
1964 390FE Police Interceptor intake manifold single four barrel, part number C7AE-9425-F. Contact (780) 922-0532; e-mail crimson1@telus.net.
Need for 1962 Monterey, passenger- side turn signal lamp assembly. Used or new. Contact (715) 551-0660.
For a 1953 Mercury: Drag link repair kit for power steering. Temperature gauge. Bumper jack hook. Contact Mike at (203) 272-6187. E-mail mpbarrett4350@cox.net.
1968 Montego MX wagon back door. Contact Duane at (607) 244-5227.
Wanted: trunk lid for 1940 Mercury convertible. Contact John (Ontario) at (519) 371-9405; e-mail mcauto@bmts.com.