Winter 2021 Classified Ads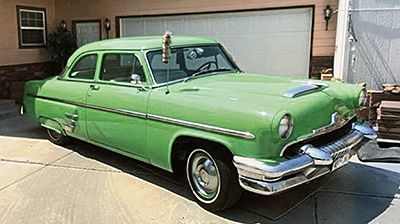 1954 Mercury Custom, three-speed transmission, engine has been rebuilt. Good tires, sound body. Much work has been done in the interior, but more work is needed. Dual exhaust, Hollywood mufflers. After-market continental kit. Fender skirts, new brakes. $6,000. Contact Dennis at (414) 764-6472 or (414) 241-1631 (cell).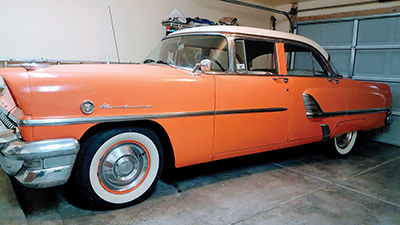 1955 Monterey four door, 292, Arctic White over Persimmon. I'm the second owner, owned since 1999, St. Louis built. Lifetime in New Mexico. Garage kept, 98-percent original. $25,000/OBO. Contact Les at (505) 205-4842; e-mail lhswindle@msn .com.
1955 Monterey two-door hardtop, Peacock Blue and White, matching interior. Montclair trim on door. 292 automatic transmission, power steering, dual exhaust, new-bias look whitewalls, radials from Coker Tires. Body restoration about 10 years ago. Continental kit available. Call for more info. $26,000. Contact Leo at (207) 249-8329 in South Carolina.
1957 Mercury two-door hardtop. Started restoring 15 years ago, now needs to be finished. Merc-O-Matic automatic push-button transmission, 312 engine and rear end all rebuilt. Frame is 100% finished with all-new components (brake lines and gas line). Has PS, PB, glass is all good (have NOS front windshield). Parts car goes with this sale, so there is two of everything except the drive train. Car has been bead blasted and primered, except the two doors and trunk lid. The only rust is a little on inside the trunk lid; I have lots of pictures I can send. Located in St. Louis, MO. Over $10,000. invested, will sell for $6,500 OBO. Call (314) -846-5588; e-mail jstevedodson @charter.net.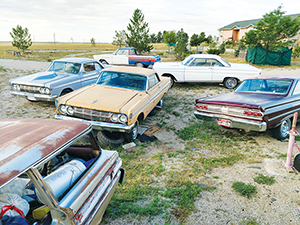 Beige 1964 Caliente hardtop (no engine, no transmission), was 289 and four-speed. Has bucket seats and console, $3,100. White 1964 Cyclone hardtop (no engine, no transmission), was 289 and four-speed car. Has bucket seats and console, $3,700 (I have steering column and pedal to convert to automatic for both cars, if you wish).
1964 gold wagon Villager "woody," (no engine, no transmission), was 289 automatic car. $2,600. 1965 Caliente hardtop (no engine, no transmission), was six-cylinder, $800. I have parts cars to make sure these cars are complete. Call, text, e-mail Carlos Vera in Colorado, (720) 281-0940; e-mail calicometcarlos@ yahoo.com.
1968 Mercury Cyclone for sale. Blue with blue interior. 390-Holly 4 bbl V-8, automatic, PS, PB, factory air, bucket seats, console. Restored 10 years ago. $16,000 obo. Contact Doug at (717) 829-4739 or e-mail duggnis@embarqmail.com.
Parts for sale
1946-48 parts. All original. I have collected a lot of items, including all of the two-door and sedan stainless, complete front parking and rear taillight assemblies, complete grille, too many others to list. Contact me at tildeng@att.net for info and pictures.
Parts for 1957 Monterey convertible. Pair single headlamp. Doors, front and rear bumper brackets, air cleaner, door moldings, assorted convertible top frame pieces and bows, dash moldings, fender scripts, wiper cables and pivots, ash trays, osrv mirror, windshield inside molding. Plus more, e-mail for prices and availability, mercruiser57@hotmail .com.
Multiple parts for sale as a package, for 1962 Monterey hardtop and-or convertible – some parts interchangeable. You pick up. Package includes two carburetor bases, one windshield wiper motor, three convertible door windows, one 352 air cleaner, two steering wheels, two front chrome headlamps, one ignition coil, two generators, one power steering unit. There are also four boxes of parts that include brackets, small moldings, pulleys, lights, etc., one instrument dash panel (complete), four stainless steel hubcaps, one front stone deflector, one radiator, 20 or more long molding pieces in stainless steel, chrome and aluminum. Total cost is $500. Also includes collection of IMOA Quicksilver issues 2009-2019 free! Contact Larry at (919) 542-2353. ID your call as "Mercury Parts."
Parts wanted
Stainless steel vent shades for 1949-51 Mercury four door in good condition. Contact Gene at (727) 808-8005; e-mail gene678@icloud.com.
I'm looking for a complete used roof for a 1955 Sun Valley. All the exterior/interior trim the glass the Sun Valley only used. I need the four roof supports and the VIN tag that goes to this roof. Call (620) 297-3013.
Clutch and brake pedal assembly for 1952 Mercury; not sure, but maybe '53 and '54 may also fit. E-mail me at mlilawski@yahoo.com.
Looking for B pillar interior plastic trim for a 1965 Monterey two-door hardtop or convertible, left-hand side.
Contact Al at (847) 361-4193; e-mail alhellebuyck@gmail.com.
Need antenna wire from antenna to radio on roof mount for 1942-48 Mercury closed car. Ford is the same. Contact Bruce at (608) 214-7239; e-mail zepherland@gmail .com.
Miscellaneous
8×5 dealership sign. One side of original sign with aluminum frame. Picture shows sign lit up with LED lights. $695. Call (920) 419-8700.
Looking for the owner of a 1957 Turnpike Cruiser, motor number 57LA50377M. One-tone Pastel Peach color, 2DRHT. I sold it in the late 1980s to a broker, buying for a collector in Scandinavia, possibly in Denmark, Sweden or Norway, so the vehicle may be in Europe. I have the original bill of sale, which I would like to get to the current owner. Contact Kirke at kvenitaj@att.net; cell (951) 232-6583; home (951) 682-5496.