Fall 2020 Classified Ads
Cars For Sale
1940 Mercury Coupe, frame-off restoration, resto rod, all steel, no rust, new paint, Ford 351 Windsor, Walker radiator, automatic overdrive transmission, Heidts independent front suspension with rack and pinion steering, disc brakes and tilt steering column, parallel leaf springs. Ford 9″ third member with 370 gears, Painless wiring, MSD electronic ignition. Vintage air conditioner, Alpine stero system, new tires, stainless steel grille. $35,000. Contact Earl at (405) 323-4940 or (405) 789-7343. (Ok.) ecowan1@cox.net.
1949 Mercury convertible restored LHD in good stock running condition. 255 c.i. flathead engine and three- speed manual gearbox with electric overdrive. Interior stripped and renewed with authentic fabrics and colors. A reliable touring car that has been enjoyed by our families! Chassis # 9CM-24506, VIN # 9M76-1030 48 01. Price offers are negotiable and more photos/details can be e-mailed. Contact Peter Hibbert, Victoria, Australia, cell 0419 800 122. E-mail peter_hibbert@bigpond.com.
1950 Mercury convertible. Absolutely beautiful car. Repainted once about 20 years ago. Always a rust-free car; no body mods. 1951 skirts. Car has Offenhauser heads and dual intake with dual carburetors. Original equipment goes with the car. Red exterior with red and black interior. Ran when parked in garage about eight years ago. Originally purchased from a huge collector in New Jersey for $78,000. Will sell for $63,000. Contact Mike at (518) 858-6049.
1951 Mercury Sheffield Green formerly owned by my brother, Marion Shull. It has won every award that you can win. He brought it to all the shows and this is in reference to letting you know that he passed away in January and I am his brother. Richard Shull, administrator of his estate. I thought maybe someone in the club may want to purchase a 100-point show car. There are also numerous parts – flathead motors, sunvisors, grilles and numerous other parts too many to list. I helped him build all the cars and I would like to see someone from IMOA to give them a home. One current problem is that at one point he hid every key to every car and I have not been able to find them. Contact Richard at ubustd@aol.com.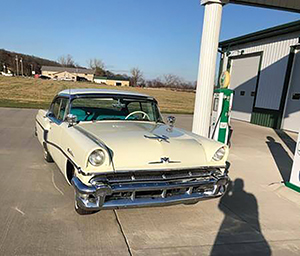 1956 Montclair Phaeton. 68,000 miles, four-door hardtop, OHV V-8, Merc-O-Matic, power brake, radio, older restoration but still looks like just completed. Chrome engine dress-up kit, dual exhaust, runs and drives great! Nice paint and chrome. No rust, fender skirts, radial tires. See pictures on my website: http://www.privatecollectorcars.com. Call Wayne at (402) 830-3736.
1960 Park Lane four-door hardtop, 19,000 mileage, rock solid car, one high-quality repaint in Tuxedo Black, beautiful original black and white interior, new carpet and correct trunk trim, original spare never down, fully reconditioned brakes and fuel system, new WWW, great running and great driving car. $18,000 or reasonable offer. Located in southeast Michigan. For pictures and additional information, contact Edward at (734) 536-6421; e-mail ostrowski4@comcast.net.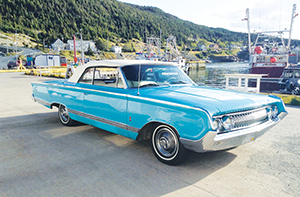 1964 Park Lane convertible. California car. In Canada for 20 years, always stored inside. 390 automatic ps, pb, pw, buckets and console. New dual exhaust, new top, complete brake job, including booster rebuilt, drums, shoes and cylinders. New alternator and regulator. Pagoda Green with white interior. Runs and drives excellent. $20,000 For more details contact Bob Ford at (709) 368-3295 or (709) 682-9035.
Beige 1964 Caliente hardtop (no engine, no transmission), was 289 and four-speed. Has bucket seats and console, $3,100. White 1964 Cyclone hardtop (no engine, no transmission), was 289 and four-speed car. Has bucket seats and console, $3,700 (I have steering column and pedal to convert to automatic for both cars, if you wish). 1964 gold wagon Villager "woody," (no engine, no transmission), was 289 automatic car. $2,600. 1965 Caliente hardtop (no engine, no transmission), was six-cylinder, $800. I have parts cars to make sure these cars are complete. Call, text, e-mail Carlos Vera in Colorado, (720) 281-0940; e-mail calicometcarlos@ yahoo.com.
I am selling my late husband's beautiful 1965 Monterey Breezeway, his pride and joy. He waited several years until a "little old lady" went into a nursing facility, and he had an opportunity to purchase her car. As you can see, it is in excellent shape. The car has not been restored and the odometer reads 95,666 miles. It has power steering, standard brakes and with the Breezeway roof, there is a power-operated rear window that gives a full range control of the interior airflow. It really cools off the car in the heat while out cruising. The Mercury has a multi-drive Merc-O-Matic transmission. My husband bought a NOS carburetor in 2013, and the car does need some carburetor work. Factory options include padded dash, outside remote driver side mirror, and I'm sure there are some items I have not mentioned. Also, the original manual includes the names of the other two owners before my husband purchased the Mercury. The asking price is $10,000 and the car is located in southern Indiana. It has always been garage-kept, but has not been driven in a couple of years. If you are interested and want more information, please call me at (812) 589-0921, or e-mail Peager1996@aol.com.
1966 Montclair, four-door sedan, low miles, nearly rust free. PS, PB, factory air conditioning, 390 automatic transmission. Runs, but needs a good tune-up and paint. Included for parts: 1966 Monterey Breezeway with 390 automatic. Whole car but rusty body. 1965 Monterey Breezeway dismantled with dozens of major clean body parts including four doors, left front fender, front and rear bumpers, trunk lid and many small chrome and electrical items. $2,800 for everything. Contact for photos. Contact Richard at (724) 846-9276; e-mail ramble_merc@ yahoo.com.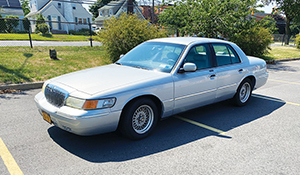 My dad's car is a 2000 Grand Marquis LS with the Performance Package. It was the Brochure car (Silver with Gray Leather), which I have along with all dealer service records from new. Dad's gone now and I want his car to go to someone who will appreciate it. Price is not the issue: I don't want Dad's car to be used as a cab, a parts car or worse. Contact owner for price details. Dick Fragala: fragalar@marinelex.com; (516) 659-6082.
Parts For Sale
Due to a series of events, my insurance repair turned into a total. So I have parts, but no longer have the car. These were for a 1987 Grand Marquis Colony Park: 1982-87 front fiberglass header complete. Excellent chrome, restored. Ready to paint and install. Clean from Tucson, Ariz., $250. 1982-87 front bumper, complete with all trim and support pieces. Great chrome, clean and rust free, $150. NOS grille 1982-87. Still in Ford factory wrapper, $125. 1987 Colony Park complete RF set fender chrome and most for LF fender. Contact if interested so I can give the details. 1987 Colony Park (7) rolls of wood grain film. New, still in factory tube. $125 each. 1987 plus other years, Set (4) blue interior door cards, complete with arm rests and controls (except no controls for driver's door). Nice, clean with no water damage. $100. Set (4) nice used turbine wheels, $120. Contact Rick at rambler_merc@yahoo.com; (724) 846-9276.
1957 Mercury convertible parts. Pair of single headlight doors, front and rear bumper brackets, air cleaner assembly, front door moldings, quarter moldings, completely refurbished steering wheel, top bows, up inside windshield molding, osrv mirror, trunk lock, ash trays front and rear, shift control assembly, pair of rear quarter window pivots, fender scripts, drive shaft, complete set dash moldings, tail lights and more. E-mail for availability, prices and/or questions. Mercruiser57@hotmail.com.
1956 Mercury rear bumper, $100; stainless rocker panel guards, $200. Can send pictures. Contact Carl at (218) 262-5620.
Multiple parts for sale as a package, for 1963 Monterey hardtop and convertible – some also fit Ford Galaxie. You pick up. Includes two carburetor bases, one windshield wiper motor, three convertible door windows, one 352 air cleaner, two steering wheels, two front chrome headlamps, one ignition coil, two generators, one power steering unit, one 1962 instrument dash panel complete, four 1962 hubcaps, one 1962 front stone deflector, one radiator, four boxes of parts that include brackets, small moldings, pulleys, lights, etc., 20 or more long molding pieces in stainless steel, chrome and aluminum. Total cost is $600. Plus collection of IMOA Quicksilver issues 2009-2019 free! Contact Larry at (919) 542-2353.
Styled aluminum wheels for 1969-70 Marquis or Marauder, four or five plus nuts in good usable condition. Contact Richard at (860) 663-2651.
Parts Wanted
Parts wanted: I need standard shift bellhousing for a 368 c.i. Y-block motor. Contact Bob at (330) 639-8330.
Parts wanted: For a 1965 Parklane convertible. Glovebox, taillight lens, AM-FM radio that fits in dash, chrome cover post along inside of windshield. Contact Virg at (715) 460-6080; e-mail vwittenburg @wi.rr.com.
Gas tank for a 1953 Monterey. Call Bill at (845) 496-3977 or e-mail stingray2@optonline.net.
Stainless steel vent shades for 1949-51 Mercury four door in good condition. Contact Gene at (727) 808-8005; e-mail gene678@icloud.com.
Need pushrod from brake pedal to master cylinder for 1955 Monterey, for regular brakes, not power brakes, contact Leo at (207) 249-8329.
Miscellaneous
Looking for the owner of a 1957 Turnpike Cruiser, motor number 57LA50377M. One-tone Pastel Peach color, 2DRHT. I sold it in the late 1980s to a broker, buying for a collector in Scandinavia, possibly in Denmark, Sweden or Norway, so the vehicle may be in Europe. I have the original bill of sale, which I would like to get to the current owner. Contact Kirke at kvenitaj@att.net; cell (951) 232-6583; home (951) 682-5496.