Fall 2019 Classifieds
Cars For Sale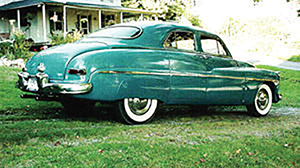 1950 Sport Sedan for sale. All stock except for duals. Runs like a watch. Very good shape. $18,000. Contact Bob at (518) 794-5218; cell (518) 496-5111; e-mail globust@aol.com.
I am selling a 1955 Montclair two- door coupe for my father-in-law, who has been in a nursing home for the last two years. Everything described is true to my knowledge. The car has a two-speed Merc-O-Matic automatic transmission, with the shifter on the column. I think it has a 1970's era Ford engine – it's not original. The engine easily starts, runs good and the car drives. Original upholstery with a one-inch tear repaired on the front passenger seat. The odometer reading is at 39,025 miles. The sheet metal, floor pans and frame are structurally solid. There is a small area on the passenger door that looks like the paint is bubbling a little, but I don't see any other rust areas. Otherwise, the paint is OK with a couple of scratches. It looks like a new gas tank. New brakes and brake lines installed, as well as some other work in 2013. Asking $15,500, but would entertain other offers. Cell or text (715) 292-0504; e-mail bluegrassjunkie @gmail.com.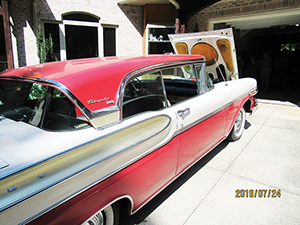 1957 Turnpike Cruiser, two-door hardtop for sale. Only two owners! All original with some surface-only rust. Frame and floor pans are solid – no rust. Two-tone red/white exterior (never painted) and original red interior upholstery. 127,098 original miles. 368/290 hp V-8 engine, completely rebuilt, over bored .030, new cam, pistons, rocker arm assemblies and more replaced. New radial tires. Complete rebuild of the front suspension. This car has been reliable, fun to drive and taken on long (500+ mile) trips with no issues. This car is for a Mercury enthusiast who can appreciate the gadgets this all-American, original classic has to offer! Car is in Salem, S.C. Please contact John at hawbeckerjohn @gmail.com for more details or to make offer. Asking $20,000 negotiable.
1957 Turnpike Cruiser two-door hardtop. Brazilian Bronze and Pastel Peach. Less than 5,000 miles since rebuilt engine. Fully loaded, 368 c.i. V-8 290 hp. Excellent condition with new battery. Asking $30,000. More photos upon request. Contact Roger at (626) 441-3737; e-mail oblagon @att.net.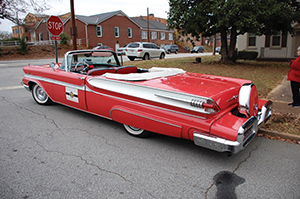 Sweet 1958 Parklane convertible for sale. One of only 13 known to exist. 50,231 original miles. In good #2 condition, runs smoothly. two door with continental kit, beautiful repainted Flamingo Red exterior. Red/White vinyl interior. Marauder V-8, 430 c.i. engine. Whitewall radial tires. Power windows, power seats. Engine and transmission completely rebuilt. Interior reupholstered. New convertible top. Has won multiple awards. $50,000 negotiable. Contact John Hawbecker at hawbeckerjohn@ gmail.com.
1960 Park Lane four-door hardtop. 19,000 mileage. Rock solid car, high-quality repaint in Tuxedo Black, beautiful original white and black interior. New carpet and correct trunk trim. Original spare never down, fully reconditioned brakes and fuel system, new WWW. Great running and driving car. $18,000 or reasonable offer. Located in SE Michigan. For pictures and additional information, contact Edward at (734) 536-6421; e-mail ostrowski4@comcast.net.
1964 Medium Blue Comet Caliente hardtop. Originally six cylinder (no engine, no tranny). $2,500 with title. I have parts car to convert to V-8 for more $$. 1965 Light Blue Comet Caliente hardtop six cylinder (no engine, no tranny) $1,500, some rust with title. I have parts car for V-8 conversion. 1964 tan Comet Caliente hardtop, original V-8 and four-speed car (no engine, no tranny), has buckets, console. $3,500 with title. Contact Carlos, Call, text (720) 281-0940; e-mail calicometcarlos@yahoo .com for pics.
1966 Parklane four door, highly optioned car with original paint. Car has 79,000k original miles, originally from California with original black plate still on car. Has a few dings, no rust-on frame or body, and no sign of rust repair. Car was part of estate sale and I ran out of room. Last registered in 2008, has a 410 4v, auto, air cruise, tilt, power windows, vents, antenna, steering, brakes (drum), seat. AM radio, pass seat head rest, auto-dimming lights, factory door guards, spinner wheel covers, cornering lights. Dome lamp is missing a lens, front seat cushion has a few tears, but new fabric is in the car needing to be installed, two front windows do not work, but there is a new switch. As of this writing (9-21), I did get the car started briefly using carb cleaner, but will get time later to get it running on can gas. $15,000. Contact brian at brianlc3@yahoo .com for more pics and info. Car located in Romulus, Mich., and available for inspection.
1971 Marquis four door. 53,000 miles. Interior is like new, and it runs and drives like new. My grandmother was the only driver. She died in 1994 and the car has been in storage ever since. To see pictures go to hermanmotor.com. $4,995 negotiable. Contact Richard at (507) 283-2412 day; (507) 220-1486 eve.; e-mail ch66@iw.net.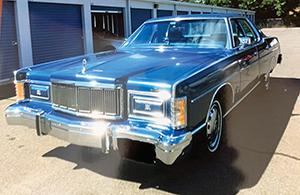 1975 Marquis Brougham. Purchased new in 1975 and has never been driven in snow or other bad weather conditions. Always been garaged. 63,000 miles. The car is in very good condition with original paint and equipment. Blue with blue vinyl roof and brougham trim package inside and out. Equipped with 460 4V V-8 motor. Blue plush floor carpeting, blue velour factory updated flight bench seats, power seats, windows, and door locks, hidden headlights, tinted glass. Rebuilt carburetor, new radiator, new whitewall tires, new master cylinder. A/C currently not working. Original window sticker, manual and appraisal. Asking $10,000, plus shipping. Contact Linda at (413) 351-5015; e-mail lwellette@tampabay.rr.com.
Cars Wanted
1957 Montclair or Turnpike Cruiser, two door or convertible. 1959 Park Lane convertible. Show condition or strong #2 turnkey condition. Cash! No trade! Contact Steve Edwards, (615) 477-2121; e-mail sarapalms@aol.com.
Black bucket seat upholstery for 1963 Monterey S55 convertible. Very good seat backs and cushions. No holes or tears, carpet needs reattached or replaced at rear of cushions. Back seat back is very good, can e-mail photo. Back seat cushion has a large hole in it, but I would send it. $100 plus shipping. Denver, Colo. area. Contact Rod at (303) 659-7830; e-mail gaylenee@aol.com
Fender chrome, 3 @ top left front; 2 each top left rear; 4 each bottom left rear; 3 each top right rear; 2 each bottom right rear; right side hood, 4 each narrow strips; 2 each unknown pieces. I also have approximately 15 pieces for a 1948 Club Coupe. I believe all these will fit Ford Business and Club Coupe, and 2 to 4-door sedans, same for Mercury. I was told some would fit 1946-48, not positive. Contact mbrumpton@telus.net; (250) 404-1006, (604) 240-8834.
1953-54 Mercury parts. Power seat, $250; power brake unit, $300; power window regulators, hardtop and four door, $50 each; hood hinges, $125 each; trunk hinges, $30 each; glass front, $50; side, $20; rear, $50 + $150; front bumper, $50 each; 1954 motor, $300; carbs, $100 each; hood scoop (two piece), $350; hood front trim, $150; grille, $125; rocker mouldings, $200; Contact Ken at (937) 376-1511.
1954 Mercury continental kit, all there and in good shape. $750. Contact David at (541) 664-2636; e-mail igopogo39@msn.com.
Wanted: Glove box latch and a hood hinge for a 1953 Monterey. Contact Bill at stingray2@optonline.net.
Parts Wanted
I am restoring a 1948 Mercury Businessman Coupe built in Canada. I require a front bumper and trunk handle. Anyone have any information on the production of these units in Canada? Contact mbrumpton@ telus.net; (250) 404-1006, (604) 240-8834.