2020 IMOA Show in Greater Denver area
By Chuck Clarke
IMOA is coming to the Golden, Colo., area for the club's annual show marking its 30th anniversary! Join our celebration June 24-28, 2020.
Even if you don't have a Mercury, but like the cars, come join us. Members, feel free to bring a guest.
We will be staying at the Westminster Marriott Inn at a special rate of $149 plus tax! Great view of the mountains and a great price.
So what are we going to be doing?
Wednesday, June 24, will be an open day, as many of us will be arriving and checking in. Meet some old friends and plan a dinner together, with a Circle of Friends held in the Marriott parking lot.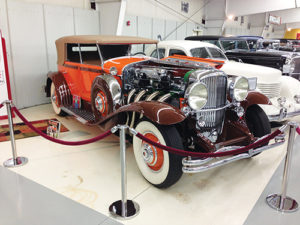 Thursday, June 25, features a visit to the Colorado Railroad Museum in the morning, lunch and then a tour of the Cussler Car Museum.
Clive Cussler is the multi-million-selling author of such books as "Raise the Titantic" and "Sahara," featuring his intrepid hero, Dirk Pitt. Cussler features vintage cars in his books and is an enthusiast himself, amassing a collection of more than a hundred cars.
Friday, June 26, takes us to a tour of the Coors Brewery and then a visit to Lookout Mountain, home of the Buffalo Bill Museum and grave site.
Saturday, June 27, is show day at the Marriott! Wash, shine and buff – get 'em ready to be judged. The show starts at 8 a.m. and judging at 10 a.m. After 2 p.m., awards will be handed out.
Sunday, June 28, is the All-Ford Car Show and Picnic at Arahapo Park in Golden. IMOA member Carlos Vera has hosted Mercurys at the show for a number of years. Admission to the All-Ford event is free, but if you want to display a car, the cost is $20, which includes a T-shirt. The Marriott is extending its special rate if you want to stay and depart that Monday.
A note that registering for the All-Ford show is separate from IMOA registration. IMOA registration can be found here: 2020 IMOA Show Registration
All-Ford Show registration can be found here: 2020 All-Ford Show Registration
There are many more visits to consider, including Speedway Auto (bone yard), the Georgetown Railroad steam train ride through the mountains, the Denver Mint, Air Force Academy Museum and Pike's Peak. More details will be in future issues of Quicksilver.