2019 IMOA show enjoyed fantastic attendance
By Galynn Ferris and Cy Schmidt
The 2019 IMOA show in Dayton, Ohio, Aug. 1-3, was a great success. Hopefully you were able to join us.
The saying "Time flies when you're having fun" rang true with this year's show.
There were more than 70 Mercurys in attendance, ranging from Texas to Ontario, Washington to Connecticut. It was one of the largest turnouts in years.
The host hotel was the Marriott at the University of Dayton. The hotel staff did a great job hosting this event. The staff, food and service were great.
Colleen from the Marriott was in charge of our event and went out of her way to accommodate our requests. About 10 days prior to our show, the planned Saturday restaurant canceled on us. They were under construction and a group our size just wouldn't fit.
A quick call to Colleen and she offered to host the pasta dinner at the hotel at the same cost of doing the pizza and salad bar.
Another detail that I need to mention is that when Ron from the Convention Bureau was asked about who to use to make some posters for our event, Ron simply said he would take care of it – he just needed a copy of the artwork. These were very popular and all disappeared within minutes after at the end of the show.
Members started arriving Wednesday evening. On Thursday, we lined up and drove to the National Museum of the U.S. Air Force. Thanks to Lynn and Rob Furderer for making arrangements and leading the group to the museum.
This large complex houses aviation history from the first Wright aircraft ordered by the Army Signal Corps to the SR-71 Blackbird. One popular attraction was the Presidential aircraft from Harry Truman's "Sacred Cow" to the Boeing 707 where President Johnson took the oath of office. We later held a "Circle of Friends" at the hotel.
On Friday, we caravaned to the Gale Halderman Museum, which was a suggested visit by John Clor, of Ford Performance.  Gale Halderman and his daughter, Karen, run the museum and it was a treat to visit. Lots of Ford and Mercury history, and artwork were there. This attractive collection of vehicles and memorabilia is located in the family home where Mr. Halderman grew up. He and his daughter were gracious hosts as they shared stories of automotive history.
Mr. Halderman was involved with styling many models for Ford and Mercury during his career, with the most famous being the original Mustang, He was also the lead on the 1968 and '69 Montego/Cyclone.
John Clor was able to make our visit as a guest speaker, making it that much more special with a slide show presentation. Thanks John!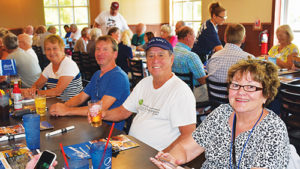 The next stop was T.J. Chumps for lunch. The staff there handled our group quickly, and we had a good lunch with a chance to catch up with many friends.
Then on to America's Packard Museum. After a short detour around a construction site, we arrived and took it all in. Some of our group split off for the Wright Brothers Cycle Shop National Park. The British Transportation Museum and Carillion Historical Park were also on the tour. The day ended with another Circle of Friends.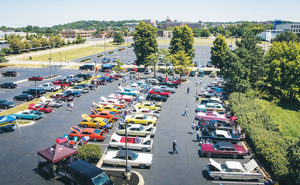 Show day on Saturday dawned bright and sunny, with the promise of another typically hot August day. Comet Club East held their show in conjunction with IMOA, and several cars were honored with awards from both clubs. John Clor entertained participants with stories and presented flags to Mercurys that he admired.
Thanks to all who volunteered during this event. Without the volunteers, it would not be possible to run a show of this size. Thanks to all who helped with registration, judging, selling raffle tickets and awards.
Again, thanks to the Marriott for their help. They provided reserved parking for participants, large overflow parking for trailers, extra security and a large wash area. Thanks to John Clor with Ford Performance for making this meet special, and also thanks to John's Classic Cougars.
Lunch was provided by the hotel and again, they did a great job. After awards were passed out, we enjoyed a pasta dinner at the Dewberry restaurant in the hotel, followed by the Circle of Friends.
It's all too easy to focus in on your favorite cars, and gloss over the diverse years and cars that make up our club. It was great to see so many cars represent the Mercury brand. They were all there, from stock restorations to highly modified customs. Remember to get out there and shine them, drive them and repeat.
We all love our cars, but more importantly, it's about the people and friends you make through the car connection.
We hope to see you at another show or cruise soon, including the 2020 IMOA show in the Greater Denver, Colo., area.
Here are some comments by attendees of the show:
* Wow, what an exciting time! This was our second IMOA show. The committee that planned the Dayton show went all out. From the Air Force Museum to the Packard Museum, and meeting Gale Halderman, the designer of the Mustang (a once-in-a-life time opportunity).
We managed to find the British Transportation Museum as well which was amazing. It was great to see so many cars this year. All in such great shape it was difficult to judge.
The hotel was beautiful and so accommodating to all of the club's needs. The hotel's recommendations of restaurants were all very good and the adventurous rides that the hotel van provided added to the fun.
It was so good to visit in the circle of friends every evening. We are looking forward to next year. Hope to see you then, David and Erica O'Brien.
* Dayton was a great convention. The hotel was lovely. The show was great because of the planning. The museums were fantastic. This was our second show. I was surprised how many people remembered us from the first – it has been a few years. The circle of friends was enjoyable. It was fun watching the circle grow and grow and grow. Keep driving those Mercurys! Marsha McGlothlin.
* We look forward to the event each year. Had a great time as usual. Places visited were very interesting. Just love driving our Mercury along- side other Mercurys. Look forward to meeting same friends and meeting new. Cherish the memories every year. Larry and Karen Valihora.
* We loved the location. Marriott Hotel is the best. Lots to see, close to great eating places. Best of all, just the right distance to drive. Great attendance. Loved it. Shirley Moots.
* This was the first time attending an IMOA gathering. I was very impressed with the event and the organization. Offering pre-show events for members is an excellent idea. Enjoyed going to the various events in a caravan of Mercurys. The choice of hotel was great, both the location and the property itself. The only suggestion I have in the interest of making the event better would be to organize the cars on the day of the car show. Maybe according to year or model. Steve Casselman.
* Comet East was really happy to attend this event. Got to meet members of our club (C/E) that we knew only by phone, etc. Also got to meet and greet new Comet owners. The IMOA event people were very gracious to us Cometeers. Weather was fantastic, could not be better. Hats off to all that attended, and traveled and trailered many miles to make this a happining.Thanks to Jerry Robbin for welcoming us on board. Looking forward to see where the next IMOA event will be held. Maybe we can do this again, as the IMOA members where happy to see us attending their event. Rock and Roll! Pete Girard.
The Comet East trophies were awarded as follows:
Modified, First Place, Fred Akers with a 1964 Comet convertible.
Second Place, John Gotshall with a 1965 Comet convertible.
Third Place, Chester Dlugolecki with a 1965 Comet Caliente.
Stock, First Place, Robert Thorpe with a 1964 Comet Cyclone.
Second Place, Kathy Orcutt with a 1970 Cyclone Spoiler.
Third Place, Cy Schmidt with a 1969 Comet Cyclone.
Peoples Choice, Jerry Fry with a 1961 Comet.
Tim Morely Eye Catcher, Wayne and Judy Miller with a 1963 Meteor S-33.
Note from the editor: There were, of course, many other cars on display at the show. Because of space limitations, these will run in the Winter 2020 issue of Quicksilver.