Spring 2019 Classifieds
Cars For  Sale
1950 Sport Sedan for sale. All stock except for duals. Runs like a watch. Very good shape. $18,000. Contact Bob at (518) 794-5218; cell (518) 496-5111; e-mail globust@aol.com.
1950 woody wagon, 72,000 original miles, V-8, three-speed O/D, Roanoke Green Metallic, radio, heater, third seat, visor, skirts, new chrome, paint, wood, exterior, weatherstrip, Goodyear www, shocks, brakes, exhaust, repro original wiring. $93,500. Contact Ken at (937) 376-1511.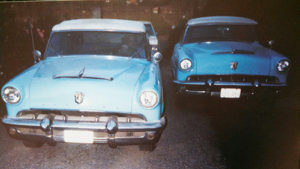 Two 1953 Mercury convertibles. original straight bodies, paint, seats, flathead Eight engines; one automatic; one manual three-on-the-tree; power seat, top, windows. Have some spare parts, spare original engine, $20,000 each, or trade for 1944 Dodge WC-56, 57 or 58 Command Car WWII. Located in Washington state. Contact (360) 674-2108; cell (360) 731-3096.
1954 Monterey convertible. Bitter-sweet exterior with Bittersweet and White interior. Tan Haartz cloth top. Paint and interior are in perfect condition. Restored to original condition, always garaged and driven approximately 10,000 miles since. Equipped with Mercomatic transmission, AM radio and the following power accessories; steering, brakes, windows, seat and top. Accessories are in perfect working condition. Underside shows no sign of rust or repairs. Equipped with dual exhaust, radials tires, fender skirts, new fuel tank and new wiring harness. Body panels are very straight. This is a truly outstanding vehicle and realistically priced at $52,000. Age forces sale. e-mail jidaniels38@gmail.com; cell phone (908) 531-2910.
1956 Monterey four door. Good running 312 four barrel. Dual exhaust, needs mufflers. Standard three-speed heavy-duty transmission T85 with Overdrive that works as it should, including passing gear. Dana heavy duty rear 4.09 ratio. This car has a lot of new parts, including brakes, master and wheel cylinders, all lines and hoses, gas tank, fuel lines and more. Title shows 46,000 miles and nice interior shows it, except driver's seat. Car has rust and got too close to garage door on left side. $4,000 cash. Call Harry at (513) 868-3311. No text. Southwest Ohio.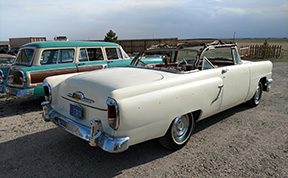 1956 Mercury convertible and 1956 wagon. Both are 312 automatic P/S. The Monterey wagon is all stock and upholstery is original. This is a nice driver. $35,000. The 1956 convertible is running and driving and stops ( new master cylinder). Has original Holley "teapot" 4V carb and works great. Needs upholstery and top. All convertible specific parts have never been removed. Have all moldings and emblems. Has Town & Country radio. $10,000. I have many pics I can send by text or e-mail. Contact Carlos at (720) 281-0940 (cell); e-mail calicometcarlos@yahoo .com. Near Denver, Colo.
1964 Monterey convertible, $21,000. 39,000-mile original. I have a letter from a guy I purchased this from who was three years old when his father bought this new. Nice letter about care and family stuff. Rare color combo Bittersweet (she does wear one outside respray), original white top, back glass window option, very nice original white interior, black rug, 390 overdrive option tranny. Other options include clear top wheel and factory spinners. Beautiful original chrome in and out. Many thousands spent reconditioning. In storage since 1995 until my purchase 5 years ago. I have some old paper registrations, owners manual and keys. Everything works as should. I have many photos and videos. Call Steve at (239) 910-4000 or e-mail scalpum@yahoo.com.
1965 Montclair, white, four-door, good unrestored condition, new battery, tuned up, rear power window, very low (41,934) mileage, original interior (no seat tears) and original seat belts. Asking $15,000. Call Gene at (646) 420-0217.
Package Deal! Two cars and a bunch of extra parts!
1968 Parklane convertible 428 car, factory air conditioning, power disc brakes, power steering, power seats, power windows, new power top (works great) auto trans, matching numbers, new paint, new top, new interior and all new chrome bumpers/accessories and new trim. This car has only 80,269 original miles, a restoration was started on it but never finished, it is not currently running. This car has a clean California title.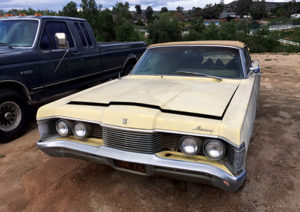 The second car is a 1968 Parklane convertible (similar car, but yellow) but has a 390 instead of the 428. This car was purchased as a parts car and I figure whoever ends up with the red car would like to have this car for parts. The yellow car is all original, has a rare tilt steering column in it, a very nice interior, and a bunch of nice parts. The yellow car has a salvage title.

As far as the extra parts we have, there are boatloads. I'm selling everything as a package deal, Everything goes with the two cars, including all the extra parts we have. I pretty much have any part of the car anyone could possibly need. $12,000 for everything. Please call (951) 452 8563.
Cars Wanted
I would like to find a good, driveable Comet Caliente for my wife at a reasonable price, Contact David at (870) 633-8999; e-mail david-mary423 @att.net.
Am looking for a 1957 Turnpike Cruiser pace car convertible with the rare M335 engine. Only 50 of the engines were produced for the TC. Would also be interested in just the M335 engine, if one exists. Contact Roger at (707) 337-3181; e-mail bozley@ix.netcom.com.
1959 Park Lane, convertible or two door, must be #2 or higher, turnkey condition. Contact Steve Edwards at sarapalms@aol.com; phone, (615) 477-2121.
Parts For Sale
1969 Mercury grille complete, no broken pieces, with head lights and valence, $100; 1969 Cyclone deck lid with latches, $50; right and left rear quarter panel extensions, $30 each; complete instrument cluster with 120 mph speedometer clock delete, $60; turn signal and side lights, $5 each, total of 6. All plus shipping. Contact Brad at bnbsmith@earthlink.net or call (805) 220-6607.
1960 Full-sized Mercury good used front and rear bumpers; 1965-66 very nice used rear center bumper; 1965-66 full-sized Mercury LH new replacement aftermarket quarter panel skin; 1965 very nice used Comet hood; 1972 Montego miscellaneous parts. Can deliver all these parts to the Dayton, Ohio show in August or they are available for pick-up in Holland, Mich. Contact John Baumann. johnscougars@gmail.com for more information.
1968 Parklane convertible parts available. Interior parts, exterior parts, body panels, hoods, fenders, tilt column, steering wheels, emblems, moldings, trim pieces, bumpers, grilles, head lights, hub caps, exhaust system, wheels, etc. Please call Ryan at (951) 452-8563. Shipping available.
Parts Wanted
Looking for a front grille and good left door for my 1960 Park Lane convertible. Contact Ludo at lu.vermeiren @telenet.be.
Wanted: Set of 2 or 4 original plastic Mercury floor mats with white round logo for 1963 Monterey S-55. Prefer red, but any color will do. Call Cathy at (610) 284-2718.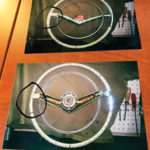 Need left side front and right side back chrome on 1955 Mercury accessory steering wheel. Also 1955-56 accessory road lamp housings. I have all the rest of the parts – just need the housings. Also original exhaust tips for a 1955-56, and 1955 power seat left side lower side panel for the chrome two-piece switch. I have just the switch. Contact Tim at (780) 426-2916. (Canada); e-mail tkom@shaw.ca.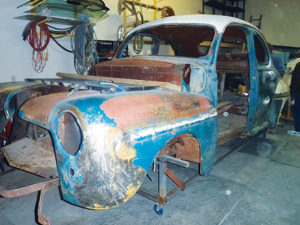 I am restoring a 1948 Mercury Businessman Coupe built in Canada. I require some chrome trim, front bumper, left and right interior window moldings and trunk handle. Anyone have any information on the production of these units in Canada? Contact Mickey at mbrumpton @telus.net; phone (250) 404-1006; cell (604) 240-8834.
Miscellaneous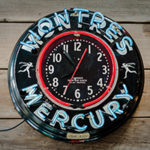 Neon Mercury clock, $2,500. Contact Chuck at (248) 821-0752.
Wanted. Shop Manual for 1955 Mercury. Mercury ignition key blanks. Call Leo (207) 249-8329 (SC).
1953 Mercury Dealer Album, 1953 Mercury Accessory Brochure. Contact Bob Hoppe (NJ) (732) 998-8581.
Car-themed oil paintings offered by Warren Dahl, IMOA member and artist. Call (425) 923-0049; e-mail warren-pat@hotmail.com; check out Facebook page at Warren R. Dahl.