Winter 2019 Classifieds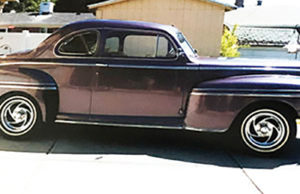 1946 69M Coupe two door, excellent running condition, completely restored, eight cylinder, manual transmission, LT Burgundy Wine, Gray interior, 44,780 miles. $26,000 or acceptable offer. Call Lily (UT) (801) 825-0728; e-mail holcombejo36@gmail.com.
1950 Mercury Coupe, restored. Owned since 1970. Restored 2010. No rust. L.A. car. Original flathead, 3 speed O.D. Painted Royal Bronze Maroon. $50,000 or best offer. 1950 Mercury convertible. Owned since 1976. No rust. L.A. car. Restored, original flathead, 3 speed O.D. Painted Mirada Yellow, brown two-tone leather, black stayfast top. $60,000 or best offer. Contact Merle at (805) 646-3345; e-mail, clsmercpts@att.net.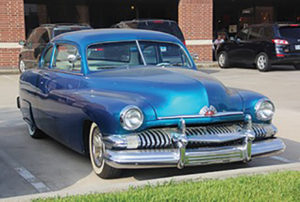 1951 Mercury, off-frame restoration, nose/decked, mouldings removed, tuck-and-roll interior, Candy Teal paint, wide whitewalls, skirts, stainless steel exhaust with Brockman mellow tone mufflers, 350 Chevy long-block engine, 350 turbo transmission, Jamco front suspension with disc brakes, nine-inch Ford differential, completely rewired with 12 volt, Airteque air conditioning, engine is 12 years old with 5,000 miles on it. $21,500. Contact jvick1497@gmail .com.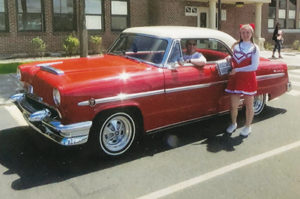 1954 Monterey. Looks original, but it has a 1988 Ford Mustang GT FI 302. Power steering, AC, 4-speed overdrive transmission, disc brakes, new tires, 1968 Cougar mag rims, new carpet, tilt column, updated gauges, floor shift, AM/FM 6-CD player, battery is in trunk, original seats and door panels. Color is tan over red. $26,000 or OBO. Call Glen at (509) 859-3442; e-mail gdkitty@outlook .com.
1955 Mercury 73B 4-door sedan 3-speed; 1955 Monterey 73C 4-door sedan automatic; 1955 Mercury 60B 2-door HT 3-Speed; 1955 Montclair 64A 2-door HT automatic; 1955 Montclair 64B 2-door HT automatic; 1956 Montclair 64A 2-door HT automatic. Cars stored over 30 years by current owner. 1955 60B, 64A and 64B are straight and restorable. 60B is complete and restoration on 64B was started by previous owner. No removal access to cars until Spring 2019. Quantity discounts considered with no confirmed sale of 64B until future of other cars is established. Call Jim (central Indiana) at (765) 258-3371. Leave message if we are not at home.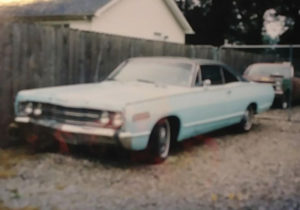 1967 Montclair. After several years in and out of the hospital, I have come to the realization that I won't be able to finish my 1967 Montclair. Therefore I'm praying that someone will want to finish it. Includes two very good 390s and two very good C-6s. $1,500. There are also a lot of new and good used 1967 parts. I can e-mail a list of all the parts. Contact Ed at (614) 871-5952; e-mail delbertballing@aol.com.
1973 Montego station wagon. Free to good home. Hasn't run since 1991. 400 c.i. engine, 95-percent complete. For restoration or parts car. Located in Costa Mesa, Calif. Not for the "crusher," please. Bring your own wheels and tires. Clear title. Contact C.K. Allen, (714) 309-5000. Please leave message.
Cars Wanted
1959 Mercury Park Lane, convertible or two door, must be #2 or higher, turnkey condition. Contact Steve Edwards, sarapalms@aol.com; phone, (615) 477-2121.
Parts For Sale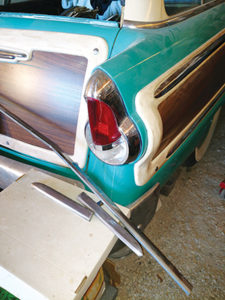 Pair of tail light lenses for 1955-56 Mercury wagon, $125. Front fender below headlamp moldings, L & R, $140 (wagon only). Hood molding $85. Call or text (720) 281-0940, e-mail, calicometcarlos@yahoo.com. Colorado. Have miscellaneous other 1955-56 Merc parts.

Complete set of woodgrain fiberglass side trim for 1959 Colony Park. Sold as complete set only! Contact Randy Rarick at surfpro@hawaii.rr.com; phone (808) 638-7266.
I fully restored a 1950 Mercury Sports Sedan in Australia and have additional heater parts as shown in photo. The restored parts are in fine condition and the other original parts make up more than one set. Make offers. Contact Peter at peter_hibbert@bigpond.com.
Parts Wanted
Need left side front and right side back chrome on 1955 Mercury accessory steering wheel. Also 1955-56 accessory road lamp housings. I have all the rest of the parts – just need the housings. Also original exhaust tips for a 1955-56, and 1955 power seat left side lower side panel for the chrome two-piece switch. I have just the switch. Contact Tim at (780) 426-2916 (Canada); e-mail tkom@shaw.ca.
Parts wanted for 1959 Mercury: Park Lane front most fender washboards, both sides; Park Lane rear quarter panel lower washboards, both sides; Park Lane two-door, any wheel opening and rocker trims, front and rear; nice hood. Call (215) 601-2449 (PA) or e-mail par64966@gmasil .com.
Complete rearview mirror assembly for 1957 Mercury convertible. Contact Dan (PA) at (412) 427-2221; e-mail dan.k@zoominternet.net.
One bumper guard for 1939 Mercury and Mercury emblem that goes on dash. Contact Lionel (NH) at (603) 487-2282 or e-mail hondalandn @comcast.net.
Miscellaneous
Neon Mercury clock, $2,500. Contact Chuck at (248) 821-0752.
Manuals and literature for 1980 Cougar XR-7 available. $25 including shipping. These were given to me at the show in Pennsylvania and I have finally gotten around to scanning the covers. My guess is someone someplace would like to have these. Contact Galynn at (281) 352-3913.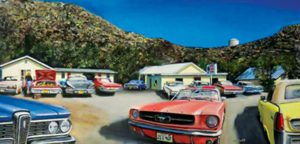 Car-themed oil paintings offered by Warren Dahl, IMOA member and artist. Call (425) 923-0049; e-mail warren-pat@hotmail.com; check out Facebook page at Warren R. Dahl.