Plenty to see and do at 2019 IMOA show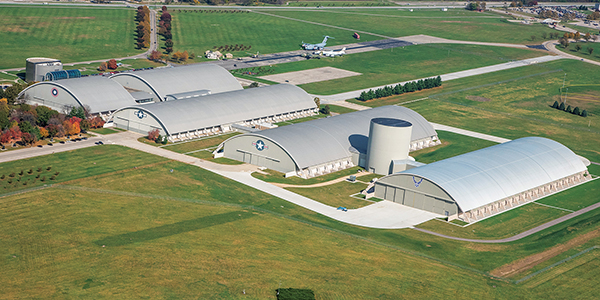 By Cy Schmidt
As this is being written, it is another cold snowy day in Ohio. The 2019 IMOA show is working out to be a fun and busy few days.
The dates are August 1-3, 2019. You can be assured that the snow and cold weather will be long gone by then.
The host hotel will be the Marriott at The University of Dayton. This hotel was refurbished a couple of years ago. It is located on the edge of the campus. We have a designated parking area just outside the side door of the hotel. A wash area and hoses will be provided.
The address is 1414 S. Patterson Blvd., Dayton, Ohio 45409. Its phone number is (937) 223-1000 and its website is at www.dayton-marriott.com. Rooms are reserved at the IMOA negotiated rate of $124 per night.
Please reserve your rooms through the hotel directly and be sure to mention that you are part of the IMOA car show. IMOA signed a contract with the hotel to hold rooms for us at our special rate and we are responsible to fill these. This rate is available for three days prior to and three days after the show.
Show attendees will receive a discount coupon for the Dewberry 1850 restaurant located inside the host hotel. A group of restaurants covering all types of food are located within a mile of the hotel on Brown Street. This covers all types of food from burgers to fine dining.
We will tour Aug. 1 to the National Museum of the U.S. Air Force (www.nationalmuseum.af.mil).
We will line up at approximately 9 a.m. and caravan over to the Wright-Patterson Air Force Base where the museum is located. We will be parking as a group.
This is a very large museum that covers all things aircraft related, from the early days to current. There are displays from World War I and II, Korea, Vietnam, the Space Program and presidential aircraft. There is no charge for parking or the museum.
The museum is located in four of the largest hangers you have ever been in. The area around Dayton is rich with aviation history. Please check out the website www.aviationheritagearea.org.
The museum is so large that it is just about impossible to see everything in one visit unless you are training for a marathon.
We strongly suggest if you are into airplanes or history, to add an additional day or two into your trip. This is especially true is you are traveling a long distance to attend.
Hopefully, you are not too worn out after Thursday's tour to get up and go with us on Friday's tour. We will line up at 9 a.m. and caravan to the Gale Halderman Museum in Tipp City. This is a privately owned museum and only open by invitation. Thanks to John Clor for his suggestion and contact info.
Tipp City is located just off of I-70 just north of Dayton and is about a 20- to 30-minute drive from the hotel. Mr. Halderman's sketches became the original Mustang design. He was involved in the designs of many Ford and Mercury cars in his 40-plus years at Ford.
He started there in 1954 and worked on the 1957 Fairlane design and the 1968-69 Montego/Cyclone before retiring in 1994. The museum is located at Mr. Halderman's property and is run by his daughter Karen. There is no charge for parking or the tour, but a donation of $5 or more per person is appreciated.
The displays consist of drawings, pictures, memorabilia and actual cars. The museum is online at Halderman Barn Museum through Facebook and there is also a link at performance.ford.com.
I recently visited the museum, where Karen gave us a nice private tour. It has a treasure trove of Ford, Lincoln and Mercury artwork. The details were something that you will not see anyplace else.
We are working on a lunch stop location after the Halderman Museum visit.
We will be headed back towards the Marriott for the next stop – the Citizens Motor Car Company/America's Packard Museum at 420 S. Ludlow St., Dayton. Its phone number is (937) 226-1710 and website, www.americaspackardmuseum.com. This is a former Packard dealership with more than 50 Packards dating from 1899 thru 1958. It also includes aircraft engines, PT boat engines and even jet engines. It opens daily at noon with admission being $6 for adults and $5 for seniors, with students admitted free of charge.
We are not done yet. There are tentative plans to tour the British Transportation Museum, which is on the way back to the hotel; however, the building was recently sold and the owners are looking for a new location. This stop will depend on whether they are reopened during the show.
Not to worry – people often tell me I'm full of … um … contingency plans.
The Wright Cycle Company and Wright-Dunbar Interpretive Center is located a few blocks from the Packard Museum. It is a National Park and admission is free. It covers the Wright Brothers Bicycle building, as well as experiments into early flight.
The Dayton Art Institute is also nearby and is where Gale Halderman was trained.
One place that covers the majority of Dayton's history and inventions is Carillion Historical Park. This is close to our hotel (less than 1/2 mile). When you leave I-75 at exit 51, you will see to your right a large clock and bell tower. This is Carillion Park.
There are 65 acres with 30 buildings. It covers industry, trains, buses, cars and aircraft. It is open 9:30 a.m. to 5 p.m. Mondays through Saturdays. Admission fees are $8 for adults and $7 for seniors. The Carillion Brewing Co. is on the grounds and besides beer, has great German-style food. It is open until 10 p.m. daily.
The IMOA car show is Saturday, Aug. 3, on the grounds of the hotel. After the show and awards, we will be heading up Patterson Blvd. about a half mile, to dine at Old Scratch Pizza. We will have a pizza buffet starting around 3:30 p.m. featuring pizza made in wood-fired ovens.
Old Scratch has old truck and motorcycle parts as wall art – our kind of place. We are hitting it early because it usually has lines out the doors by 5 p.m., so come hungry. This will be a pay-as-you-go type of place. Pizza buffet is one price and drinks will add a couple of dollars.
That sums up what I have so far. I'm excited about all that is set up and maps, directions, addresses, phone numbers, etc, will be provided as we line up for that day's tour. It is shaping up to be quite a busy 80th anniversary show for Mercury.
A big "Thank You" to Bob and Lynn Furderer for helping on the pre-run of the tour and setting up the airport museum visit, plus Jerry Robbin and John Clor for help and suggestions. Ron Eifert of the Dayton Convention and Visitors' Bureau was a big help. Lastly to Steve Zoller for sitting down, shutting up, holding on and helping pre-run portions of this agenda, taste-testing food and drink, and not complaining about my driving.
Hope you can make it to this year's 80th anniversary of Mercury show! Put in those vacation requests, reserve those rooms and send in registrations. Word is that Ernesto Romero is working on a great show shirt. Hope to see you and your Mercury (s) at this year's show!