IMOA Fall 2018 Classifieds
CARS FOR SALE
1946 69M Coupe two door, excellent running condition, completely restored, eight cylinder, manual transmission, LT Burgundy Wine, Gray interior, 44,780 miles. $29,000 or acceptable offer. Call Lily (UT) (801) 825-0728; e-mail holcombejo36@gmail.com.
1950 Mercury Sport Sedan for sale. All stock except for duals. Runs like a watch. Very good shape. $20,000. Contact Bob at (518) 794-5218; cell (518) 496-5111; e-mail globust@aol.com.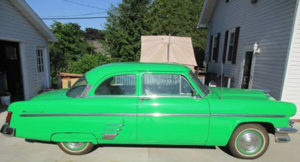 1954 Mercury two door. 256 c.i. Y- block V-8. Three-speed column shift transmission. Dual exhaust. Wheel skirts. A continental kit is included, but is not attached. Nice re-upholstered interior. Speedometer not working. More photos available upon request. Asking $12,000. Contact Dennis at (414) 241-1631 (cell) or (414) 764-6472 (land); e-mail dguckenberger2@wi.rr.com.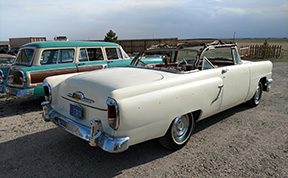 1956 Mercury convertible and 1956 wagon. Both are 312 automatic P/S. The Monterey wagon is all stock and upholstery is original. This is a nice driver. $35,000. The 1956 convertible is running and driving and stops ( new master cylinder). Has original Holley "teapot" 4V carb and works great. Needs upholstery and top. All convertible specific parts have never been removed. Have all moldings and emblems. Has Town & Country radio. $10,000. I have many pics I can send by text or e-mail. Contact Carlos at (720) 281-0940 (cell); e-mail calicometcarlos@yahoo .com. Near Denver, Colo.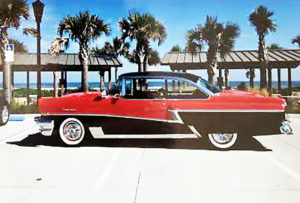 1956 Montclair, All original. Factory air. Tuxedo Black and Carousel Red. Coker tires. Extra good condition. $45,000. Contact Patricia at (217) 473-7042; e-mail ptebow@aol.com.
1958 Monterey four-door sedan, all-original car with 58,000 miles. Not licensed since 1983, but is running and stops. Car is equipped with power steering, power brakes, 383 c.i. with an automatic transmission. Needs some TLC. Asking $9,000. Contact Dave Reicks at (402) 746- 8260.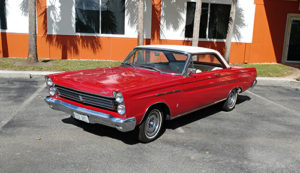 1965 Cyclone, came with a 289 c.i. V-8 with the optional four-barrel carburetor. Called the Super Cyclone, it was rated at 225 hp. It also came with the optional four-speed manual transmission. The engine was completely rebuilt with stainless steel valves, new rings, bearings and a hydraulic roller cam. The Cyclone came standard with bucket seats, console and a tachometer. The red paint is in good shape with a nice shine, the body is solid, all glass is good, it has solid floors and trunk. The interior has the original seats, carpet, console and headliner. Call Larry (954) 609-6636. Make offer.
2004 Marauder, Silver Birch with Dark Charcoal leather interior, 26,700 miles. Every factory option. Moon roof; spoiler; six-CD changer; heated seats, back seat headrests; original Marauder floor mats. New leather jacket. Manuals and all original records. Full-size original spare on road wheel and mini-spare on black steel wheel. New tires at 21,500 miles. New battery and coolant system service in March 2018. Never driven in rain or snow. Age and health forces sale. Call Joe at (815) 648-2431 evenings.
CAR WANTED
1957 Montclair four door, preferably two-tone Pastel Peach and Desert Tan, either four-door sedan or hardtop. Call Charlie (TX) at (972) 867-1053.
PARTS FOR SALE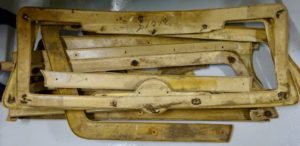 A lot of a dozen woodgrain fiberglass trim pieces for mid-1950's Mercury "Woody" wagon. Pieces are all original and have seen some wear and tear. Minor fiberglass repair needed on a couple pieces to make them perfect. Will sell the entire lot for $750, or individual pieces $100 each for small, $200 for large side pieces and tailgate pieces at $250. Stock numbers available upon request, along with individual piece pictures and descriptions. Shipping the responsibility of buyer. Contact Randy (Hawaii) at (808) 638-7266, home; (808) 479-8235, mobile; e-mail surfpro@hawaii.rr.com.
1957 Mercury parts for sale. 368 Turnpike Cruiser engine – stuck; Felpro gaskets for 368; three 368 Turnpike Cruiser valve covers; water pump for 368; exhaust manifolds; rebuilt generator; generator; 3-speed automatic transmission; 9-inch rear end – stuck; four full-size wheel covers; Colony Park fiberglass rails – miscellaneous; Colony Park stainless steel – miscellaneous; original light-blue naugahyde material; foot pedal (new); automatic transmission shift buttons; side view mirror; headlight bezels; steering wheel emblem; taillight (complete with lens); taillight bezel; power window parts; instrument panel for Turnpike Cruiser; hood ornament; under dash heater housing. Call or e-mail Gary for more information and pricing at (507) 433-7649; gofsted714@gmail.com.
1957 Montclair convertible parts car; 368 Turnpike Cruiser motor; good stainless and more. Also top frame parts. Call with needs. (314) 291-4864 (MD) or e-mail 48merc49 @gmail.com.
Parting out 1955 Montclair, usable hood, trunk, driver's door, rear side windows and regulators, some trim, titled car, good frame, 292 block and parts. Call (586) 255-4234 for more info (MI), or e-mail dgm317 @yahoo.com.
PARTS WANTED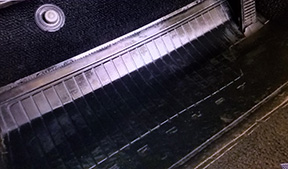 1957 original Mercury black carpet scripted rubber heel scuff pad section in good to very good condition. E-mail decocarguy@hotmail.com; phone (860) 435-9301.
Horn ring for 1962 S-55 convertible. Contact Ed at ejm@milllanemgt.com; call (617) 962-1765.
Set of two or four original plastic Mercury floor mats with white round logo for 1963 Monterey S-55. Prefer red, but any color will do. Call Cathy at (610) 284-2718.
Clips that hold chrome spoke wheel-looking covers to the rim. They are off of a 1955-56 Mercury and Ford. This is a two-piece setup – the center is a hub cap and the outer is the chrome spoke-wheel looking cover. Call Mike at (631) 399-0592. If no answer, machine will pick up. E-mail mlilawski@yahoo.com.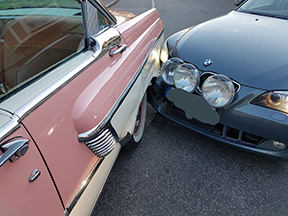 Looking for a left rear quarter panel for a 1956 Montclair Phaeton (VIN: 56SL66728M). It was in good condition until it was run into by a BMW! Contact Mikael at mikael@hedman.eu (Sweden).
Rocker chrome for my 1965 Monterey. Both sides, must be in excellent condition, no dents, dings or deep scratches and have a nice shine. Contact Dave at (267) 890-4370; e-mail worldwartwo41@ gmail.com.
1968 Parklane miscellaneous parts, but also needing a good dash pad. Contact Brian@brianlc3@yahoo .com.
MISCELLANEOUS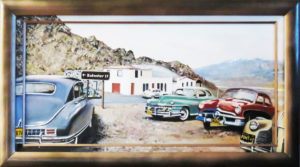 Car-themed oil paintings offered by Warren Dahl, IMOA member and artist. Call (425) 923-0049; e-mail warren-pat@hotmail.com; check out Facebook page at Warren R. Dahl.