IMOA Summer 2018 Classifieds
CARS FOR SALE
1940 convertible four-door sedan. One of 12 known to exist. All original, everything redone, except paint is chipping. Maroon exterior, tan interior. WWW's skirts wonderful original. Will sacrifice for $29,500 OBO. Contact Marion at (864) 457-3049 or e-mail pwn33@windstream.net.
1949 Mercury custom hardtop, Chevy V-8, 327 c.i. engine. Chevy 350 Turbo automatic transmission, PS, vintage A/C, heat and defrost system, NOS Hollywood Deep Tone mufflers, dual batteries with disconnect, front disc brakes, Goodyear 17-inch radial tires, scooped bubble skirts, full quarter panel with chrome spears, much more. Won Chicago World of Wheels Custom show and others. Comes with brochures and posters. Car runs perfect. No problems. Only 3,600 miles. Located in Green Lake, WI. Asking $49,000. Contact Mike at (920) 229-9200.
1950 Mercury Sport Sedan for sale. All stock except for duals. Runs like a watch. Very good shape. $20,000. Contact Bob at (518) 794-5218; cell (518) 496-5111; e-mail globust@ aol.com.
1954 Monterey four door. Not running. Needs total restoration. Straight car. Has fender skirts. $2,250. Call Ralph at (209) 267-0256.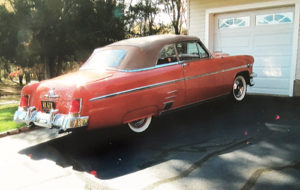 1954 Monterey convertible, Bittersweet exterior with Bittersweet and White interior. Tan Haartz cloth top. Paint and interior in perfect condition. Restored to original condition, always garaged and driven about 10,000 miles since. Equipped with Merc-o-Matic transmission, AM radio and the following power accessories: steering, brakes, windows, seat and top. Accessories are in perfect working condition. Underside shows no sign of rust or repairs. Equipped with dual exhaust and radial tires. Body panels are very straight. This is a really outstanding vehicle and is priced accordingly. Asking $70,000. Call (908) 806-2699; e-mail jidaniels38@gmail.com. (NJ).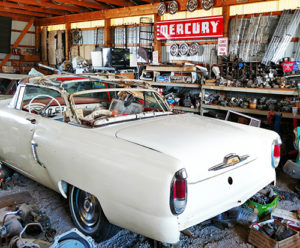 1956 Mercury Custom convertible, originally White and Persimmon Orange, 312 automatic. I have all moldings and bumpers, and interior. Runs, drives, and stops (new master cylinder), but brakes need to be rebuilt, needs rear floor pans. $9,950. Near Denver, Colo. Call or text Carlos at (720) 281-0940 or e-mail calicometcarlos@yahoo.com.
1960 Mercury Park Lane two-door hardtop cruiser project car. I originally planned on restoring the car myself, but due to health issues got sidetracked. The engine starts easy and runs good other than a slight hydraulic valve lifter click. The car does have lower-area rust problems which I have some repair patches for. Radiator checked, cleaned and painted. Also have good used windshield for it and seal from Pat Walsh Restorations. I had the car licensed, but have never driven it. If interested, please give me a call at (406) 265-5584 or e-mail davlin3@me.com. Havre, Mont. $4,900.
1960 Monterey blue four-door sedan with 312 engine. Nice original car from southern Nebraska. I guess the car is what you could call a Barn Find. I have driven it and ran in parades. I pulled out the floor covers and put a blue cloth cover over the front bottom cushion, and replaced the battery holder under the hood. The motor runs very nice, but does leak a little oil, and there is a little tear in the headliner. The car is located in Havre, Mont. Asking $8,600. If interested, call Dave at (406) 265-5584 or e-mail davlin3@me.com.
1962 Meteor four-door sedan. Light blue exterior, blue interior. 221 V-8 engine. Merc-O-Matic two-speed automatic transmission. Good condition inside and out. No rust or dents. Runs and drives nice, needs nothing. Original wheel covers. Asking $6,500 or best offer. Contact Warren at (760) 686-4343 or e-mail wwilken1963@ gmail.com.
1965 Comet Cyclone, two-door hardtop, Mist Yellow exterior, black interior w/ bucket seats and black vinyl roof. 289 v8 4-barrel carb, 4 speed transmission, 3:25 rear end. 135,159 miles with original engine. Completely refurbished two years ago. New vinyl roof, interior headliner and padded dashboard. Some body rust on left rear bottom quarter panel. Extra parts: chrome valve covers, extra wheel covers and a front chrome grille insert. One owner car, stored in Sanford NC. $9,000, contact (757) 869-6959 or e-mail cometcyclone@windstream.net.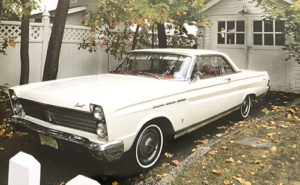 Hally's Comet is available at last! 1965 Comet Caliente, two-door hardtop, 289 automatic, one owner, meticulously maintained, always garaged, 99% original or as built, non-smoker inside and out. Show or restore, super-clean beauty. $12,500 firm. Call (732) 388-0369 (NJ) 6-9 p.m. or leave message. Additional photos on request.
1965 Park Lane Marauder, estate sale, reduced, rare. Complete solid original Southern Classic GA/AL, four-door hardtop fastback, Super 390 4V300HP, Duals, third owner, great driver, garaged, runs smooth, MA reg/title, Green, 90% restored, automatic PS/PS/AC, exterior paint good, new fuel lines, fuel/oil/air filters, new 12V battery/tray/cables, new 15″ WSW radials, good interior original/complete, door panels, headliner, rear shelf, chrome/stainless trim/glass all in excellent condition, original deluxe wheel covers with spinners, standard-optional equipment includes owners/sales book manuals, transfer Membership International Mercury Owners Association. Please go to craigslist .com, search MA, cars and trucks, 1965 Mercury for complete photos and details. $6,000 cash or best offer. Call Vinny at (339) 235-0095.
1972 Cougar convertible rolling chassis suitable for donor parts car or ambitious restoration. Many parts missing. Has good floors and bows for top. $850. Call Ralph at (209) 267-0256.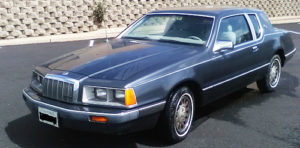 1984 Cougar 5.0L V8 P/S P/W P/B A/C. $1,250. Call Ralph (209) 267-0256.
CARS WANTED
1964 Parklane Marauder 4 speed in at least driver condition. Trying to replicate a childhood car. Any leads or discussion on such a car also appreciated. Contact Jim at jdemmith @aol.com; tel. (248) 736-0169.
1953 Monterey two-door hardtop, light blue on the top (Baniff Blue) and dark blue on the bottom (Superior Blue), prefer interior dark blue and ivory plastic textured vinyl interior. It is vital that it have this combo and must have original interior. E-mail Jim at jdemmith@aol.com; tel. (248) 736-0169.
1959 Park Lane. Prefer two-door hardtop or convertible. Ground up or frame off restoration. High 2 plus or 1 minus condition. Cash paid. Contact Steve at (615) 477-2121.
PARTS FOR SALE
Complete 430 engine out of a 1960 Parklane with automatic transmission. Engine has been overhauled. Transmission works perfect, has small leak. Has been removed to install modern drivetrain. $1,500. Contact Alan at (217) 824-6098; e-mail collebrusco@consolidated.net.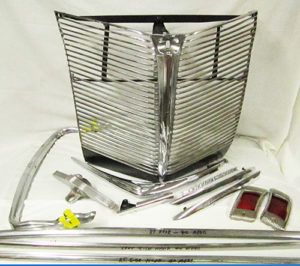 1940 Mercury parts: Complete grille, excellent condition, in frame, $500. Left front fender, $400. Hood ornament, $200. Grille guard, $50. Rear glass tail light lens and stainless frames, $150. Hood eyebrows, $150. Mercury 8 insignia, $25. Hood and right rear quarter chrome, $300. Contact Earl Cowan, ecowan1@cox .net, or call (405) 789-7343.
PARTS WANTED
Complete steering wheel or internal horn parts (horn button cushion retainer, cushion, contact plate, horn plate) for 1966 Cyclone GTA ( 390 S code). The steering wheel appears to be different from the 289 Cyclone of the same year. 1966 Mustang, Comet sedan or Fairlane sedan parts do not fit. These parts are missing from my otherwise original 1966 Cyclone GTA, so I am not exactly sure what I am looking for. Any information or advice greatly appreciated. Contact Neil at (207) 729-8732, or e-mail nwlamb@comcast.net.
I am looking for a pair (right and left) rear quarter (two-door hardtop) power window regulators for either a 1957 or 1958 Mercury. Motors are not necessary, but the regulators must move freely and not be bent or seized. Please contact Kurt at (973) 884-0502 or e-mail fordman7@ optonline.net.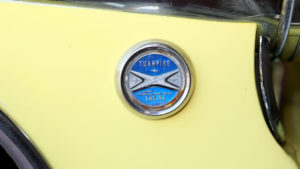 1957 Turnpike Cruiser NOS or near-mint used Turnpike Cruiser engine fender badges for front fenders. Contact Ed at (860) 435-9301; e-mail decocarguy@hotmail.com.
1953 Mercury dealer album. Ass. headlight bevels. Ass. sidedoor mirrors. Call (973) 998-8581.
Four 1951 Mercury hub caps. Must be in at least good condition. No rust or dents. See car in Winter 2018 Quicksilver, page 37. E-mail Wayne at kyoungs1@nycap.rr.com.
Need 2003 NOS Mercury Marauder spoiler. Call Terrel at (504) 201-1705 LA.
1959-60 Mercury spotlight bracket right side Unity Part #131R. Contact joe@ gcparts.net.
Need battery hold-down cover for a 1960 Mercury Parklane, including the rods. E-mail jacklenhart@ yahoo.com.
MISCELLANEOUS
Car-themed oil paintings offered by Warren Dahl, IMOA member and artist. Call (425) 923-0049; e-mail warren-pat@hotmail.com; check out Facebook page at Warren R. Dahl.