IMOA Classifieds Spring 2018
1950 Mercury woody wagon, V-8 three-speed with overdrive, new paint, chrome, wood, interior, brakes, weatherstripping, wiring, www. Solid 72,000-mile car. Roanoke Green Metallic, two-tone green interior. $92,500. Contact Ken at (937) 376-1511. Ohio.
1954 Monterey convertible, Bittersweet exterior with Bittersweet and White interior. Tan Haartz cloth top. Paint and interior in perfect condition. Restored to original condition, always garaged and driven about 10,000 miles since. Equipped with Merc-o-Matic transmission, AM radio and the following power accessories: steering, brakes, windows, seat and top. Accessories are in perfect working condition. Underside shows no sign of rust or repairs. Equipped with dual exhaust and radial tires. Body panels are very straight. This is a really outstanding vehicle and is priced accordingly. Asking $70,000. Call (908) 806-2699; e-mail jidaniels38@gmail.com. (NJ).
1956 Mercury Custom convertible, originally White and Persimmon Orange, 312 automatic. I have all moldings and bumpers, and interior. Runs, but brakes need to be rebuilt, needs rear floor pans. $9,950. Near Denver, Colo. Call or text Carlos at (720) 281-0940 or e-mail calicometcarlos@yahoo.com.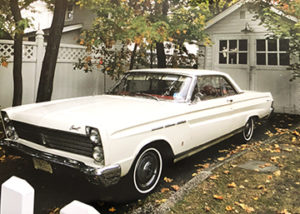 Hally's Comet is available at last! 1965 Comet Caliente, two-door hardtop, 289 automatic, one owner, meticulously maintained, always garaged, 99% original or as built, non-smoker inside and out. Show or restore, super-clean beauty. $12,500 firm. Call (732) 388-0369 (NJ) 6-9 p.m. or leave message. Additional photos on request.
I have a very nice, well kept, all-original 1965 Monterey Breezeway. Beautiful red interior, black exterior, nice chrome throughout the car, very clean car throughout. No body rust, except for one spot of rust though on the steel frame bar on the underside, which I took care of and treated. The car has a 390 engine that runs and drives great, all mechanical work very nice. This car is a two-finger driving car, and floats and handles like a big Caddy. I am looking to get back into a professional car being a hearse from 1946 to 1972, or a newer hearse being a Caddy Fleetwood Masterpiece Hearse from 1980 to 1983. Ambulance 1946 to 1974. Or I may sell the car for a much lower cost then I paid, so I can buy a professional car, whichever works. Do any members reading this have a professional car or know anyone who does and who may want my Mercury? My car has clear title in my name and is tagged Antique. Thank you and take care folks. $7,000 OBO. Contact David Adams at worldwartwo41@gmail.com.
1967 Comet Caliente two-door hardtop, 289 V-8, C4 automatic transmission. All original and unmolested, stored since 1988, good body trim and glass. rod or restore. Asking $3,500. Contact Jim Evans (OR) at (503) 787-3787.
Bobcats for sale! 1980 Bobcat, 100,000 miles, bought new, Light Blue, two-door, four-speed, V-6; 1979, 85,000 miles, moon roof, 2.3 automatic C-3, Light Blue, cloth interior, power brakes, CD; 1978, white and yellow, orange cloth interior, yellow and orange stripes, power steering and brakes, air conditioning, 2.8 automatic V-6, less than a thousand miles, rally pack, eight track; 1979 2.3 four cylinder, automatic transmission, power steering and brakes, white with black interior. $5,000 OBO for all, plus tons of extra parts. Contact David at (503) 987-1349.
1961 Mercury engine, complete 223 cu. in., three-speed transmission, starter, low miles, extra new parts, one owner, $500 firm. Call (610) 377-2882 or (610) 751-9580 (PA); e-mail memmeck@ptd.net.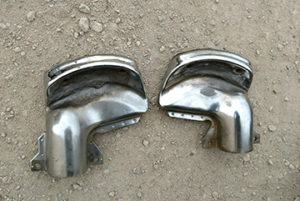 1955-56 Mercury exhaust tips for sale. $175. Call or text Carlos at (720) 281-0940 or e-mail calicometcarlos@yahoo.com.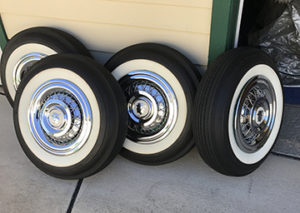 Four 1955 Montclair 15-inch wheels with B.F. Goodrich Silvertown 4-ply tubeless WWW tires, 7.10 x 15. Also included are four two-piece spoked hubcaps from my Sun Valley. Outer rings are very good. Center caps have some pitting. Outer rings hide a lot. $750 OBO. Contact Charlie at (734) 612-7698; e-mail charlie32355@hotmail.com.
Looking for interior replacement kit, seat covers, door panels and headliner for my 1954 Monterey two-door hardtop. Contact Glen at (509) 859-3442; e-mail gdkitty@outlook.com.
Needed: Back-up light lens for 1959 Voyager wagon. Part no. is #B9MF15514A. Contact Gordon Hawkins, Atwood, Kansas, at (785) 626-0212 or e-mail hawkinsgordon13@gmail.com.
I'm looking for a passenger side interior sun visor bracket for a 1952 Mercury Custom four-door sedan. Call John at (781) 293-0549 or e-mail
jkeldoc@comcast.net.
1957 TPC NOS or near-mint used Turnpike Cruiser engine fender badges for front fenders. Contact Ed at (860) 435-9301; e-mail decocarguy@hotmail.com.
Car-themed oil paintings offered by Warren Dahl, IMOA member and artist. Call (425) 923-0049; e-mail warren-pat@hotmail.com; check out Facebook page at Warren R. Dahl.