IMOA Classifieds Fall 2017
Cars For Sale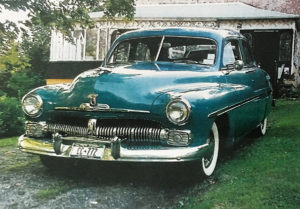 1950 Mercury Sport Sedan with suicide doors. It runs like a watch, registered, insured and inspected. It is stock with duals and overdrive. Asking $20,000. Contact Bob Linville, New York; tel: (518) 794-5218; cell, (518) 496-5111; e-mail, globust@aol.com.
1950 Mercury two-door convertible. Flathead V-8 255 c.i., 110 hp with three-speed overdrive transmission. Power top, power seat and power windows operated from central hydraulic pump system. No body rust. The car was operational approximately 30 years ago and has not been run since then. With minimal exceptions, the Merc has been stored under cover (garages, enclosed storage and presently an enclosed car hauler trailer) since I used it as a first car in 1963. There was a dent in the front bumper, as well as the rear bumper, by the prior owner (not repaired). There was slight damage and repair body work to the passenger side front fender and is missing that chrome strip. Someone accidently backed into and caused slight damage to the driver's side door (considered fixable). Asking $30,000. Contact Terry at (425) 889-9736; e-mail tkphome@msn.com.
Three 1951 Mercury vehicles – a sedan, coupe and a convertible, all in very good condition, along with tons of parts, and a fourth vehicle that is for parts. Photos of all are available online, but by invitation through interested parties' request only. Seller wishes to move entire lot (all vehicles and parts) to go in one sale. Items are located near Pittsburgh, Pa. Best Offer to take entire lot! Please contact startrailer@3ap.org for more information and for access to the online photos.
1954 Monterey, two-tone green, Parklane Green on bottom, Bloomfield Green hardtop. Original green and buff vinyl interior, 52,000 original miles. Garage kept. Original AM radio, Merc-O-Matic transmission, 256 c.i., V-8 engine, factory dual exhaust. $15,000 OBO. Contact cordiano11@gmail.com; call (717) 919-9167 or (717) 534-9176.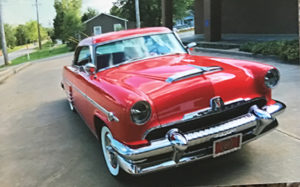 Extra sharp 1954 Monterey Coupe. Looks great with matching skirts and continental kit, 256 cid, mellow but audible dual cherry bomb muffler system, mild chrome under hood, engine runs beautifully, doesn't burn oil between changes. Previous owner mentioned having had valve job, newer repaint, rechrome, new radiator core one month ago, Coker whitewalls. Has been in A/C storage for several years, driven mildly the last three years. Asking $26,000. Call Tim at (918) 340-8395; e-mail timd63@gmail.com.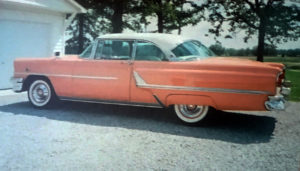 1955 Monterey, original condition, V-8, 4 bbl, dual exhaust (glass Pac), Merc-O-Matic transmission,17,000 original miles, no rust or repairs, converted to 12 volt. Located McLeansboro, Ill. Call for price. (847) 309-6288.
1956 Mercury Custom convertible, originally White and Persimmon Orange, 312 automatic. I have all moldings and bumpers, and interior. Runs, but may need rebuild, brakes need to be rebuilt, needs rear floor pans. $9,950. Near Denver, Colo. Call or text Carlos at (720) 281-0940 or e-mail calicometcarlos@yahoo .com.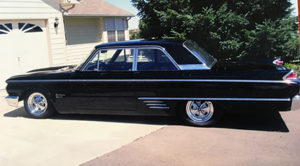 1962 Mercury Meteor. Black, new black interior, high-performance 289 with top loader, 4 speed, shaved doors, louvered hood, too much to list, 1,000 since build, have receipts. Asking $21,500. Contact John at (303) 646-9133; e-mail firmanicke @gmail.com.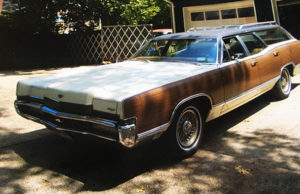 1970 Marquis Colony Park station wagon. 4bbl, 429 c.i.,C-6 transmission, 58,850 miles, Ginger interior in perfect condition. AC works, factory vinyl roof, new exhaust, runs and drives excellent, later model Lacy spoke wheels. Bought in 1996 with 30,000 miles for my wife as a driver and replaced with 2004 Marauder. No room to store inside. Not a show car, but nice. $6,000. I can send more pictures. Call (631) 473-5829(NY).
Cars Wanted
1964 Montclair Marauder fastback (my wife's first car). Red with black top, white interior, no A/C, Interceptor 390 automatic, ordered new by Denver, Colo. area police officer. Any information regarding this car would be greatly appreciated. Call (515) 432-2210 or e-mail skruck @kruckph.com.
1965 Mercury Comet Caliente or Cyclone, Two-door hardtop, 289 4V or Super 289 4- speed. Original. Be honest with good history for weekend driver, No wrecks or rust. Not too perfect or pricey. Contact Gary (KS) Days 308-325-3959 or Evening 620-848-3005.
Wanted for 1949 Mercury. One or a pair of correct outside mirrors in excellent condition. Will pay top price or may have parts for trade. Contact Dave at (951) 340-0770 days.
Parts Wanted
Accessory door bezels for 1953 Mercury. Also a 1953 Mercury dealer album. E-mail v8fords@aol.com or call (732) 998-8581.
Need hub cap center and left rear door glass (large one, not the vent) for 1951 Sport Sedan. Contact Fred at (760) 315-6994; e-mail frgsmp @aol.com.
Small business opportunity. We are the sole supplier of trunkliners for 1949-54 Mercurys in the original black and tan checker pattern. The sale includes screen-printed 4 x 8 sheets of cardboard, steel-rule dies mounted on half-inch plywood for each panel required, in addition to cardboard patterns.
Business Opportunity
Perfect small business for a retired person that doesn't require a lot of time or space. Please call (805) 646-3345 from 9 a.m. to 5 p.m. Pacific time for more information regarding this opportunity.
Miscellaneous
1937 Ford black-and-white calendar with a different picture of Henry Ford for each month. $30 with free shipping. Contact Ron at (512) 282-1065; e-mail ronfsmith@att.net.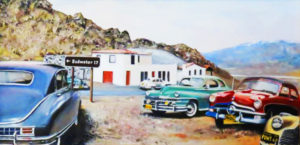 Car-themed oil paintings offered by Warren Dahl, IMOA member and artist. Call (425) 923-0049; e-mail warren-pat@hotmail.com; check out Facebook page at Warren R. Dahl.