IMOA Classifieds Winter 2018
Cars For Sale
1950 Mercury Coupe, restored. Owned since 1970. Restored 2010. No rust. L.A. car. Original flathead, 3 speed O.D. Painted Royal Bronze Maroon. $50,000 OBO. 1950 Mercury convertible. Owned since 1976. No rust. L.A. car. Restored, original flathead, 3-speed O.D. Painted Mirada Yellow, brown two-tone leather, black stayfast top. $60,000 OBO. Contact Merle Fourez at (805) 646-3345.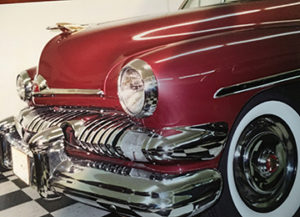 1951 Mercury Monterey Coupe, model M-72C, 3-speed overdrive, Monterey Red, Black Vinyl Top, matching leather interior, LA built, a crowd pleaser, runs very well, a joy to look at and drive. Asking $25,000. Call John (NJ) at (609) 561-6154 or cell (609) 385-3049; e-mail johncalderone@comcast.net.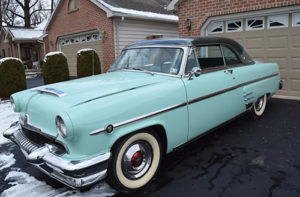 1954 Monterey, two-tone green, Parklane Green on bottom, Bloomfield Green hardtop. Original green and buff vinyl interior. 52,000 original miles. Garage kept. Original AM radio. Merc-O-Matic transmission. 256 c.i. OHV V-8, factory dual exhaust. $15,000 OBO. E-mail domacoha@gmail.com; (717) 919-9167.
1954 Monterey four door. Excellent original condition, V-8, four-barrel Holly carburetor, dual exhaust. Merc-O-Matic automatic transmission. All glass in great condition – including chrome side window visors. Fender skirts. Original interior clean and excellent condition. Original car and radio manuals – radio works. Low mileage and always stored inside. Market value $18,000, OBO. Call (505) 707-2424 (NM) or e-mail gdavis5214@aol.com.
1955 Monterey, original condition, V-8, 4 bbl, dual exhaust (glass Pac), Merc-O-Matic transmission,17,000 original miles, no rust or repairs, converted to 12 volt. Located McLeansboro, Ill. Call for price. (847) 309-6288.
1955 Monterey, original condition, V-8, 4 bbl, dual exhaust (glass Pac), Merc-O-Matic transmission,17,000 original miles, no rust or repairs, converted to 12 volt. Located McLeansboro, Ill. Call for price. (847) 309-6288.
1956 Mercury Custom convertible, originally White and Persimmon Orange, 312 automatic. I have all moldings and bumpers, and interior. Runs, but brakes need to be rebuilt, needs rear floor pans. $9,950. Near Denver, Colo. Call or text Carlos at (720) 281-0940 or e-mail calicometcarlos@yahoo .com.
Health forces sale on this 1956 Montclair skirt car. Complete western solid car with original floors, trunk, rockers, doors, quarters only patch panels were behind rear tires. Car ready for final block, paint your color. Fresh 312 and transmission needs paint detailing. This was a complete running car prior to tear down. Extra parts, clear Texas title. $24,000 invested. Contact Chester at (281) 435-1843; e-mail chesterkeeton@comcast.net.
1960 Monterey convertible, yellow with bronze interior, has original top (white with full window), detailed 369 c.i. engine, owned by Vice President of NBC Records, original California car, have full history, 45,000 original miles, still looks new. Contact Bob Kneebone, Punt Gorda, Fla. at (941) 626-0067, or e-mail bobkneebone3@yahoo.com.
Bally's Comet is available at last! 1965 Comet Caliente, two-door hardtop, 289 automatic, one owner, meticulously maintained, always garaged, 99% original or as built, non-smoker inside and out. Show or restore, super-clean beauty. $12,500 firm. Call (732) 388-0369 (NJ) 6-9 p.m.
1966 Cyclone convertible, 390, 4 speed, console, has GT hood, 100% original, runs good, 70,000 original miles. $9,000 or trade. Can discuss payment. Call Paul at (847) 823-0808 (Indiana) or e-mail pjpence89@gmail.com.
1970 Marquis Colony Park station wagon. 4bbl, 429 c.i., C-6 transmission, 58,850 miles, Ginger interior in perfect condition. AC works, factory vinyl roof, new exhaust, runs and drives excellent, later model Lacy spoke wheels. Bought in 1996 with 30,000 miles for my wife as a driver and replaced with 2004 Marauder. No room to store inside. Not a show car, but nice. $6,000. I can send more pictures. Call (631) 473-5829 (NY).
Cars Wanted
1953 Monterey two-door hardtop. Light blue on the top (Baniff Blue) and dark blue on the bottom (Superior Blue), prefer interior dark blue and ivory plastic textured vinyl interior. It is vital that it have this combo and must have original Interior. E-mail Jim at jdemmith@aol.com.
1959 Parklane convertible. Must be #1 condition and will pay cash. Call (615) 477-2121 or e-mail sarapalms@aol.com.
1969 Mercury Cyclone II. Looking for either the Dan Gurney or Cale Yarborough edition, any condition would be considered. Let me know what you have! Call Tom at (920) 419-8700 (WI) or e-mail tbmirs@aol.com.
Parts For Sale
1960 Mercury parts for sale, zero rust, Colorado car, hood, right door, misc. moldings, right and left headlight assembly with four rust-free bezels, NOS tail light lens, Park Lane name plates. All parts are in Florida. Contact Bob Kneebone, Punt Gorda, Fla. at (941) 626-0067 or e-mail bobkneebone3@yahoo.com.
1970 full-sized Monterey used dashpad. Upper and lower dashes. Good used condition. No cracks. Dark Green in color. Some fading on the top of the dash. $200 plus shipping charges.Contact John Baumann, Holland, Mich. (616) 396-0390.
Parts Wanted
Pushbutton or keyboard controls from a 1957 Mercury. My Monterey has three on the tree. E-mail Brian at brilin66chev@yahoo.com, or call (Ontario, Canada) (905) 852-7580.
Pair of interior sun visors needed for 1965 Monterey Breezeway. Pale white in color. Also, plenty of extra chrome clips If anyone has any of these items, please let me know. Contact David at worldwartwo41@gmail.com.
Both sides of tail-light lenses for 1964 Comet station wagon 202. Also, AM factory radio and gas cap with hardware trim. Contact Jeff (IA) at (319) 472-5395.
Clean working radio for a 1956 Monterey. Contact William at (845) 855-3073 (NY).
Miscellaneous
Neon Mercury clock, $2,500. Contact Chuck at (248) 821-0752.
1937 Ford black-and-white calendar with a different picture of Henry Ford for each month. $30 with free shipping. Contact Ron at (512) 282-1065; e-mail ronfsmith@att.net.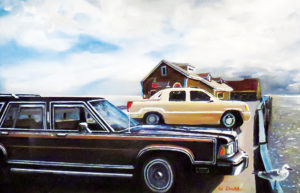 Car-themed oil paintings offered by Warren Dahl, IMOA member and artist. Call (425) 923-0049; e-mail warren-pat@hotmail.com; check out Facebook page at Warren R. Dahl.