IMOA Classifieds Summer 2017
CARS FOR SALE
1949 Mercury custom hardtop, Chevy V-8 327 c.i. engine, Chevy 350 Turbo automatic transmission, PS, vintage A/C, heat and defrost system, NOS Hollywood Deep Tone mufflers, dual batteries with disconnect, front disc brakes, Goodyear 17-inch radial tires, scooped bubble skirts, full quarter panel with chrome spears, much more. Won Chicago World of Wheels Custom show and others. Comes with brochures and posters. Only 3,600 miles. Located in Green Lake, Wis. Asking $59,000. Contact Mike at (920) 229-9200.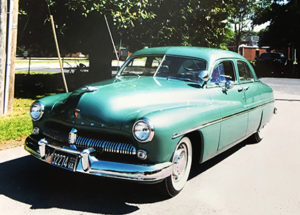 1949 Mercury Sports Sedan (all original), 12-volt alternator, original flat head, rebuilt about 2,500 miles ago, driven very little, garage kept, owned for 20 years, VA antique plates, few shop dings and scratches, no rust, good interior and chrome. More pictures are available. Vehicle is in Virginia Beach, VA. Asking $20,000. E-mail Chuck at chuckight@cox.net; phone (757) 481-3965.
PARTS FOR SALE
1953 Monterey front upper and lower bumper with bullet guards and plastic light covers. Good condition. $1,500 plus shipping. Contact Diane at (541) 602-3511 or e-mail diane@peak.org. Located in Brainerd, MN area.
1949-51 parts for sale, new disc brake kit for front, 3 s.s grilles; NOS steel parking lights for 1950; tail lights original; radiator like new; belt line trim; hood ornament; trunk ornament; pedal assembly – too much more to list. Call for parts and prices. Wayne (IL) (773) 203-1386 or e-mail jphill2803@aol.com.
Window regulators, lower glass channels. 1939-1950 NOS, $100 for the pair, front or rear, closed car. $60 if you only want one. Convertibles are more if I have them in stock. You must mention this ad to get these prices. Regulator Roy, (609) 828-8537 (NJ) e-mail regulatorroy@ comcast.net.
Original fender skirts for 1951 Mercury, made for that year only, but will fit others. Will ship anywhere in wood crate, excellent original condition, surface rust on back, black, scratches, no dents, pictures available. $350 plus shipping. Will ship when payment has cleared. E-mail Chuck at chuckight@cox.net; phone (757) 481-3965.
PARTS WANTED
Gas gauge sending unit that fits in gas tank for 1981 Grand Marquis four-door sedan with 351W engine. Also, original-type fender skirts for 1951 Mercury Sports four-door sedan. Must be reasonably priced and with all parts in good shape. Call (972) 841-9343 cell or (972) 542-0435 (TX).
Need rear window "Back Glass" for 1953 Monterey two-door hardtop. Reasonable. Contact (219) 712-3931. E-mail gahiskes@comcast .net.
Wanted for 1957 Mercury in NOS or excellent used condition: Right-hand headlight bezel (door) for quad headlights, FEK 13052 B; rear bumper grill kit with reflector, MHK 17232 B; rear bumper grill (for reflector only), BAE 17232 B. Contact Lewis at (561) 439-0305; cell (973) 476-6703; e- mail doredbob@aol.com.
All chrome trim parts for hood of a 1958 Voyager Wagon. Also, all chrome trim parts for the tailgate and the latch. Also need headliner hold- up rods. Call Robert (WI) at (715) 349-5375.
I am looking for 1957 Turnpike Cruiser hub caps that are in good condition. Contact Mike (CA) at (707) 548-4953 or e-mail michael.bruno@ att.net.
BUSINESS OPPORTUNITY
Small business opportunity. We are the sole supplier of trunkliners for 1949-54 Mercurys in the original black and tan checker pattern. The sale includes screen-printed 4 x 8 sheets of cardboard, steel-rule dies mounted on half-inch plywood for each panel required, in addition to cardboard patterns. Perfect small business for a retired person that doesn't require a lot of time or space. Please call (805) 646-3345 from 9 a.m. to 5 p.m. Pacific time for more information.
1937 Ford black-and-white calendar with a different picture of Henry Ford for each month. $30 with free shipping. Contact Ron at (512) 282-1065; e-mail ronfsmith@att.net.
MISCELLANEOUS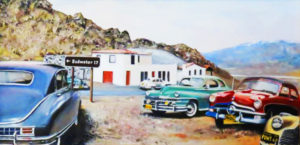 Car-themed oil paintings offered by Warren Dahl, IMOA member and artist. Call (425) 923-0049; e-mail warren-pat@hotmail.com; check out Facebook page at Warren R. Dahl.