IMOA Classifieds Winter 2017
Cars For Sale
1954 Monterey, Excellent original condition,V-8, 4-barrel Holley carburetor, dual exhaust (Glass Pac Purrs). Merc-O-Matic automatic transmission, 79,360 original miles, Runs great, Original car and radio manuals included. Always stored inside, good tires, original fender skirts, interior clean and original condition, great glass, original chrome window shades. My dad purchased new (one owner). Located in Raton, NM. Priced below market-appraised value. Call (575) 707-2424; e-mail gdavis5214@aol.com.
1968 Cyclone GT, is powered by a 392 c.i. (6,391 cc) optional engine (standard for GT) with a four-barrel carburetor, which generated 325 hp (242 kw). The four-speed transmission works flawlessly, as do the accessories, such as power steering, power brakes and air conditioning. Body is rust free, interior is extra nice and the underside is clean and rust free. Tires and wheels are in great condition, as is the rest of the car. Marti reports available. $27,770 or OBO. E-mail or call with any questions. Contact Dick at (210) 861-3620; e-mail dlux@theluxfamily.com.
1968 Cougar 427 GT-E. Paint job is excellent, top quality. A couple of rock chips – nothing serious. The car has never been rusted or wrecked hard. XR7-S tail lamps. They are equallty collectible parts with high value to the right person. Interior is in great condition. Original GT-E BF Goodrich FR70-14 spare tire and wheel in the trunk, very rare item. XR7-G front valance and fog lamps. They are worth a good deal of money, but are incorrect for this car. Engine, transmission and rear end work fine. The car is powerful, fast and runs cool. Rear axle center section appears to be the correct one for a GT-E. AM-FM stereo works great. Turn signals work perfectly. Headlights open and close perfectly. Engine is correct 427, but is not original with a date code of October 1964. Marti reports available. Price $67,770. Contact Dick at (210) 861-3620; e-mail dlux@theluxfamily.com.
Parts For Sale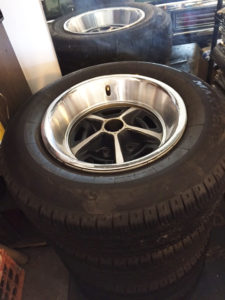 Magnum 500-style wheels with trim rings from 1975-79 Cougar. With P205-70-14 Maxtour GT radial tires with only 3,000 miles! $350 no caps or lugs. Contact Jerry Van Bellehem at (217) 273-1423 or e-mail jervanbel@yahoo.com.
Window regulators, lower glass channels, 1939-1950, NOS, $100 a pair, front or rear, closed car. $60 if you want one. You must mention this ad to get these prices. Convertibles are more if I have them. E-mail regulatorroy@comcast.net; phone (609) 828-8537.
1953 road lamps complete, four pieces, new chrome, wires, switch directions $1,950; 1952 Mercury road lamps, NOS guards with lamps, wires, switch directions, $750; 1955-56 Mercury chrome dash radio grille, $50; 1949-50 wagon NOS lower tailgate straps, $200 pair; 1957 Mercury 312 and 368 air cleaners, $125 and $75; call (937) 376-1511 (Ohio).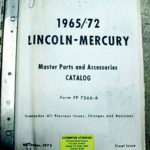 1965-72 Mercury-Lincoln Master Parts and Accessories Parts Catalog. Heavy and seven inches thick. $110 plus $25 shipping. Contact Ronald Smith at (512) 230-5825; e-mail ronfsmith@att.net.
1953 Mercury rear bumper with guards and brackets attached. Good for rechrome or "use as." $100 plus shipping. Contact Steve at (708)
307-8894.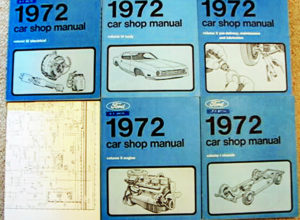 Set of five unused Ford, Mercury and Lincoln 1972 car shop manuals, plus electrical diagrams. Manual No. 1, chassis; Manual No. 2, engine; Manual No. 3, electrical; Manual No. 4, body; and Manual No. 5, pre-delivery-maintenance-lubrication. $50 plus free shipping. Contact Ronald Smith at (512) 230-5825; e-mail ronfsmith@att.net.
Parts Wanted
Looking for accessory steering wheel and horn ring complete for 1949 Mercury. Must be in very good condition. Serious buyer. (951) 340-0770 (CA).
Windshield wiper motor for 1950 Mercury. Contact Donald at (812) 689-6128 (IN).
1949-51 Mercury exhaust tip, NOS or good used one. Willing to pay top price. Needed for my 1949 Mercury restoration. Call Dave weekdays at (951) 340-0770.
Need the following parts for my 1951 Mercury M-100 pick-up truck: driver and passenger door remote operator latch assemblies (inside door assembly); dual horns; baby moon hubcaps with the Mercury red head logo in the center of the moon. Contact John at johnsedan@att.net, or call (815) 777-9797.
Looking for an NOS grille for a 1964 Montclair; also NOS rear grille light panel for 1964 Montclair. Contact Cornelius DeKoning (Canada) at (780) 922-0532; e-mail crimson1 @telus.net.
1956 Montclair two-door hardtop interior light and lense between rear seats above center armrest. Also looking for front door panel, stainless or whole panels for power windows. Contact Dick at (518) 588-3143 or e-mail rrczub@aol.com.
Business Opportunity
Small business opportunity. We are the sole supplier of trunkliners for 1949-54 Mercurys in the original black and tan checker pattern. The sale includes screen-printed 4 x 8 sheets of cardboard, steel-rule dies mounted on half-inch plywood for each panel required, in addition to cardboard patterns. Perfect small business for a retired person that doesn't require a lot of time or space. Please call (805) 646-3345 from 9 a.m. to 5 p.m. Pacific time for more information.