Road America on agenda for IMOA 2017 annual show
By Joyce Culling
A visit to the famous Road America in Elkhart Lake, Wis., is a highlight of the 2017 IMOA National Car Show.
The dates are Thursday-Saturday, Sept 7-9. The host hotel will be the Blue Harbor Resort and Convention Center in Sheboygan, Wis., located on the shore of Lake Michigan.
The Road America visit will be held on Thursday, while the judged car show and awards presentation are on Saturday. 2017 is also the 5oth anniversary of the Mercury Cougar.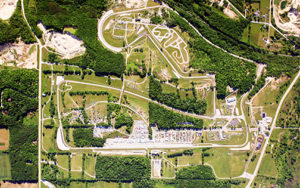 The Road America visit will include a shuttle tour of the interior of its Motorplex and the beautiful grounds surrounding the facility. It will end with members being able to take paced laps on its famous four-mile, 14-turn racetrack.
In the early 1950s, sports car races were being run on the streets in and around Elkhart Lake. The Chicago region of the Sports Car Club of America (SCCA) developed plans and sold stock to build this permanent racecourse on 525 acres of Wisconsin farmland outside the village of Elkhart Lake.
With 4.048 miles in length and 14 turns, the track is virtually the same today as it was when it was first laid out. This track is revered the world over as one of the world's finest and most challenging road courses.
The first race in 1955 was sanctioned for an SCCA National, the highest form of road racing in the country at the time. The first professional race weekend was the August 1956 NASCAR Grand National.
Over 450 events are held annually at Road America.
Celebrity visits have included David Letterman, Tom Cruise, Patrick Dempsey, Tim Allen, Ashley Judd and the late Paul Newman, not only for the great racing, but also the scenic surroundings of this resort community.
Nestled on the western shore of the always-majestic Lake Michigan, this picturesque and stately home-away-from-home Blue Harbor hotel presents a stunning view all unto itself.
The Blue Harbor Resort offers relaxation, fun and comfort. Its excellent restaurants all have extraordinary views, with shopping, golf, watersports and charter fishing just a few minutes away on foot or by car.
Visit the year-round indoor waterpark and mini-golf course, or a relaxing stroll on one of their eco-friendly lakeshore trails.
We are also planning a visit to the Kohler Factory and Museum, and there are many area wineries worth exploring.
Registration forms are located here: imoa-2017-show-registration-forms
More details on Elkhart Lake, attractions and other activities will be in future issues of Quicksilver and online.