IMOA Classifieds Fall 2016
CARS FOR SALE
1950 two-door six-passenger coupe. I am selling this nice 1950 Merc for a friend whose husband recently passed away. Here is what I know or have observed about the car: It was most recently owned for 12 years; flathead V-8; equipped with overdrive; manual transmission; Dark Metallic Blue; upgraded stereo system with original radio receiver; converted to 12V negative ground; lowered with lowering blocks; front and rear springs, and shocks replaced; dual exhaust with (sounds like) glasspaks; new Coker radial tires, P215/75 R15; electric fuel pump; partially rewired at some point in its history; older restoration, paint, chrome, upholstery predates recent owner; fiberglass fender skirts; comes with owner's manual and factory shop manual; clear title. Starts up quickly, shifts easily. Flaws: Front end feels tight; clutch engages near top of travel; can bottom out on steep driveways due to lowering; overdrive doesn't engage. Solenoid/governor are for 6V positive ground, not upgraded to 12V negative ground along with rest of car electrics (may need solenoid/governor from 1956 Ford overdrive unit which had a 12V negative ground system). Hood release cable sticky – needs fussing to engage; minor paint flaws; scrape at front center of roof, misc. scratches; chrome flaws: scraped chrome plating on one front bumper guard; ignition and trunk locks worn. $27,500 or closest offer. Contact Jeff at (805) 705-8695 (call or text); (805) 687-6173; or e-mail jbpaley@cox .net.
1950 Mercury rust-free, body-off restoration. All body work is done, just needs blocking. Body all media-blasted with undercoating. Shaved trunk and hood, one-piece grill, pinched front bumper, exhaust through frame, boxed chassis, new front suspension, new 9″ Ford rear-end, new Currie ring and pinion, new axles, 31 spline, new disc front and rear, new shocks front and rear, smooth firewall, new brake booster, new soundproofing throughout, new gas tank and lines, new body mounts, Frenched headlights, big dollar head lights, stainless steel rings, 1949 dash, new wiring in box, inner fender wells P.C., new door seals, new gasketing throughout, Richmond emergency brake, new nuts and bolts kits, all bows for headliner, driver-side new rocker in-out, rear seat, perfect rear window, All glass for pattern. $17,900. Many other Mercury parts for sale. Call Wayne at (773) 754-7233; cell (773) 203-1386.
1954 Monterey two-door hardtop for sale. Very rare, rust-free car with 56,000 miles on it. Original black paint, in great condition. California car that was stored in an air-conditioned trailer for 25 years. Asking $10,000 or best offer. Call Ray at (417) 224-1408 or (417) 224-1962; e-mail rdpetre@sbcglobal.net.
1956 Medalist four-door hardtop. $13,500 obo. Originally purchased through an IMOA ad in 2006 from a member in Washington state. This car was totally restored in 2000, including engine, transmission and chassis/body. Previous owner drove it 2,000 miles after the restoration. Car currently has 103,371 miles on it. Has been trouble-free for 10 years of driving. In the past 10 years, there has been $14,040 invested in the car to enhance drive reliability and other upgrades for creature comforts. All invoices are available for inspection upon request. 312 c.i., engine, 235 hp Y-block motor. Merc-O-Matic three-speed automatic transmission. PS, PB and AM/FM radio with CD port installed in the original AM radio slot. Has five new Goodyear radial WW tires and original rims have been upgraded to Chrome Reverse wheels with Baby Moon hubcaps. Many original, extra, used and NOS parts included. Additional photos available via e-mail upon request. Contact John Adamek at (630) 665-1790; e-mail john.adamek@att.net.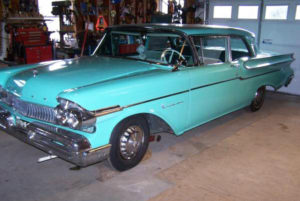 1957 Monterey two-door Sedan. Due to medical reasons, I'm forced to sell this car and am trying to find it a good home. Any help towards that end would be much appreciated. 312 V-8 and automatic transmission. Power steering. VIN 57LA43965M. Mod#64A. Dual exhaust. Recent fuel tank and front tires. Body and frame good. Inferior body work done on quarter panels. All glass good. Some restoration done in the 1980s. Runs, drives, stops. Delay in reverse. Extra parts and manuals included. More info and pics on Vermont Craigslist under 1957 Mercury Monterey. $6,250. Bill of sale only in Vermont. Call (802) 723-6986; e-mail olddavisfarm@gmail.com.
1960 Mercury four-door sedan. 312 Y-block automatic, P/S, P/B, radio delete, tinted windows. Project car. Seats, door panels, front sheet metal (dog house) are removed, so a good inspection can be done. I was going to make a hot rod out of it, but decided it is too good to start cutting on it. Dirt accumulated in lower quarter panels rear dog legs, so there is rust there in the rear. The rest of car is very solid, including floor pan, doors inside and out, and front sheet metal This is not a sun-baked western car and has original Sultana White on Pacific Poly two-tone paint. Was purchased new at Cunningham Motors Inc. in Lancaster, Ohio. It has been stored inside dry buildings since 1984 and maybe longer. Build sheet is mostly legible. I have a dealer's shop factory repair manual included. I also am including a 383 big block that needs rebuilding. I have this car listed on the Cincinnati, Ohio, Craig's List Web site for pictures and better description. Everything for $5,500 or negotiate if you don't want some of the stuff. May part out in large chunks. I have correct Ohio title in my name. Contact Harry at (513) 868-3311, or e-mail harryh1@fuse.net.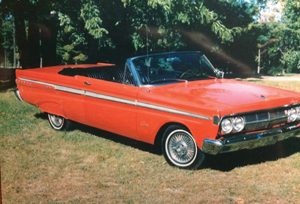 1964 Comet Caliente convertible, 260 V-8, Auto, PS, Power Top, Factory A/C, red exterior with black interior, black top, new tires, very good condition. Asking $11,000. Call (MI) (616) 335-5751 (Jon) or e-mail jpberghorst@sbcglobal.net.
1964 Park Lane Breezeway, two-door, automatic on floor, bucket seats, $3,200. Contact Robert at (845) 557-3669 (NY).
1967 Montclair Fastback. Every-thing is either new or rebuilt, from firewall forward. Both fenders are excellent. No dings, dents or rust. Bumpers are very good. Floorboards are done. Not concours, but solid. Trunk and quarter panels are repairable. No panels or any part of car needs to be replaced. Frame very good, including torque boxes. The car had a vinyl top and at the bottom of the rear window is the worst part on the car. Interior is fair to good – needs carpets. Have all-new weatherstripping and splash guards. Car has 68,000 miles on it. Engine runs good. No smoke or ticks. Transmission shifts good. The engine is the 390 c.i. and the car comes with an extra 390 engine with only 50,000 miles. Also an extra right front fender, hood and other parts. Will send CD with pictures if interested. Asking $3,000. Call (614) 871-5952 (home) or (614) 584-6651 (cell).
1972 Monterey Custom two-door hardtop with vinyl top in excellent condition. Purchased new. New tires (5), AC, belts, hoses, floor carpet, radiator cleaned/refilled with new antifreeze and transmission serviced. All original except for one repaint with original color. Possibly the best 1972 Mercury in existence for $7,000. Call (512) 230-5825; e-mail ronfsmith@att.net.
PARTS FOR SALE
1960 Mercury parts for sale. Parting out a 1960 Park Lane two-door hardtop. Rust-free Colorado car. Call me with your needs. Bob Kneebone, (941) 626-0067 9-9 EDT, e-mail bobkneebone3@yahoo.com.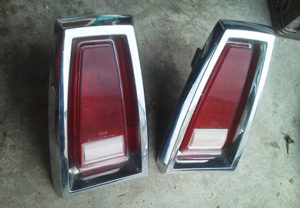 1955-56 Mercury wagon tail lamps for sale. Chrome is very nice, needs lenses for one of them. $350. Also 1968-69 Montego tail lamps, very nice, $100. Call or text Carlos at (729) 281-9840; e-mail calicometcarlos@yahoo.com. Colorado.
1969 Cyclone parts, blue dash pad, excellent condition, $250; grille with splash pan and headlights, $250; rear bumper, some dents, $100; pair of rear fender extensions, $200; deck lid with latch, $100; pair of mirrors, right fixed and left adjustable, $100; pair of front side lights, $50; pair of rear side lights, one lense, $25; pair of front parking lights, $20; pair of rear tail lights, excellent condition, $300; all rear body trim, excellent condition, $300; instrument cluster, complete, $150. Contact Brad at (805) 220-6601, home; (310) 991-3372, cell; e-mail bnbsmith@earthlink.net.
New fuel pump for a 1960 Mercury with a 312 engine and vacuum wipers. I bought it from Mac's Antique Auto Parts 10 years ago thinking it was the only one available for my car and that I would then modify my car to make it work if I needed it. Their part # is C3SZ-9350-C. It is large and I have the original box. It has never been used. Also comes with a Hastings fuel filter, part # CODF-9155-H. $40. Contact Jerry at stpatrick@lifegrid.com.
1952-53 Mercury radio speakers grille, excellent condition, $25; 1953 Mercury script, rear quarters, pair for custom models. $35; 1952-53 two-barrel teapot carburetor for stick-shift models, part #EAC-9510-E12, $70; 1953 Mercury trunk handle complete with good red center lense Mercury emblem, chrome needs rechrome, $50; 1952-54 pair of rechromed two-door Mercury door handles, complete with buttons, need small tabs inside button, very nice chrome, pair is $135. Contact Steve at (708) 307-8894.
1968 Cougar rolling chassis, clear title; many, many extra parts. $3,500 takes all. Contact Leann at (303) 433-4785 or e-mail leannstelzer@comcast.net.
PARTS WANTED
Looking for a good-looking, working radio for a 1965 Monterey four-door sedan. Contact Dave at deager1998@aol.com; phone (812) 401-5986.
Philco AM/FM radio-CD unit for 1998 Mercury Mystique or Ford Contour. Call Roger at (919) 634-1773 (NC).
Looking for window frames for a 1957 Turnpike Cruiser convertible. Call Edwin at (860) 435-9301 or e-mail decocarguy@hotmail.com.
Need a hubcap for my 1951 Sport Sedan. The cap is one piece, stamped with a raised center section. Inside that section is the head of the Mercury god, just embossed, chrome (stainless), as is the rest of the cap. The surround of the Mercury head is painted red in that circle. Car is mint, cap must be free of any scratches or dents. Contact Fred at frgsmp@aol.com; tel. (760) 913-5396 or cell, (760) 315-6994.
Transmission shift cable for 1958 Montclair, part no. FEW7284A (part of the push-button shift selector). All res-ponses answered. Finder's fee gladly paid. Early morning calls best, however, any time, OK. Thanks. Joe and Phyllis. LA, CA. Call (760) 868-1925 or e-mail lostart1@outlook.com.
Looking for a vacuum control starter cut-out switch, PN FEK 11516-A, NOS only. Push-button transmission in 1957 Mercury Turnpike Cruiser. Contact Roger at (239) 567-0898; e-mail rogeryorde@earthlink.net.
Need the nylon gear for the windshield wiper motor for a 1966 Comet Cyclone convertible. I may have to buy the entire wiper motor to get it. I will do so if the seller can verify the condition of the nylon gear, perhaps with a picture. Contact Fred at fchammer1@aol.com.