2016 IMOA Annual Show Roundup
By Pat Eager and Virgil Klein
The IMOA 25th Anniversary Show was held in Louisville, Ky., July 28-30. IMOA members from many states were in attendance, with the longest distance traveled by Dave and Corrinne Carlson from Port Charlotte, Fla. Other members came from Canada, Texas, New York, Iowa, Oklahoma, Alabama, Wisconsin, Illinois, Nebraska and Minnesota, to name a few.
Thursday saw a large group head to downtown Louisville for a day of sightseeing and our members had several hours to enjoy the Kentucky Bourbon Trail.
Another popular place to visit was the Louisville Slugger Museum and Factory. At the entrance, you will find the World's Biggest Bat! Made of steel, it weighs 68,000 pounds and stands 120 feet tall. The Big Bat is an exact-scale replica of Babe Ruth's 34-inch Louisville Slugger bat. After a very interesting tour through the plant and museum, the members received a miniature Louisville Slugger bat.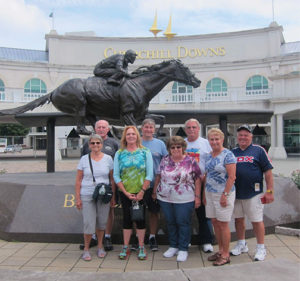 Some of the members visited Churchill Downs, the famous location for horse racing in Kentucky. Horse racing in Kentucky dates back to 1789, when the first race course was constructed in Lexington. Almost 100 years later, in 1875, Churchill Downs officially opened its gates in Louisville and began its tradition as "Home of the Kentucky Derby" and the longest continually running sporting event in America.
The Muhammad Ali Center is a multicultural center with an award-winning museum dedicated to the life of the late boxer. The Center museum captures the inspiration derived from the story of Ali's incredible life.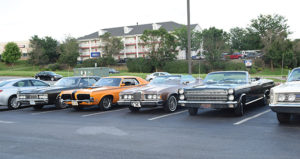 In the evening, the Mercurys caravanned to a nearby Culvers for burgers and fries, topped off with a delicious sundae with any topping you wanted.
The day concluded with the "circle of friends" on the patio of the hotel, sponsored by Wayne and Judy Miller. This was a time for reflection and getting acquainted with Mercury colleagues. Perhaps finding a solution to a Mercury problem or finding a part for your car could be answered.
On Friday morning, many of our members left on a cruise to Elizabethtown for the car show that was taking place there. They stopped along the way in Glendale for lunch at The Whistle Stop, a family- owned restaurant cooking up good southern food in Kentucky such as fried green tomatoes and excellent desserts. On the cruise to Elizabethtown, the group encountered some heavy rains and most of them headed back to Louisville.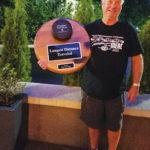 The day once again concluded with the "circle of friends." While enjoying each other's company, one of our members returned from the Elizabethtown car show and informed us that he'd won the "distance" trophy at the show. So, take a look at his trophy …
Saturday, July 30, was show time. I am always amazed at the quality of the cars that come to an IMOA show. Our club has some the of the nicest Mercurys in the country.  The hotel served a nice picnic lunch on the patio of salads, brats and barbecue. The show began at 10 a.m. and trophies were awarded at 2 p.m.
A Lifetime Membership Award was given to Dave and Pat Eager for their many years of excellent service to IMOA.
President Jerry Robbin was presented with an IMOA jacket and hat for his dedication to the Mercury club that he began in 1991 and has been president of ever since. Without Jerry's talents, there may not ever have been a Mercury club at all.
Many thanks to the judging crew, led by Virgil Klein, which consisted of Wayne Miller, Cy Schmidt, Tom Cagle, Bob Easton and Galynn Ferris. Judging can be a thankless task and is very difficult when so many cars of this quality gather in one place. Thanks also to Gary Baehmann and Larry Valihora, who helped with parking.
I must make mention of the hotel where we stayed. Don and Joyce Culling had arranged for our show at the Marriott East. If you are ever in the Louisville area, stay here! Great rooms, great food and a wonderful staff accommodated our every need.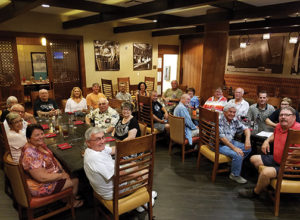 A group of the club members wanted to eat at the hotel Saturday evening and the hotel set up a special room for us. We certainly appreciated everything the hotel and staff did for us to make our stay a memorable one. We thank them.
After dinner, which the hotel graciously set up, the time in Louisville ended once again with a circle of friends. A big thank you to Kathy Orcutt for her bourbon balls and homemade cookies, which were enjoyed by all.
Next year's show in Wisconsin marks the 50th anniversary of the Mercury Cougar. See you there!